Top 10 High Performance Summer Tires
Finding the best high performance summer driving tires can be a challenge unless you happen to work in the tire business. There is quite a bit of confusion over which tires provide the best cornering power, or which ones have the best acceleration and braking capabilities, etc.
Summer tires are built for speed and agility – designed using high performance vehicles in mind. The increased responsiveness, enhanced braking, and stabilized handling on corners are just some of the features of the best high performance summer tires.
While one may find summer tires in abundance, there are a certain few that stand above the rest due to their quality. Here, we have a list of the best high performance summer tires.
Hopefully, this list of our 2020 Top 10 High Performance Summer tires will help you make your best decision and save the most amount of money in the process. Our list of recommendations is made based on several factors, which include our own experience and reviews and comments from other tire owners.
---
Michelin Pilot Sport 4S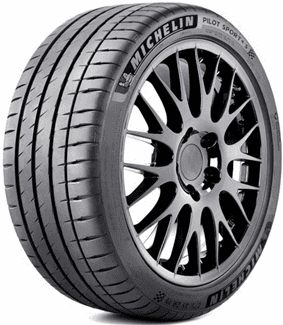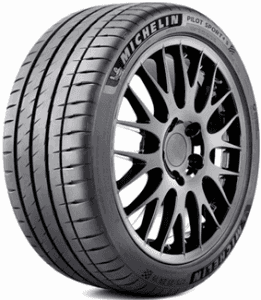 The Michelin Pilot Sport 4S is arguably the new king of all high-performance summer tires.  The 4S combines the best features from the Super Sport and race-inspired Sport Cup 2 tires. The result is exceptional dry and wet traction to go with outstanding cornering grip and stability. Steering is quick and precise like you would expect. Whether at the track or on the street, if you're looking for the best of the best, this is it.
Click Here For A Complete Review
The French tire giant decided to up its level with exquisite, ultra-high performance tires by producing the new Pilot Sport 4S. Designed for powerful, sporty, and high-performance vehicles – the new Pilot Sport 4S offers unparalleled driving pleasure, due to its exceptional design.
Key Features
Dynamic Response Technology
Multi-compound construction
Asymmetric tread pattern
Pros
Exceptional steering precision and stability
Breakthrough levels of wet surface performance
Enhanced tread life than Michelin Super Sport
Cons
Expensive
Sizes cater to high-end vehicles
Bridgestone Potenza RE-11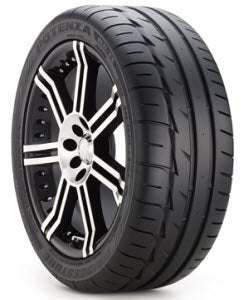 Delivering excellent dry and wet traction, the Potenza RE-11 from Bridgestone uses some of the same technology that you find in their Formula 1 and Gran Prix 2 race tires. 3-D Seamless Stealth technology provides enhanced cornering grip, which adds to driving enjoyment. Treadlife and ride comfort is better than expected, making this tire a popular choice among driving enthusiasts.
The Potenza is Bridgestone's flagship ultra-high performance tire and one of the world's best high performance summer tires intended to cater to enthusiastic and spirited drivers who typically drive high performance cars. The Potenza RE-11 is intended to provide such drivers with a comfortable and controlled drive. We've used Potenzas on our personal vehicles in the past and come away impressed.
Key Features
3D Seamless Stealth technology
Asymmetric tread design
Two wide steel belt embedded construction, reinforced with nylon
Continuous circumferential intermediate rib
Pros
Enhanced steering response
Hydroplaning resistant, thus increased wet surface traction
Even footprint pressure distribution
High-speed capability – due to strong construction
Cons
No tread life warranty
Tread quality may deteriorate faster than expected
Click Here For A Complete Review
Michelin Pilot Super Sport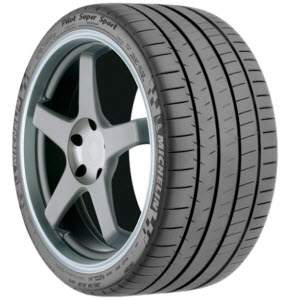 The Pilot Super Sport belongs to Michelin's Max Performance Summer Tire range. Its reputation as one of the best high performance summer tires can be judged by the fact that they were initially launched as the OEM for several of the world's exclusive high performance car, including Ferrari's fastest road car ever – the Ferrari 599 GTO.
Simply stated, the Pilot Super Sport from Michelin delivers cornering grip and performance that is among the best in its class. It's that good. Beyond that, dry or wet surface traction is excellent, and ride comfort is equally as impressive. Michelin tops it off with a 30,000 mile warranty, which is very rare for tires in this particular class.
Delivering exclusive durability, handling, and traction – the Pilot Super Sports are designed to enhance the performance of any vehicle they're fitted in.
Key Features
6 years – 30,000 miles warranty
Extended tread wear
Asymmetric tread design featured Michelin's Bi-Compound tread rubber
Notched center ribs and inboard shoulder for superior performance at very high speeds
Constructed using twin steel belts reinforced by Twaron
Michelin FAZ (Filament At Zero) technology
Pros
Can withstand high pressure
Superior wet weather braking
Comparatively lightweight
Sound-absorbing foam to reduce cabin noise
Cons
Expensive
Can over steer on wet roads
Poor resistance to aquaplaning
Click Here For A Complete Review
Continental ExtremeContact Sport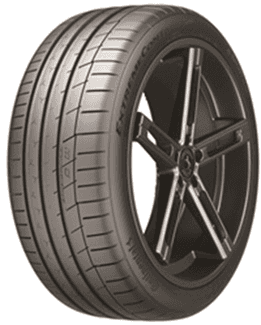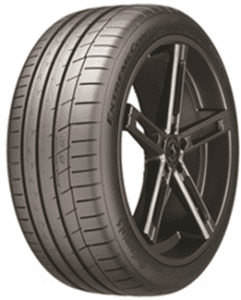 Continental launched the ExtremeContact Sport as a maximum performance enabling summer tire for powerful sport cars, luxury vehicles, and high-performing sedans. Constructed using Continental's top technology, ExtremeContact Sport makes use of two-ply sidewall construction to provide premium strength, coupled with excellent performance.
Another new model for 2017, the Continental ExtremeContact Sport builds off the original ExtremeContact DW in providing for excellent traction and handling, especially on wet pavement. In fact, for wet grip it is one of the best. You'll also find seat of your pants like cornering grip and very good tread life.
Key Features
SportPlus Technology for well-rounded maximum performance
30,000 miles – 6 year tread life warranty
Optimized footprint for even distribution of pressure
+Silane tread compound technology for much-needed grip
Pros
Precise handling
Excellent wet traction
Sure-footed damp condition handling
Hydroplaning resistance
Cons
Susceptible to making noise
Click Here For A Complete Review
Bridgestone Potenza S-04 Pole Position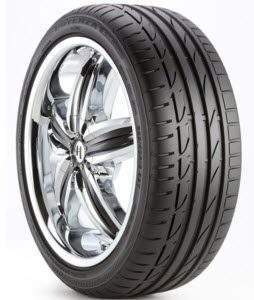 For all-around performance, the Bridgestone Potenza S-04 Pole Position is one of the best. It delivers well-rounded performance with precision steering and excellent cornering grip. Bridgestone has also engineered this tire to be one of the more quiet UHP tires available today.
Another standout in delivering maximum performance in summer season, the Potenza S-04 Pole Position is Bridgestone's offering for ultra-high performance cars. Optimized for warm, wet, and dry conditions, the Potenza S-04 Pole Position makes the list as one of the best high performance summer tires.
Key Features
Asymmetric tread design
Multiple circumferential ribs for increased tread wear lifespan
Lightweight belt package for high speed durability
Pros
High speed cornering precision – due to interlocking tread blocks
Hydroplaning resistant
Noise reduction – due to continuous circumferential ribs
Cons
Lower tread life than expected
No tread life warranty
Click Here For A Complete Review
Firestone Firehawk Indy 500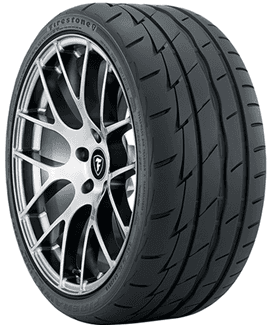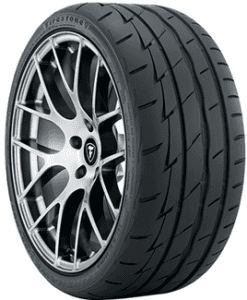 Sport cars, sporty coupes, and powerful sedans have one thing in common – they require endurable, high performance summer tires. Designed to enable maximum performance in moderate to high temperatures, Firehawk Indy 500 make use of the latest tire-making technology.
The Firehawk Indy 500 was released in 2016 and has quickly proven itself as one of the top UHP tires in its class. From its aggressive good-looking tread pattern to its top-rated performance on the street, this is a tire for serious driving enthusiasts. Its racing-inspired technology and engineering gives it superior traction and handling, as well as excellent braking and acceleration. The Firehawk Indy 500 definitely deserves its place among the top UHP tires.
Key Features
Silica-enhanced, Long Link Carbon compound
Pulse Groove Technology
High turnup polyester casing reinforced with nylon
Pros
Improved cornering at high-speeds – due to large shoulder blocks
Enhanced water evacuation technology
High speed responsive handling
Cons
Click Here For A Complete Review
BFGoodrich g-Force Sport Comp 2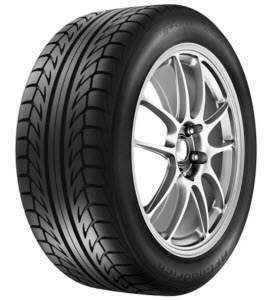 Modern muscle cars are increasingly getting more powerful engines. The onus is on the tire-manufacturing tires to provide high performing tires, and BFGoodrich has looked to provide the answer with G-Force Sport Comp-2.
With a tread compound that sticks like glue in the corners, the g-Force Sport Comp 2 from BFGoodrich offers a very high level of performance in a summer tire. You will find this tire provides excellent steering control and feel, as well as solid traction on wet or dry pavement. With its lower price point, this new Sport Comp 2 offers good value for the money.
Key Features
Silica infused Comp-2 compound
Directional tread design for added road grip
ETEC (Equal Tension Containment) construction system
Pros
High speed cornering grip
Straight-line stability
Increased wet traction
Hydroplaning resistance
Cons
No tread life warranty
Average tread wear performance
Click Here For A Complete Review
Nitto NT555 G2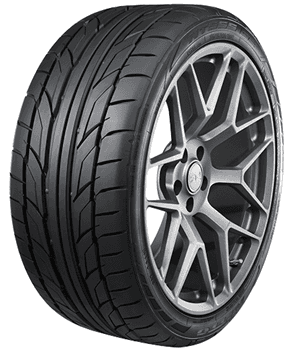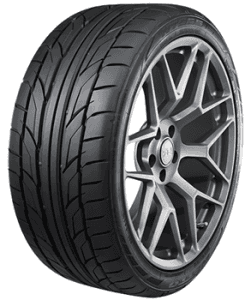 Over the years, Nitto has made a name for itself from its line of high-performance tires, and the recently released NT555 G2 may be its best UHP tire yet. Nitto focused on increasing traction, braking and cornering performance with this model and it shows. For those looking at staggered fitments, this is one of the best UHP tires for the job.
The second generation NT555 betters the performance of its predecessor, providing better traction, handling, and braking. For drivers who like to drive spiritedly, Nito offers the NT555-G2.
Key Features
Silica-enriched tread compound
Large tread blocks for increased traction
Reinforced shoulder blocks
Pros
Enhanced cornering stability
Hydroplaning prevention, increasing wet traction
Exceptional handling due to high stiffness compound combination
Cons
No tread life warranty
Susceptible to a little noise
Click Here For A Complete Review
Bridgestone Potenza RE760 Sport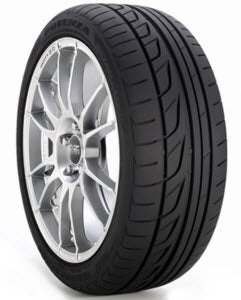 The Potenza RE760 are designed to maximize the sporty driving pleasure desired when accelerating high-end luxury cars. Bridgestone's Potenza RE760 deservedly registers itself in the list of best high performance summer tires, by providing acute tire response in wet and dry conditions.
You can expect very good wet or dry road manners from the Bridgestone Potenza RE760 Sport. This model corners very well and braking power is just as good. Despite its low profile, the RE760 Sport rides comfortably and comes without all the excessive road noise you often find with other tires in this category. Even better is the longer treadlife you can expect from this model.
Key Features
UNI-T Technology – focusing on bead, casing and tread'
Ultra high performance tread compound
3D center block tread design
Pros
Long last tread wear life
Increased ride comfort and handling
Enhanced high-speed capability with computer optimized component system
Cons
No tread life warranty
May get noisy with time
Average wet traction
Click Here For A Complete Review
Federal 595 Evo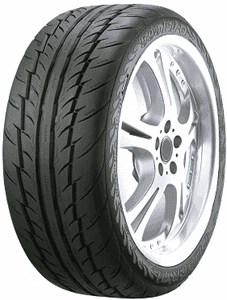 Another one on the list for best high performance summer tires – The 595 Evo is Federal's premier ultra-high performance summer tire formulated using state of the art technology to provide the ultimate driving experience when driving at high speeds.
Federal makes the list with its 595 Evo due in part to its outstanding performance, as well as its lower budget-minded price point. We feel it's currently the best low-cost UHP summer tire available today. It delivers cornering grip that is on par with other top-level tires on this list, and steering is both quick and responsive. Dollar for dollar, the 595 Evo provides excellent value.   
Key Features
Advanced 3D tread design
A unique 2 in 1 alignment pattern
'Groove within Groove' technology for enhanced water evacuation
Pros
Increased lateral grip and handling stability
Hydroplaning resistant
Increased straight line stability
Visually appealing scorching flame design on the sidewalls
Cons
No tread life warranty
Sub-par wet surface traction
Click Here For A Complete Review
What Makes Summer Tires Unique?
The best high performance summer tires are quite different from their all-season or winter specialist counter parts, here's how:
Material
Compared to other tires, best high performance summer tires perform at another level when it comes to rigidity and elasticity. The tread compound in such high-performance tires usually comprises of less rubber, to give the right level of stiffness and the ability to hold up to significantly higher temperatures.
Design
Since they are meant for optimum acceleration and handling, as opposed to push through muck or slush – summer tires usually possess a shallower tread with stronger sidewalls. Summer tires feature intricate siping patterns for optimized grip, as they are not focused on keeping the snow out of the tires.
Performance
That is the biggest difference high performance summer tires offer over other tire types. Be it acceleration, stabilized handling, corner steering stability or fast brake response – summer tires ensure you get the best of your car.
The differences can be attributed to the distinct ideology behind the tires – while winter tires are made to combat snow and all-season tires are made to last all-year without costing too much, the best high performance summer tires look to significantly enhance your driving experience.
High-Performance Summer Tire FAQs
What Does A High-Performance Tire Mean?
Performance tires are made specifically for vehicle owners who want predictable and responsive traction, grip, and handling in both wet and dry conditions. The design and construction of these tires including the tread pattern and compounds used to allow car owners to get what they're looking for in a tire without compromising on comfort, mileage and the lifespan of the tire.
Do High-Performance Tires Wear Out Faster?
High-performance tires feature compounds and designs that help make your driving experience better. But these same attributes can cause your tires to wear faster. For instance, you may want greater grip and traction from a high-performance tire. The fact that it grips the road better will wear out the tire compound and tread quickly. Depending on how you drive your car, high-performance tires will tend to wear out faster.
How Long Do High-Performance Tires Last?
An average tire lasts around 40,000 miles. Since high-performance tires have design and performance criteria to meet, they can last longer (or shorter, depending on a few factors including how you drive). For instance, the Dunlop Signature HP is covered by a treadwear warranty of 45,000 miles. But they can even wear out in 20,000 miles if you don't follow the manufacturer's guidelines.
Are High-Performance Tires Noisy?
All tires make noise to some degree. It's how well your vehicle's cabin is insulated that determines how much of that noise gets in. High-performance tires are less noisy thanks to design attributes such as tread design, presence of circumferential grooves and more. But they're not entirely quiet, because they're made to grip the road firmly to give you that responsive handling you need at higher speeds.
Are High-Performance Summer Tires Worth It?
High-performance summer tires provide better handling in both wet and dry road conditions, even better than all-season tires. Some summer tires like the Michelin Primacy HP have specialized tread patterns with fewer grooves to give better contact with the road. It also allows greater flexibility to the tires as well as a quieter ride due to minimized road vibrations.
---