Mickey Thompson Baja Legend MTZ Tire Review & Rating
Mickey Thompson is a niche supplier of high-end racing, performance, and off-road tires. The Baja Legend MTZ is a mud terrain tire designed for maximum durability and grip off-road, especially when things get dirty.
This motorsport-derived tire is named for the legendary Baja 1000 off-road race and is designed to bring high levels of mud performance to the real world. The tire features Mickey Thompson PowerPly technology which adds three plies to the sidewall for extra stiffness and cornering response. More importantly, those plies improve puncture resistance even when running lower tire pressures.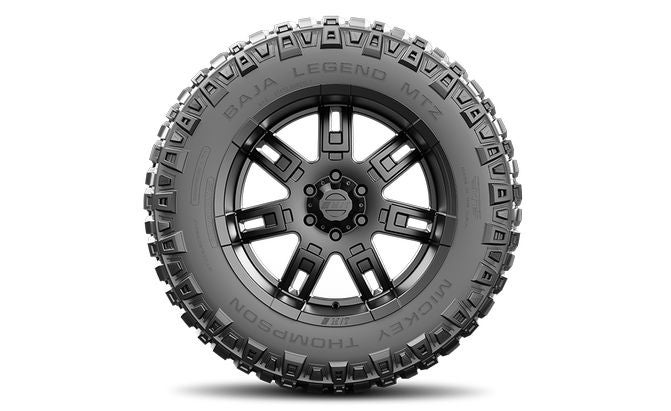 The shoulder blocks have four different pitches and shapes, which help the sidewalls bite onto any surface with optimal precision, making them great for ruts and mud and the odd rock crawl. The tread pattern features rock ejector bars and sloped tread block shoulders to prevent rock retention and help traction on loose surfaces.
Mickey Thompson uses silica in the tread compound to help with wet weather grip and increase the rigidity and durability of the tread itself, promoting long tire life and consistent performance across the lifetime of the rubber.
There are sizes to suit 15 to 20-inch rims. Load ratings vary from 2,205 lbs to as much as 4,080 lbs per tire. Maximum inflation pressures also vary from 35 to 80 PSI, depending on the tire size and design.
Pros:
Massive off-road performance
Aggressive appearance
Cons:
Heavy
Limited distribution
Overall Thoughts
While this is a relatively new tire with no real-world responses recorded yet, the Mickey Thompson Baja Legend MTZ tire continues the tradition of hard-core off-road performance. These tires are robust and durable, if a little heavy, but also promote impressive traction and grip, especially in the mud.
The aggressive off-road tread design and pronounced shoulder blocks help not only with traction but curb appeal and road presence too, and the tires are even available with white lettering for a more traditional and enhanced style.
If you're shopping for Mickey Thompson tires, you already know the value of a good off-road tire that provides durability, tread life, and traction when needed. Choose these if you're into mudding or any other hardcore off-roading that requires side bite and traction in technical driving situations.
Tire Sizes
15-inch Rims
31X10.50R15LT
33X10.50R15LT
33X12.50R15LT
35X12.50R15LT
16-inch Rims
LT265/75R16 32X10.50R16LT
LT285/75R16 33X11.50R16LT
LT305/70R16 33X12.50R16LT
LT315/75R16 35X12.50R16LT
17-inch Rims
LT265/70R17 32X10.50R17LT
LT285/70R17 33X11.50R17LT
LT305/65R17 33X12.50R17LT
LT295/70R17 34X12.00R17LT
LT315/70R17 35X12.50R17LT
35X12.50R17LT
37X12.50R17LT
37X13.50R17LT
40X13.50R17LT
18-inch Rims
LT275/70R18 33X11.00R18LT
LT295/70R18 34X12.00R18LT
LT305/70R18 35X12.50R18LT
35X12.50R18LT
37X13.50R18LT
20-inch Rims
LT295/55R20 33X12.00R20LT
LT305/55R20 33X12.50R20LT
33X12.50R20LT
LT275/65R20 34X11.00R20LT
LT295/60R20 34X12.00R20LT
LT295/65R20 35X12.00R20LT
35X12.50R20LT
36X15.50R20LT
37X12.50R20LT
37X13.50R20LT
38X15.50R20LT
40X14.50R20LT
Competitors & Alternatives
All-terrain competitors include the BF Goodrich All-Terrain T/A K02, which provides excellent all-year performance and stability but at a higher price point. The Toyo Open Country is another great off-road tire for durability and ruggedness, and is well priced but doesn't have the same mud credentials as the Baja Legend MTZ.
Price Range
At around $450 per tire for 20-inch rim sizes, the Mickey Thompson Baja Legend is about 10% less expensive than the very popular BF Goodrich All-Terrain T/A K02 and about 15% cheaper than a BF Goodrich Mud-Terrain tire. It is only slightly more expensive than the Cooper Discoverer STT Pro mud-terrain tire, making it a compelling offering on price alone. This is true of both general all-terrain tires and mud specialists alike.
You may also find occasional rebates, discounts, coupons, and special offers on this tire.
Warranty
Mickey Thompson offers a limited replacement warranty for defects in workmanship and material with free replacement in the first 2/32 inch of tread life and pro-rated after that. The Baja Legend MTZ is not on the list of tires Mickey Thompson offers a tread life warranty on.