Bridgestone Potenza S-04 Pole Position Tire Review & Rating
Taking maximum performance summer driving to a higher level, the Bridgestone Potenza S-04 Pole Position tire utilizes the latest in tire technology and partnerships with several of the world's finest auto makers to produce an ultra-high performance tire for drivers of sport coupes, sedans and other luxury sports cars.
Similar to the Michelin Pilot Super Sport, this tire eats up hard corners and provides incredible handling and steering response. A silica enhanced tread compound and advanced asymmetric tread pattern combine with an interlocking center rib and larger outboard tread blocks to increase dry surface cornering grip.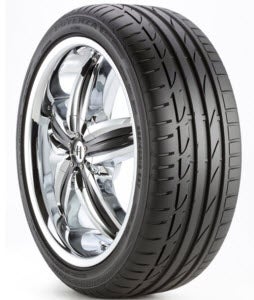 Wet traction pe formance is enhanced through the tire's added lateral grooves and angled tread blocks. Road noise is greatly reduced through another separate circumferential rib near the inside shoulder of the tire.
Inside the tread you will find two steel belts that are wrapped with a nylon and aramid cord for added strength at higher speeds, as well as a more comfortable ride. Bridgestone offers sizes ranging from 16-20 inches, and all of them carry a Y-speed rating.
Click Here For Current Bridgestone Coupons
Click Here To Find Current Prices
Pros
Dry traction/braking/acceleration are outstanding

Steering response and grip in the corners are excellent

Wet surface traction is among best in its class

Tire is surprisingly quiet and comfortable
Cons
No mileage warranty on treadlife, but this can be expected for tires in this class
Overall Thoughts
Driving on Bridgestone Potenza S-04 Pole Position tires should be a lot of fun for those who enjoy more "spirited driving". The tires stick like glue in the corners, are very responsive and ride more comfortably than you might think.
Although we still feel the Michelin Pilot Super Sport has a slight edge in the race for the number one spot in a summer performance driving tire, this model is right there among the leaders in this category. You shouldn't be disappointed with either one. Highly recommended.
What Vehicles Will The S-04 Pole Position Fit?
(This is not a complete list of ALL vehicles this tire will fit)
Chevrolet Corvette, Silverado

BMW 750Li, Z4, M3, 540

Audi TT Coupe

Ford Mustang, Thunderbird

Honda S2000

Infiniti G37

Lexus IS300

Mazda 3

Merceds-Benz C350

Nissan 370Z

Pontiac G8, Grand Prix

Porsche Boxter, 911

Subaru Legacy
Tire Sizes
16″
205/55R16 91Y BW
17″
205/45R17XL88Y BW
205/50R17XL 93Y BW
215/45R17XL 91Y BW
225/45R17 91Y BW
235/45R17 94Y BW
235/50R17 96Y BW
245/40R17 91Y BW
245/45R17XL 99Y BW
255/40R17 94Y BW
18″
215/45R18XL 93Y BW
225/40R18XL 92Y BW
225/45R18 91Y BW
225/50R18 95Y BW
235/40R18XL 95Y BW
245/35R18XL 92Y BW
245/40R18XL 97Y BW
245/45R18 96Y BW
255/35R18XL 94Y BW
255/40R18XL 99Y BW
255/45R18 99Y BW
265/35R18XL 97Y BW
265/40R18XL 101Y BW
275/35R18 95Y BW
285/30R18 93Y BW
285/35R18XL 101Y BW
19″
225/40R19XL 93Y BW
225/45R19XL 96Y BW
235/35R19XL 91Y BW
245/35R19XL 93Y BW
245/40R19XL 98Y BW
245/45R19 98Y BW
255/35R19XL 96Y BW
255/40R19XL 100Y BW
265/35R19XL 98Y BW
275/35R19XL 100Y BW
275/40R19 101Y BW
285/30R19XL 98Y BW
285/35R19 99Y BW
295/30R19XL 100Y BW
305/30R19XL 102Y BW
20″
245/40R20XL 99Y BW
255/35R20XL 97Y BW
275/35R20XL 102Y BW
285/30R20XL 99Y BW
Price Range
Prices on the Potenza S-04 Pole Position range from $135 and up. You may also find occasional rebates, discounts, coupons and special offers on this tire.
Click Here To Find Lowest Prices On All Bridgestone Potenza S-04 Pole Position Sizes
Warranty
Bridgestone provides a limited tread warranty on the S-04. Tire uniformity is guaranteed for the first 1/32 inch of wear. Materials and workmanship are backed for 5-years and include free tire replacement during the first 3 years. Bridgestone follows that up with a prorated amount for the remaining time period or until there is 2/32 inch of tread depth on the tire.
You also get Bridgestone's 30-day buy and try guarantee that allows you to refund or exchange the tires if you are not completely satisfied.
---