The Best Winter Tires
Driving on all-season tires during the winter can be fine if you live in a more moderate climate that sees very little snow, but for those who see  snow and ice more frequently, having a set of the best snow tires is a must.
Winter weather brings with it roads covered with snow, ice, and slush that induces nightmares as vehicles lose control and are unable to maintain a grip. Winter tires have special design features that allow exceptional performance in snow. The gripping force of winter rubber compounds and tread design with extra sipes allows passenger cars, crossovers, light trucks, and SUVs to power through the elements.
So what are the best snow tires for your vehicle?
Here's our look at the best snow tires for 2021. Our list is not only based on the experience and testing of our editors who live in Canada and the northern USA, but reviews and comments made by other tire owners. All our recommended tires are good performers, and will be far better than even the best all-season tires.
---
1. Bridgestone Blizzak WS90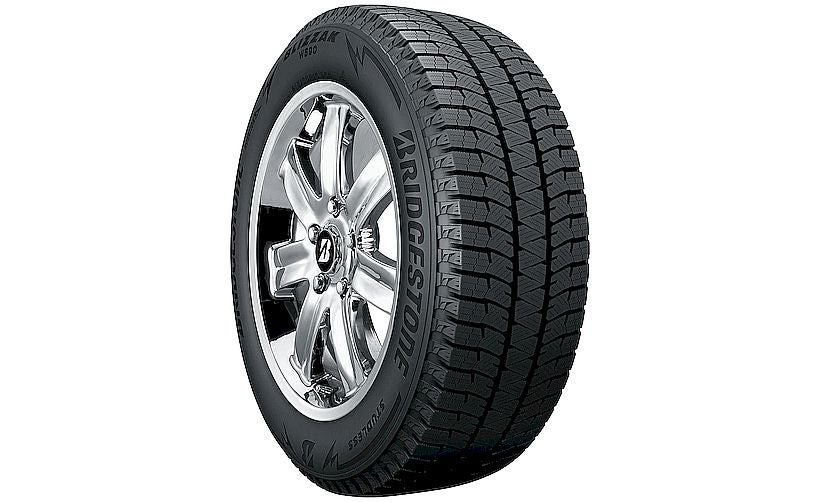 The latest iteration in Bridgestone's category-leading Blizzak is one of our favorite snow tires of all time. Featuring the latest in snow tire technology such as its NanoPro Tech Multicell tread compound and 3-D zigzag sipes, the Blizzak WS90 is one of Bridgestone's highest performing winter tires. Grip on ice covered roads is exceptional among all brands.
The Bridgestone Blizzak WS90 is designed with biting edges on the tread that allow it to dig into the snow. The tire has an exceptional ability to perform well on dry and wet roads by offering great steering response and stability.
Key Features
Nano-Pro Tech compound that improves traction on wet and snowy roads
Grooves expel water away from the tire footprint
3D sipes that provide biting edges for improved traction
Pros
Excellent traction on dry and wet roads
Exceptional performance in snowy conditions
Extremely comfortable driving experience
Cons
Tread life could be improved
Click Here For A Complete Review
---
2. Nokian Hakkapeliitta LT3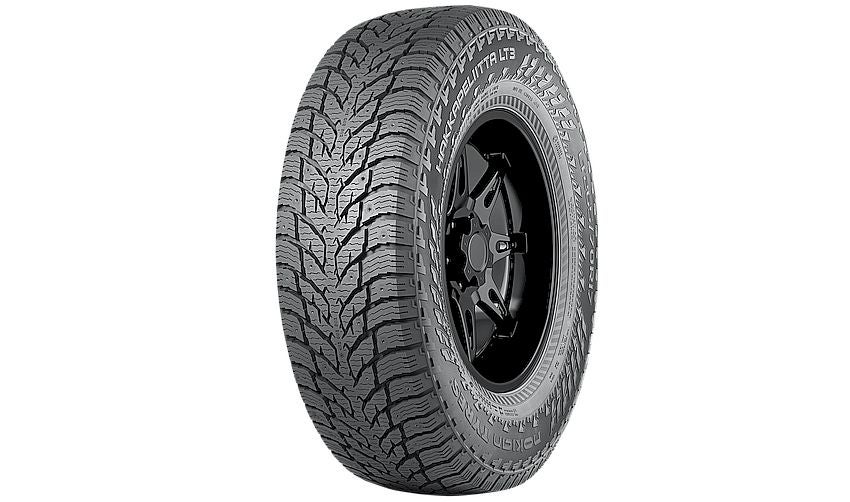 For light trucks, large SUVs, and crossovers, the Hakkapeliitta LT3 from Nokian may be the best snow tire available.
The Nokian Hakkapeliitta LT3 resists the effects of hydroplaning to allow for improved performance on wet and slushy surfaces. The tire features a tread design that enables it to maintain grip even while negotiating sharp corners.
Strong, synthetic Aramid fibers reinforce the tire's sidewall and make it more resistant to impacts and cuts
Key features
Tread design to reduce the hydroplaning effect
Silica-infused compound that increases traction on snow
Designed for extended wear and cut resistance
Pros
Excellent handling on ice, slush, and snow
Impressive cornering ability on dry and wet roads
Cons
Tires generate considerable noise
---
3. Michelin X-Ice SNOW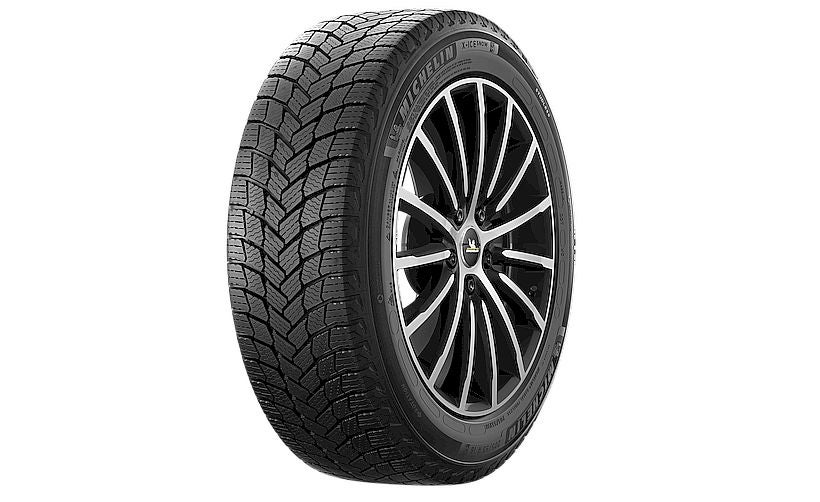 The Michelin X-Ice lineup is well known for their high quality winter tires, and the new SNOW sits at the top of the list. Its FleX-Ice 2.0 tread compound provides added flexibility in very cold temperatures, while notched sipes provide numerous biting edges that help enhance traction in adverse conditions, along with variable thickness sipes that further aid traction while supporting the tread elements to maintain an efficient contact patch for control on packed snow and clear roads.
The Michelin X-Ice SNOW features an aggressive tread pattern with indicators that inform the driver of the remaining tread depth of the tire, after which traction in snow will decline considerably. Smart design features, coupled with GreenX technology that increases the fuel efficiency of the tire, make it one of the best snow tires available this season.
Key Features
Six year/40,000-mile treadlife warranty
High silica content tread compound increased handling on dry and wet roads
Micro sipes to increase winter traction
Pros
Best warranty of any snow tire
Excellent snow and ice traction
Stable ride with lots of grip on dry surfaces
Comfortable driving experience
Cons
Cornering ability on wet roads is average
---
4. Goodyear Ultra Grip 8 Performance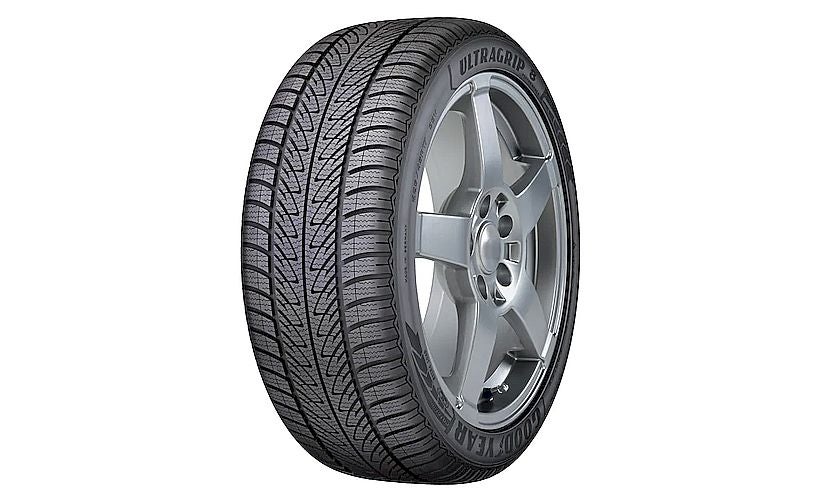 Goodyear makes the top ten with their latest Ultra Grip 8 Performance  tire. This model delivers excellent deep snow traction, and has a ride that is also comfortable at the same time.

The Goodyear Ultra Grip 8 enables your vehicle to accelerate, brake, and corner without fear of the car slipping or unable to maintain traction on slush or snow. The directional tread design with accompanying grooves expels water away from the tire footprint, increasing traction on wet surfaces.
Key Features
Winter reactive technology to increase performance on snow
Grooves expel water to increase wet traction
3D Treadlock technology that increases cornering grip
Pros
Excellent grip on snow and ice
Stable driving experience on both dry and wet roads
Cons
Users have reported that tires become noisy with use
Buy a set of Goodyear Ultra Grip 8 Performance tires now
---
5. Dunlop SP Winter Sport 4D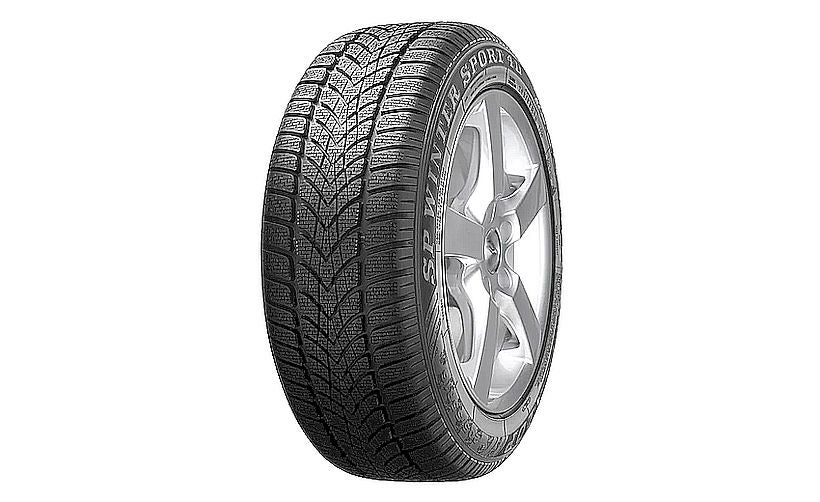 If you drive a high performance coupe or sedan, the SP Winter Sport 4D from Dunlop is one of the best in class. With a reactive silica tread compound for enhanced performance in cold temps and 3D sipes for increased traction, this is a tire that is built to handle tough conditions while providing excellent dry, wet and winter driving performance.
The Dunlop SP Winter Sport 4D is among the best snow tires available for 2021. The claim is based on how well the tire performs on slush, and even in hard packed snow when most tires suffer from decreased traction.
Key Features
Reactive silica infused tread that provides traction in winter weather
Tread designed to reduce the threat of hydroplaning
Jointless band technology that doesn't allow the tire to lose shape, when covering long distances
Pros
Excellent stability while driving on streets and highways
Snow performance is outstanding
Provides a comfortable driving experience
Cons
Cornering on wet roads could be improved
Tire durability is an issue
Click Here For A Complete Review
---
6. Yokohama iceGUARD iG53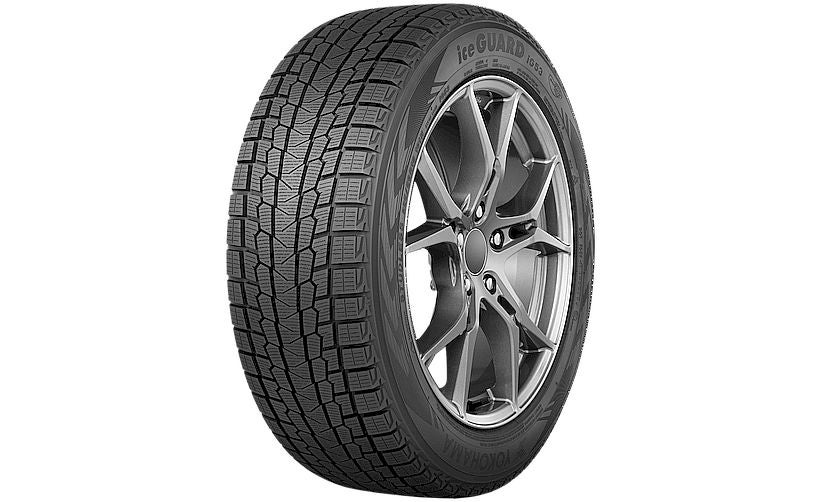 Yokohama hasn't been making snow tires that long, but that hasn't stopped the famous tire company from making numerous improvements to the previous model to create the iceGUARD iG53 winter tire.
It features a triple-action, high-density tread compound with triple 3D sipes in the center tread block for optimal traction on snow covered roads. The mid-shoulders have zigzag circumferential grooves for traction on snow. It's also optimised to bite into ice with an absorptive tread compound and micro-diagonal grooves.
The Yokohama iceGUARD iG53 is the brand's most ecologically friendly winter tire with their "BluEarth" branding.
Key Features
A

bsorptive tread compound lets the tire contact the road

More sipes and grooves to grip snow and ice
Unique fuel saving design
Pros
Affordable entry into premium snow tires
Available in smaller sizes
30 day test drive warranty
Cons
Not available over 19 inches
Not ideal for winter dry road performance
Click Here For A Complete Review
---
7. General AltiMAX Arctic 12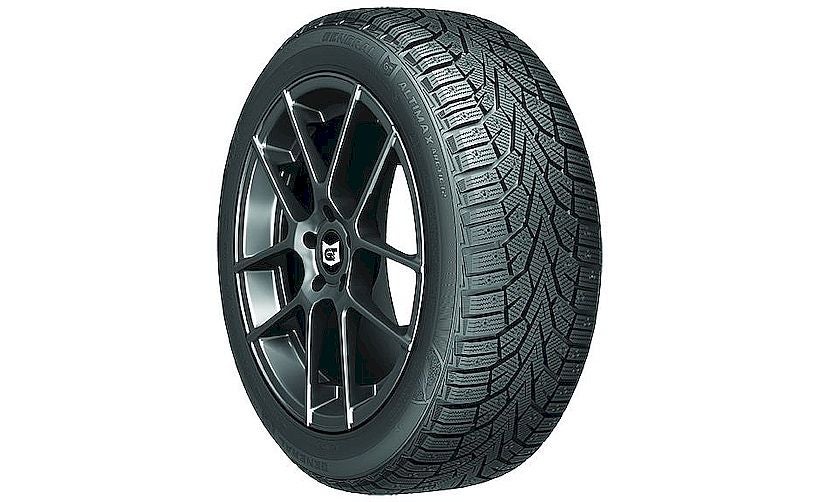 The General AltiMAX Arctic 12 provides tremendous bang for your buck, excellent traction on all surfaces, and excellent steering control even in the harshest of weather conditions. In fact, one of Tire Reviews and More's staff members in Vermont chose them for their V-8, rear-wheel drive car and has no trouble getting around in any winter conditions.
The AltiMAX Arctic from General has consistently ranked as one of the best-selling winter tires for several years now, and the latest AltiMAX Arctic 12 snow tire only improves the model. Built to handle the toughest in winter weather conditions, this model features an all-weather dual tread compound and high-density siping, as well as an optional studdable design. This is a spectacular tire to feature as the top 10 winter tires available in 2020.
Key Features
Dual tread compound that increases wet traction
Center ribbed design that increases stability on highways
Siping that increases acceleration and braking on snow surfaces
Pros
Impressive cornering and stability on snow surfaces
Excellent braking and acceleration even on hard-packed snow
Great value for money
Cons
Performance on dry roads could be improved
Click Here For A Complete Review
---
8. Michelin Pilot Alpin PA4
Michelin built the Pilot Alpin PA4 to provide exceptional winter traction to go with summer tire like driving on dry or wet pavement, and this tire does just that. A sunflower oil-enriched helio tread compound combines with variable thickness sipes to give the PA4 outstanding overall performance.
The Michelin Pilot Alpin PA4 is a slightly expensive tire design perfect for tuner and luxury cars that need to extract the highest performance to function well on ice and slush conditions. The tires have been designed with Michelin's StabiliGrip technology that improves acceleration, braking, and handling.
Key Features
Helio compound improves traction in snow
Fuel efficient
Asymmetric tread pattern with grooves designed to offer grip on wet roads
Pros
Excellent handling on even densely packed snow
Tire allows for impressive acceleration and braking
Comfortable driving experience
Cons
Click Here For A Complete Review
---
9. Continental WinterContact SI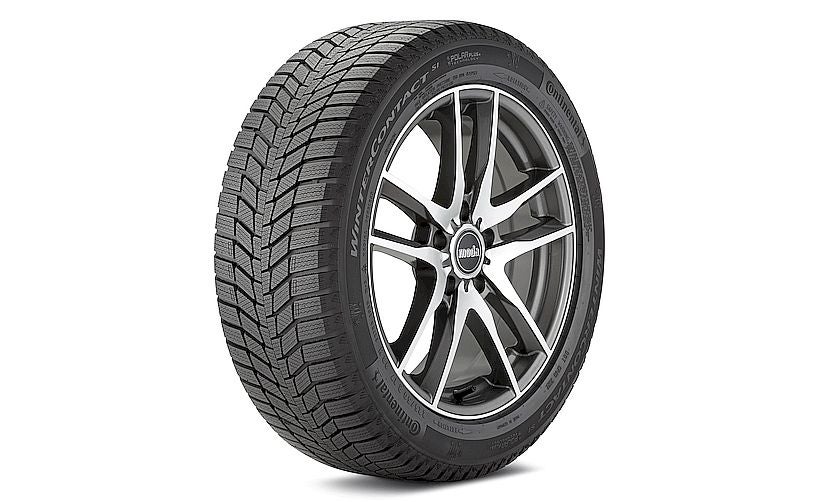 The SI in the Continental snow tire's name means Snow and Ice, which is where this winter tire thrives. Replacing the popular ExtremeWinterContact, this is one of the best snow tires from Continental for the drivers of coupes, sedans, minivans, and crossovers. Not only does this tire deliver dependable grip in deep snow and ice, but it also provides a quiet and more comfortable ride at the same time.
The Continental ExtremeWinterContact is priced lower than most other offerings that make up the best winter tires available in 2021. The tire provides precise steering control in dry and wet conditions while boasting of an attractive tread pattern.
Key Features
Tread compound with siping to improve traction in snow
Lateral grooves improve performance on dry roads
Edged design allows for excellent grip on snow surfaces
Pros
Excellent performance on slush and snow
Outstanding cornering ability on dry and wet roads
60-day trial period
Cons
Louder than some competitors
Click Here For A Complete Review
---
10. Nokian Hakkapeliitta R3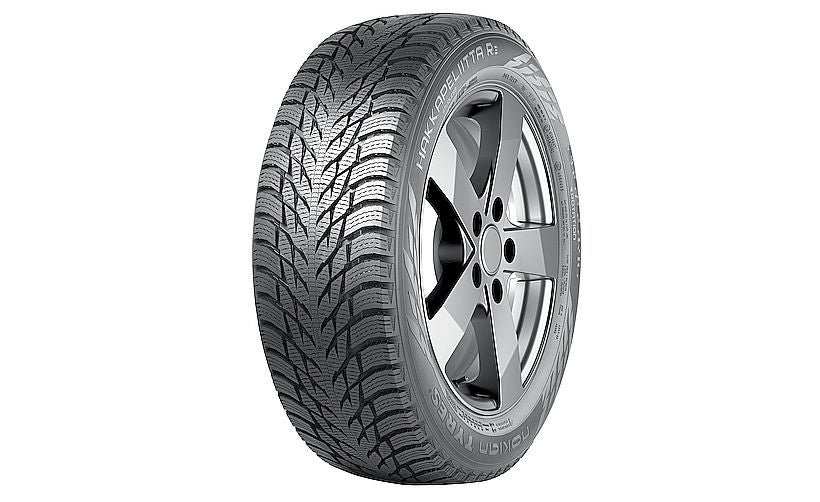 Last on the list, but one of the very best tires if you're driving in harsh winter conditions, Nokian's latest winter tire, the Hakkapeliitta R3, offers impressive snow and ice performance while also maintaining fuel economy with its lower rolling resistance tread design. The Nokian Hakkapeliitta R3 has been specially designed with a unique silica-based tread compound that allows this tire to grip onto surfaces.
Braking and acceleration on winter roads is among the best you'll find regardless of model. The tire provides stability during high-speed cornering and even long highway commutes, making this a perfect tire to purchase for the winter season.
Key Features
Low rolling resistance; fuel efficient
Particles laced in the tread compound offers superior grip in snow
Claw design to dig into the surface for traction
Pros
Performance in snowy conditions is outstanding
Stability on dry roads is excellent
Available in studless, studded and SUV models
Cons
Tire durability could be improved
Click Here For A Complete Review
---
Why Buy Winter Snow Tires?
Winter weather causes roads to become packed with snow or slush. The road can become hazardous for travel, and normal tires are unable to maintain grip and traction on snow. This causes drivers to lose steering control.
The best winter tires available this year  are specially designed with technologies and newer designs, such as, biting edges and grooves that increase the traction on snow surfaces. These characteristics allow vehicles equipped with winter tires to travel safely on snow affected roads, making them the ideal tire for drivers that have to travel in winter weather.
For Temperatures Below 7° Celsius, Get These Tires On!
The matter of safety and minimizing the risks to oneself and other motorists while driving can never be underestimated. Winter tires are essentially designed to work under intense temperatures, ice and snow that make driving hazardous.
The Unique Design Says It All
Winter tires are particularly designed with superior tread patterns and sipes for the purpose of additional grip and traction on snowy routes.
An open, unidirectional tread pattern is what sets winter tires apart and provide a smooth driving experience. For better results, studded or spiked tires are the first choice of global consumers.
And Then, The Unique Tire Material
Comprising of a higher ratio of natural rubber reinforced with specialized high silica materials, winter tires offer much better grip with the treading surface. The soft, pliable and flexible texture makes it an ideal choice for driving during cold, snowy winters.
A Word Of Caution: When you decide to replace your all-season tires with winter ones, you've got to replace all 4 tires simultaneously. Changing just the front or the rear pair often leads to uneven wear and tear.
Winter Tire FAQs
Do SUVs Need Winter Tires?
Many SUV drivers believe that they don't need winter tires as their vehicles are immune to skidding and slipping on snow – this is simply not true. Winter tires are equally important for them because in rough winter conditions, all-season tires are unable to grip ice-clad surfaces, leading to poor traction and maneuverability. Overall, this results in increased braking time and poor control of the vehicle.
When Should I Put My Winter Tires On?
You should consider installing winter tires once the average temperature in your area drops to 7 degrees Celsius or below, regardless of the month or season. As the temperature drops, all-season tire's rubber starts to harden, making it less efficient in providing traction – and this is exactly where winter tires are built to shine.
How Many Years Do Winter Tires Last?
While many manufacturers claim that their tires can withstand up to six seasons, it all depends on your mileage or the road on which you are driving. For instance, if you frequently drive on freezing road surfaces, then your tires will wear out fairly quickly compared to driving on snow. Similarly, if you cover a lot of distance – no matter on ice or snow – you will experience increased tread wear.
Can I Drive On Winter Tires Year-Round?
As winter tires are specially designed to perform on snow, ice or slush, they are not suited for driving all-year-round. The rubber on winter tires is more susceptible to wear in the summers, leading to faster tread wear. Also, the dry grip and maneuverability of your vehicle is reduced in warmer conditions due to their soft composition.
How Fast Can I Drive With Winter Tires?
Your winter tires are meant to provide optimal performance up to the speed limit mentioned by the manufacturer – this information is usually stamped on the tire itself. Exceeding this can make your vehicle prone to skidding and sliding on snow or other winter surfaces.
Are Winter Tires Noisier?
Winter tires are significantly noisier compared to all-season tires due to their composition and performance requirements. For example, they have wider spaces between the treads for increased grip on snow, a softer rubber composition built to keep the tire sticky during freezing temperatures, etc. Combined, these features provide excellent winter traction – but they also make the tire a bit noisy.