Yokohama YK740 GTX Tire Review & Rating
The new for 2016 Yokohama YK740 GTX is the company's newest model in their touring all-season tire lineup. Built for use on all types of coupes, sedans, minivans and crossovers, the YK740 GTX is offered exclusively at Discount Tire and features dependable all-season traction, a smooth and quiet ride, and a longer lasting treadlife.
An asymmetric tread pattern and unique ELS Orange Oil tread compound are designed to help this tire deliver the type of dry and wet traction that you expect out of your tires. Yokohama has done a solid job in this area and we've heard this mentioned by other drivers in reviews as well.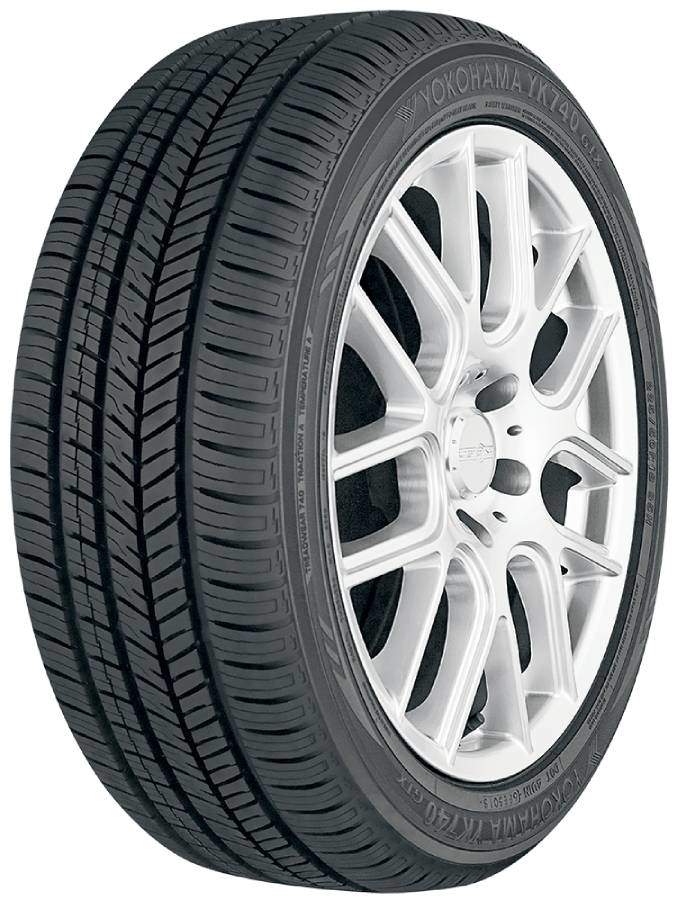 The ELS (End-Locked Silica) Orange Oil compound is not only environmentally friendly, but it allows the tire to be more pliable in a range of temperatures. The results are increased grip and better handling on dry, wet or snow covered road surfaces.
The tire's tread pattern and wider tread profile assist with greater cornering grip and handling stability throughout the speed zone, which is another plus for the YK740 GTX. When rain falls and the pavement becomes wet, triple 3-D sipes and four wide circumferential grooves evacuate water away from the tire and provide biting edges to better grip the road. These sipes, along with the silica compound, further add to traction in snow.
Yokohama uses adaptive shoulder blocks and an optimized multi-pitch tread sequence to give the YK740 a quieter and overall smoother ride. To that end, Yokohama has delivered. This is one of the quieter riding all-season tires in its class.
Inside the tire are twin steel belts with a nylon cord ply that add to durability and stability. A range of 15-20 inch sizes are available, and all sizes are either H or V-speed rated. Yokohama also includes a 60K mile tread warranty as well.
Pros
Excellent dry traction and cornering stability
Triple 3-D sipes deliver very good wet grip
Quiet and smooth ride
Treadlife has shown to be longer lasting
Cons
Ice braking and acceleration
Overall Thoughts
This new YK740 GTX from Yokohama is a nice addition to the touring all-season class. With its new technology and solid performance, this is certainly a tire that ranks in the upper half of this category.
Traction on dry and wet pavement is sure-footed and inspires confidence whether driving around town or out on the highway. It delivers very good responsiveness and cornering stability that you like to see in a touring tire.
There is little in the way of road noise on this tire, and the ride is smooth for the most part. We say that because potholes and larger bumps can be a bit jarring at times, which is pretty common among most all-season tires. The only issue you may face is braking and acceleration on ice and hard-packed snow. While this is not a winter tire by any means, it does pretty well in light to moderate snow.
Overall a more than capable tire that provides good value for the money.
Click Here For Current Yokohama Coupons
Click Here To Find Current Prices
Buy Used for 40 – 50% Less than Retail
What Vehicles Will The Yokohama YK740 Fit?
(This is not a complete list of ALL vehicles this tire will fit)
BMW 3-Series, 5-Series
Buick LeSabre, Century
Chevy Cruze, Malibu, Impala, Monte Carlo
Chrysler Sebring, Town and Country, 300M
Dodge Grand Caravan, Stratus, Intrepid
Ford Fusion, Taurus, Focus
Honda Accord, Civic, Fit, CR-V, Odyssey
Hyundai Equus, Sonata, Genesis
Kia Optima
Lexus ES, GS, IS, LS
Mazda 2, 3, 5, 6, CX-5, CX-7
Nissan Altima, Maxima
Nissan Altima, Maxima, Sentra
Toyota Camry, Corolla, Prius, Avalon
Volkswagen CC, Golf, GTI, Jetta, Passat
Volvo S60, V70, V90, S80, S90
Tire Sizes
15″
175/65R15 84H BW
185/55R15 82V BW
195/60R15 88H BW
195/65R15 91H BW
205/60R15 91H BW
205/65R15 94H BW
16″
185/55R16 83H BW
195/45R16 84H XL BW
195/50R16 84H BW
195/55R16 87H BW
205/55R16 91H BW
205/60R16 92H BW
205/65R16 95H BW
215/55R16 97H XL BW
215/60R16 95V BW
215/65R16 98H BW
225/50R16 92V BW
225/55R16 99V XL BW
225/60R16 98H BW
235/65R16 103H BW
17″
205/45R17 84V BW
205/50R17 93V BW
215/50R17 95V XL BW
215/55R17 94V BW
225/50R17 94V BW
225/55R17 97V BW
225/60R17 99H BW
235/50R17 96V BW
235/55R17 99H BW
235/60R17 102H BW
18″
215/55R18 95H BW
225/45R18 95V XL BW
225/50R18 95H BW
225/55R18 98H BW
225/60R18 100H BW
235/45R18 94V BW
235/55R18 100V BW
235/60R18 107H XL BW
245/45R18 100V XL BW
245/50R18 100V BW
255/55R18 109V XL BW
19″
225/55R19 99V BW
235/40R19 96V XL BW
235/50R19 99V BW
235/55R19 105V XL BW
245/55R19 103H BW
255/45R19 100V BW
255/50R19 107V XL BW
20″
235/55R20 102H BW
245/40R20 99V XL BW
245/50R20 102H BW
255/50R20 109V XL BW
255/55R20 110H XL BW
265/50R20 107V BW
Price Range
Yokohama YK740 GTX prices range from approximately $97 and up. You may also find occasional rebates, discount prices, coupons and special offers on this tire.
Click Here To Find The Current Prices On All Yokohama YK740 GTX Sizes
Warranty
Yokohama provides a 60,000 mile treadlife warranty on the YK740 GTX. There is a first 2/32 inch of wear guarantee on the tire's uniformity for all sizes.
Materials and workmanship are guaranteed for 5-years and include first year or first 2/32 inch of wear free tire replacement. A prorated amount is given for the remaining time period or down to the final 2/32 inch of tread depth.
---