Bridgestone Blizzak WS90
Overview
The Bridgestone Blizzak WS90 is a studless winter tire designed to be driven on icy and snowy roads. This variant of Bridgestone assures top-notch grip and control even in freezing temperatures – as such, it features stable acceleration and enhanced stopping.
In addition, this model has an asymmetric tread pattern with stiffened blocks that result in better steering and improved wear life. The pattern is designed to provide more contact area with increased block edges that generate better traction and reduced braking distance on snow, slush and ice.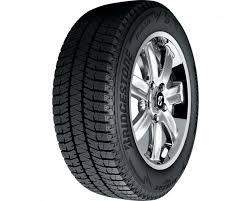 With a silica based tread compound, it provides a superior grip on snow and ice. Also, the mold engineered by Bridgestone consists of bite particles especially formulated to cut the water layer that is generated in the middle of the tread rubber and ice, resulting in greater traction.
Lastly, the treadwear is slower, especially compared to its predecessor the WS80, as per the manufacturer. Most improvements and new features are based on feedback provided by customers and dealers of the previous variant.
Blizzak WS90's speed rating is H (210 km/h) and comes in sizes ranging from 14" to 20". The tire has been rated 3PMSF (three-peak mountain snowflake) as per industry standards, thus proving its durability in tough winter conditions. Its low-rolling-resistance also accounts for a smooth and comfortable riding experience due to less noise generation.
They can be used all-year-round, but it's not recommended since treadwear is increased in summers and the tire loses its traction.
The Bridgestone Blizzak WS90 comes with a limited Workmanship & Materials Warranty if bought from an authorized dealer.
The Pros
Highly reliable braking on snow and ice

Improved handling and control on the winter roads

Great traction

Rated high on industry standards
The Cons
It comes with no tread life warranty
Overall Thoughts
To conclude, Bridgestone Blizzak with its features like block stiffness, interlocking sipes and specially formulated mold, etc., is a formidable winter tire, better than its forerunner with a higher industry rating.
Designed to provide ultimate grip on snow, slush and ice, this variant is good for all-season driving but particularly brilliant on snowy conditions with enhanced stability and control.
The model also comes with sturdy and stiffened blocks that increase the tire's wear life and a multi-cell compound that contains bite particles to better grip icy surfaces while also reducing aquaplaning.
On the whole, the Bridgestone Blizzak WS90 is brilliant if you are looking for a comfortable and quiet ride with utmost traction on the wintery roads.
Note: it is advisable to ensure installation of a complete set of 4 tires without mixing in other brands for maximum performance and surface grip.
What Vehicles Would Blizzak WS90 Tires Fit?
The list of vehicles that Bridgestone Blizzak is built to support is as follows – these are not the complete set of vehicles that this tire can fit.
Acura CL

Acura CL Premium

Acura CSX Premium

Acura CSX Touring

Acura ILX

Acura ILX Hybrid

Acura RSX

Acura RSX Type-S

Audi A3 Sportback e-tron PremiumG

BMW 128i

BMW 320i

BMW 323Ci

Chevrolet Beretta

Chevrolet Beretta GTZ

Chevrolet Beretta Z26

Chevrolet Cavalier

Chevrolet Cavalier LS Sport

Chevrolet Cavalier RS

Dodge Avenger

Honda Civic EX-L

Honda Civic LX

Honda Civic LX-S

Honda Civic Si

Hyundai Elantra Coupe GLS

Hyundai Elantra Coupe GS

Kia Forte Koup EX

Kia Forte LX

Kia Forte LXS

Kia Forte S

Kia Forte5 EX

Lamborghini Jalpa

Lexus CT200h

Lexus IS250

Lexus IS300

Lexus IS300 Sportcross
Tire Sizes Available
The Bridgestone Blizzak WS90 is available in a variety of sizes and caters to multiple types of passenger cars like sedans, minivans and coupes.
14″
15″
175/65R15 84H

185/55R15 82H

185/60R15 84T

185/65R15 88T

195/60R15 88T

195/65R15 91H

205/65R15 94T

215/70R15 98TL
16″
185/55R16 87T

195/55R16 87H

195/60R16 89H

205/55R16 91H

205/60R16 92H

205/65R16 95T

215/55R16 97H

215/60R16 95H

215/65R16 98H

225/60R16 98H

225/65R16 100T

235/60R16 100T

235/65R16 103T
17″
205/40R17 84H

205/50R17 93H

215/45R17 91T

215/50R17 95H

215/55R17 94H

215/60R17 96T

215/65R17 99T

225/45R17 91H

225/50R17 94H

225/55R17 97H

225/65R17 102H

235/45R17 97H

235/55R17 99H

235/60R17 102T

245/45R17 99H,

P245/50R17 98H
18″
215/55R18 95T

225/40R18 92H

225/45R18 95H

225/50R18 95T

225/55R18 98H

235/40R18 95H

235/45R18 94H

235/50R18 101H

245/40R18 97H

245/45R18 100H

245/50R18 104H

255/35R18 90H
19″
235/50R19 99H

245/45R19 98H
20″
Price Range
The Bridgestone Blizzak can be bought for as low as $89.97 from certain dealers; however, it is well advised to buy it from certified dealers.
You can also get occasional deals and better discounts by buying from online stores or in a set of four.
Warranty Offered
Bridgestone offers no tread life warranty on this variant and the warranty on uniformity is of the first 2/32" of wear.
The limited warranty for Workmanship and Materials for defects applies until:
5 years from the date of production

Prorated until 2/32" for the remaining and usable tread