Mastercraft MC-440 Tire Review & Rating
The Mastercraft MC-440 all-season tire is designed to deliver reliable traction and handling in year-round conditions, as well as a comfortable ride and long lasting treadlife. It also features a lower price for budget-conscious drivers.
Mastercraft, which is a division of Cooper Tire, uses an all-season tread compound that is M+S rated with an asymmetric tread pattern that combines to provide very good traction and handling on dry road surfaces. The continuous center rib quickens steering response and adds to on-center feel.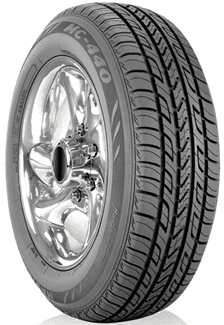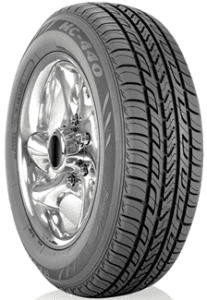 Wide circumferential grooves and unique lateral shoulder slots and see-through grooves contribute to its grip on wet pavement. It works well on this model and is an area we've heard other drivers mention in reviews as being a real plus as well.
Traction in light snow is aided by the biting edges of the grooves and lateral slots, although this is not a major strength for this tire. Grip in deeper amounts of snow, and on ice and hard-pack, is questionable. A dedicated winter tire is advised if you live in an area that sees quite a bit of snow and ice.
The Mastercraft MC440 is available in a wide range of 14-17 inch sizes with speed ratings of T, H and V. Treadlife is backed by a 40K mile warranty.
Pros
Dependable dry and wet traction
Smooth and quiet ride at highway speeds
Dry/wet braking
Treadlife is above average
Value for the performance and money
Cons
Deep snow and ice traction
Overall Thoughts
As a value-priced tire, the Mastercraft MC-440 is among the better all-season tires. It delivers very good dry and wet traction, with better than average braking on most surfaces. The ride is smooth and quiet, although you might expect to hear a bit more noise as the tread wears down.
Where you may find issues is with grip in deeper snow and on ice. Naturally, this is not a winter tire and traction problems can be expected.
Treadlife has shown to be longer lasting than you might think, and it's backed with a 40K mile tread warranty.
Overall, while not the best in class against tires like the Continental TrueContact or General Altimax RT43 among others, the MC-440 is a nice choice in new tires for anyone looking to save some good money. Its value and performance for the money is excellent.
What Vehicles Will The Mastercraft MC-440 Fit?
(This is not a complete list of ALL vehicles this tire will fit)
Chevrolet Cobalt, Malibu, Cruze, Impala, Sonic LTZ
Dodge Neon, Avenger, Grand Caravan
Ford Focus, Mustang GT, Taurus, Fusion
Honda Civic, Insight, Accord, Odyssey
Hyundai Genesis, Sonata, Elantra
Kia Optima, Rondo
Mazda6, 929, Mazda3
Nissan Altima, Maxima, Versa, Leaf, Cube
Pontiac Vibe, Grand Am, Grand Prix, G5
Subaru Legacy, Impreza, Outback
Toyota Camry, Prius, Avalon, Solara, Matrix, Sienna, Corolla
Volkswagen Jetta, Passat, Touareg
Tire Sizes
14″
175/65R14 82T BLK
185/65R14 86T BLK
185/65R14 86H BLK
185/60R14 82H BLK
195/60R14 86H BLK
15″
185/65R15 88T BLK
185/60R15 84T BLK
185/65R15 88H BLK
195/65R15 91H BLK
195/65R15 91T BLK
195/60R15 88T BLK
195/60R15 88H BLK
195/55R15 85V BLK
205/65R15 94T BLK
205/65R15 94H BLK
205/65R15 94H BLK
205/60R15 91H BLK
215/65R15 96T BLK
215/60R15 94H BLK
16″
205/55R16 91T BLK
205/60R16 92T BLK
205/60R16 92H BLK
205/60R16 92V BLK
205/55R16 91V BLK
205/55R16 91H BLK
205/50R16 87V BLK
205/50R16 87V BLK
215/60R16 95V BLK
215/65R16 98T BLK
215/60R16 95T BLK
215/55R16 93H BLK
225/55R16 95H BLK
225/55R16 95V BLK
225/60R16 98T BLK
225/60R16 98V BLK
225/60R16 98H BLK
17″
215/55R17 94V BLK
215/50R17 95V XL BLK
225/50R17 94V BLK
225/60R17 99T BLK
Price Range
Mastercraft MC-440 prices range from approximately $51 and up. You may also find occasional rebates, discount prices, coupons and special offers on this tire.
Warranty
Mastercraft provides a 40,000 mile tread warranty on the M-440. Tire uniformity is guaranteed on all sizes for the first 2/32 inch of wear.
Materials and workmanship are warranted for 6-years and include free replacement during the first 2/32 inch of wear. A prorated amount is given down to the final 2/32 inch of tread depth. You also receive a 45-day road test guarantee that allows you to exchange the tires if you are not completely satisfied.
---