Hankook DynaPro ATM RF10 Tire Review & Rating
The Hankook DynaPro ATM RF10 is engineered to deliver all-terrain performance as well as high performance on the highway for drivers of all types of pickups, vans and SUV's. The aggressive tread design provides the grip and acceleration you're looking for both on and off road.
The thicker tread compound on the RF10 is made to offer better puncture resistance and protects against tread and sidewall damage from rocks and other debris on the highway or off the beaten path, which it does quite well for the most part. The tread pattern is maximized to provide superior traction in mud, sand, gravel, snow and other conditions, while also remaining remarkably quiet around town or on the highway. We've heard this mentioned frequently in driver reviews as a real plus on this model.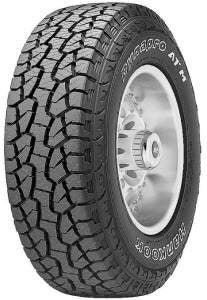 The zig-zag tread design two step sipes increase grip and traction on wet or icy road surfaces, in addition to providing added off-road traction. Unique stone ejectors around the shoulder and center tread grooves quickly eject rocks and prevent damaging the tire, while angled side grooves push mud out. The result is better overall handling and gives you more confidence behind the wheel.
The tread width on the RF10 has been widened up to 8% over comparable tires in this class to provide more even wear and give the tire enhanced grip in all types of road conditions. Inside the tread you'll find two steel best added strength and stability.
Hankook has also added a rim protector to guard against damaging your wheels, as well as a rim cushion to prevent damage to the sidewall and tire separation in the event the tire pressure becomes low. Sizes are available from 15-22 inches in both LT and non-LT versions. A 50,000 mile tread warranty is included with this tire.
Click Here For Current Hankook Coupons
Click Here To Find Current Prices
Pros
Tires easily handle rain, mud, snow, dirt, gravel and other terrain

Steering response and feel are impressive

Very quiet on the highway

Treadlife is longer lasting

Value for the money is excellent
Cons
Sidewall could be a bit stiffer for more cornering power
Overall Thoughts
We have to say that we really like these Hankook all-terrain tires. Obviously, we are not alone in our assessment as other leading consumer reporting magazines feel the same way.
The ATM RF10 has similar performance to top tires like the BFGoodrich Rugged Terrain TA and Cooper Discoverer AT3. It delivers the best of both worlds; excellent off-road traction on all types of terrain, with the ride quality of a highway all-season tire. Unless you're a hard-core off-roader it's hard not to like this model.
The RF10 tackles elements such as deep snow and ice like a beast. We would say that traction in winter weather is on par with the best tires in this class. Treadlife is another plus for this model as evidenced from many driver reviews. What is also nice about this tire is that you'll save $100 or more over the BFG's, giving it outstanding value for the money.
Overall, we rank this Hankook RF10 in the upper half of the all-terrain class and highly recommend it.
What Vehicles Will The DynaPro RF10 Fit?
(This is not a complete list of ALL vehicles this tire will fit)
Cadillac Escalade

Chevrolet Silverado, Tahoe, Subruban

Dodge Ram, Dakota, Durango

Ford F Series, Ranger, Explorer

GMC Yukon, Denali, Sierra

Honda Element, Pilot

Jeep Grand Cherokee, Liberty, Wrangler

Nissan Titan, Armada

Toyota 4Runner, Tacoma, Tundra, Sequoia
Tire Sizes
15″
30X9.50R15 104R BW
31X10.50R15 109R BW
33X12.50R15 108R BW
235/75R15 109T BW
LT235/75R15 101R BW
16″
255/70R16 111T BW
265/70R16 112T BW
LT215/85R16 112R BW
LT225/75R16 112S BW
LT235/85R16 116R BW
LT245/75R16 116S BW
LT265/70R16 114R BW
LT265/75R16 120R BW
LT285/75R16 123R BW
LT305/70R16 121R BW
LT315/75R16 121R BW
P225/70R16 103T BW
P225/75R16 106T BW
P235/70R16 107T BW
P235/75R16 109T BW
P245/70R16 111T BW
P245/75R16 109T BW
P255/65R16 106T BW
P255/70R16 109T BW
P265/75R16 114T BW
17″
245/65R17 111T BW
265/65R17 112T BW
LT225/75R17 113R BW
LT235/80R17 117R BW
LT245/70R17 116R BW
LT245/75R17 118S BW
LT265/70R17 118S BW
LT275/70R17 118R BW
LT285/70R17 118S BW
LT295/70R17 118R BW
LT315/70R17 118R BW
P235/65R17 103T BW
P235/75R17 108T BW
P245/70R17 108T BW
P245/75R17 110T BW
P255/65R17 110T BW
P255/70R17 110T BW
P255/75R17 113T BW
P265/70R17 113T BW
18″
265/60R18 114T BW
LT265/70R18 121R BW
LT275/65R18 120S BW
LT275/70R18 122S BW
LT285/65R18 122S BW
LT325/60R18 121S BW
LT325/65R18 124S BW
P255/60R18 107T BW
P255/70R18 112T BW
P265/65R18 112T BW
P265/70R18 114T BW
P275/65R18 114T BW
20″
275/55R20 113T BW
305/50R20 120T BW
LT275/65R20 123S BW
LT285/55R20 119S BW
LT305/55R20 118S BW
LT325/60R20 123S BW
P275/60R20 114T BW
22″
305/45R22 118T BW
LT325/50R22 122S BW
Price Range
Prices on the Hankook ATM RF10 range from approximately $104 and up. You may also find occasional rebates, discounts, coupons and special offers on this tire.
Click Here To Find The Current Prices On All Hankook DynaPro ATM RF10 Sizes
Warranty
A 50,000 mile treadlife warranty on P-metric sizes is included with this tire. There is also a first 2/32 inch of wear guarantee on the tire's uniformity.
Materials and workmanship are warranted for 5-years and include first 25% of wear free replacement. Hankook then prorates the remaining amount down to the last 2/32 inch of tread depth.
---