Pirelli Scorpion SF2 All Season Tire Review & Rating
The Scorpion All-Season SF2 tire is a new addition to the renowned Pirelli Scorpion range of passenger vehicle tires. The SF2 is built specifically for crossovers and SUVs and is intended for genuine year-round use.
It sports the M+S symbols and the 3PMSF (Three Peak Mountain Snowflake) ratings for winter performance, making the Pirelli All-Season SF2 a genuine four-season tire; it complies with regulations requiring winter-rated tires for part of the year.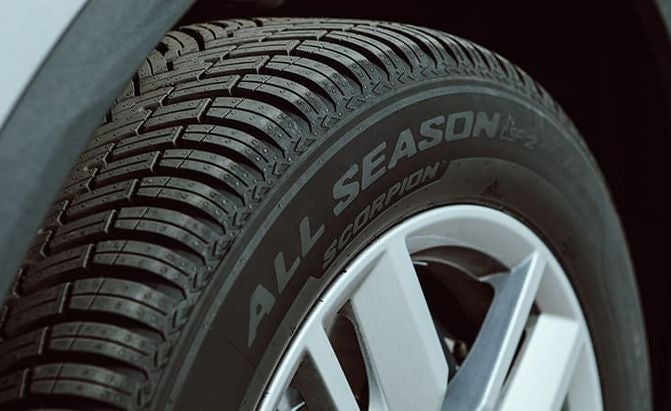 Regarding technology, the SF2 borrows heavily from the recently introduced Pirelli Cinturato Winter 2 tire. A directional and staggered V-shaped tread pattern with a high land-to-sea ratio promotes grip and stability by offering up a large surface area to the road. The tread pitch has been refined to optimize noise levels and maintain comfort. Grooves in the tread expand towards the outside of the tire to promote water evacuation out to the edges and keep the middle of the tire in contact with the asphalt.
The entire tread face is cut with 3D diamond sipes, which improve the consistency of performance as the tire wears and continue to offer biting edges for snow or ice. It is made from a new compound that offers toughness and all-weather traction. This dual-purpose compound is malleable even in colder weather, but with the help of reinforced and rigid tread blocks offers stability on dry pavement.
A special polymer blend with silica helps promote low rolling resistance while also helping with wet surface traction.
The All-Season SF2 tire also features the Pirelli Seal Inside technology, which offers puncture resistance for intrusions into the carcass as long as 4mm deep. A special gel/mousse compound inside the tire automatically seals smaller punctures to avoid a flat tire. This tire is also rated with Pirelli's "Elect" logo, which indicates tires designed for high-performance and high-torque electric vehicles like the Tesla Model X or the Kia EV6.
The tire is offered in sizes from 17 to 21 inches at launch.
Pros:
Genuine all-season performance
Puncture resistant
Cons:
Only suitable for larger vehicles
Not inexpensive
Overall Thoughts
Pirelli is a leading innovator of all-weather tires, and this SUV-focused Scorpion All-Season SF2 is no exception. It packs the Italian brand's best technology in a clearly targeted design that is purpose-built for medium and large SUVs.
Some users report that the busy tread design is noisy at first, but that noise and comfort levels improve after the first few weeks of tire wear. These tires can take heavy loads and work well on larger vehicles. The Elect badge means they are well matched to EV powertrains and the large amounts of torque that come with them.
You'll find these tires on premium SUVs like those from BMW, Audi, or Mercedes-Benz, and they're a very good option for Tesla SUV drivers.
Check Price
Tire Sizes
17-inch Rims
235/60 R17 106V XL
235/65 R17 108W XL
265/65 R17 112H
18-inch Rims
235/60 R18 107W XL
235/65 R18 110H XL
245/60 R18 109H XL
255/60 R18 112V XL
265/60 R18 114V XL
19-inch Rims
235/50 R19 103H XL
235/55 R19 105W XL
255/45 R19 104H XL
255/55 R19 111W XL
275/55 R19 111 XL
20-inch Rims
Competitors & Alternatives
There are very few all-season tires with a severe snow rating dedicated to SUV and crossover list, making this a stand-out in the field of high-end SUV tires. Pirelli's own Scorpion stablemate, the Verde, is a good alternative if you only need summer tire performance, and they will reward you with better dry grip and stability without the all-weather ability. Continental's CrossContact is another well-priced and well-rated SUV or Crossover tire.
Price Range
Pirelli Scorpion tires are among the most expensive in their classes, no matter which product you opt for. Expect to pay as much as 20% more than the cheapest variant in the category, but about the same for top-tier options from Michelin or Bridgestone. You may also find occasional rebates, discounts, coupons, and special offers on this tire.
Warranty
Pirelli offers an unlimited-time warranty against defects in workmanship or materials for this tire, with free replacement within 12 months or 2/32-inch of tread wear, whichever comes first. It also comes with a 1-year/ 2/32-inch warranty for uniformity. There is no treadlife warranty or road defect guarantee offered on this tire.