Michelin Premier LTX Tire Review & Rating
New in 2015, the Michelin Premier LTX is the company's latest touring all-season offering for drivers of all types of pickups, light duty vans, crossovers and SUV's who are looking for superior all-season traction, ride comfort and a longer treadlife.
The Premier LTX uses sunflower oil and increased amounts of silica in the tread compound that are designed to enhance grip on wet pavement. Combined with their EverGrip Technology and symmetric tread pattern, this combination delivers on its promises. In fact, based on company tests it stops shorter than other models like the Continental LX20 and Goodyear CS TripleTred.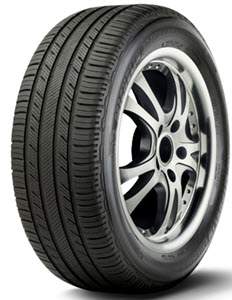 EverGrip technology is groundbreaking for the truck/SUV touring all-season class. Based on the same technology that you'll find in their Premier A/S for cars, EverGrip widens the tread grooves and allows new grooves to open as the tire wears down. The result is that dry/wet traction when worn is comparable to what you find on brand new tires.
Traction and braking performance is not the only benefits with the new Premier LTX. The comfort and noise level on this model is exceptional. On most tires in this class you'll have to make a trade-off between traction and ride comfort, but not on this tire.
Much of this is due to the twin steel belts that have been reinforced with spirally wrapped polyamide cord and sit under a polyester casing ply. The end result is a tire that provides the strength, durability and safety you would expect, with the level of response and comfort that comes on a high quality Michelin tire.
Michelin has initially released 34 sizes ranging from 16-22 inches, with speed ratings of H and V available. A 60K mile tread warranty is also provided.
Pros
Exceptional wet traction

Delivers good feel for the road at all speeds

Ride is smooth and comfortable

Tire is very quiet at all speeds
Very good winter performance
Cons
Hard to find any real faults with this tire
Overall Thoughts
Michelin's motto for the Premier LTX is "Safe when new. Safe when worn", and it fits well with this tire. We've spoken highly of the EverGrip technology on the Premier A/S and it was only natural for the company to extend it out to their LTX line. For anyone who drives on wet roads and highways, this tire delivers excellent performance. It's built to keep you and your family safer, and it does just that.
Beyond that, this tire drives smoothly on all but the roughest pavement. It rides comfortably and you won't hear any obnoxious and excessive road noise. Treadlife looks to be above average in its class and it comes backed for 60,000 miles.
All in all the new Premier LTX gets our vote as the top touring all-season tire in the truck, SUV and larger crossover class. You'll find it simply does not disappoint with its performance, comfort and long life.
Click Here For Current Michelin Coupons
Click Here To Find Current Prices
Buy Used for 40 – 50% Less than Retail
What Vehicles Will The Premier LTX Fit?
(This is not a complete list of ALL vehicles this tire will fit)

Chevrolet Silverado, Tahoe, Avalanche, S10, Suburban, K2500, Colorado, Blazer

Dodge Ram, Durango, Dakota

Ford Expedition, Escape, Ranger, Bronco, F-150, Excursion, Explorer

GMC Yukon, Sierra, Canyon

Honda Element, CR-V

Hummer H3, H2

Isuzu Trooper

Jeep Wrangler, Grand Cherokee, Liberty

Land Rover Discovery

Lexus GX470

Mazda B4000

Mercury Mountaineer

Mitsubishi Montero

Nissan Titan, Xterra, Frontier

Toyota Tacoma, Tundra, FJ Cruiser, Sequoia, 4Runner, Land Cruiser, Highlander
Tire Sizes
16″
215/65R16 98H BSW
215/70R16 100H BSW
17″
225/60R17 99V BSW
235/60R17 102H BSW
235/65R17 104H BSW
255/60R17 106V BSW
275/55R17 109V BSW
18″
225/60R18 100H BSW
235/50R18 97V BSW
235/60R18 103H BSW
235/60R18 107V BSW
235/65R18 106V BSW
245/60R18 105V BSW
255/55R18 109V BSW
255/55R18 109H BSW
265/60R18 110V BSW
19″
235/45R19 95H BSW
235/50R19 99H BSW
235/55R19 101V BSW
235/55R19 101H BSW
255/50R19 107H BSW
255/55R19 111V BSW
255/60R19 109H BSW
275/55R19 111H BSW
20″
235/45R20 100H BSW
235/55R20 102V BSW
245/50R20 102V BSW
245/60R20 107H BSW
255/50R20 109V BSW
255/55R20 110H BSW
265/50R20 107V BSW
275/50R20 109H BSW
275/55R20 113H BSW
275/60R20 115H BSW
22″
285/45R22 114H BSW
Price Range
Michelin Premier LTX prices range from approximately $136 and up. You may also find occasional rebates, discount prices, coupons and special offers on this tire.
Click Here To Find The Current Prices On All Michelin Premier LTX Sizes
Warranty
Michelin provides a 6-year or 60,000 mile tread warranty on the Premier LTX. Mileage is reduced by half if different size is used on rear than on front. Tire uniformity is guaranteed for the first year or first 2/32 inch of wear.
Materials and workmanship are warranted for 6-years and include free replacement during the first year or first 2/32 inch of wear. A prorated amount is given for the remaining time period or down to the final 2/32 inch of tread depth.
You will also find a 3-year flat tire changing service and Michelin's 30-day customer satisfaction guarantee.
---