Yokohama iceGuard iG53
Overview
The iG53 is Yokohama's premier tire designed for passenger cars and minivans.
This studless tire has been specially developed to provide excellent grip in adverse winter conditions – as such, it features a symmetrical tread pattern that significantly reduces rolling resistance and helps extend the life of the tire with lower tread wear and fuel consumption.
The specially formulated winter compound of the iceGuard iG53 combined with a directional pattern also makes this a good choice for drivers – especially since these features help direct water and slush to the outer edge of the tire, thereby increasing their resistance to hydroplaning.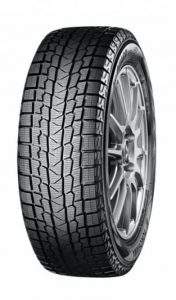 A wide center rib on the tread ensures continuous contact with the road and enhances the tire's ability to gain traction on snowy, wet and slushy surfaces. Also, the specially formulated absorbent compound soaks in the moisture formed on top of ice; this increases the tire's grip and traction on ice and snow.
Branded BluEarth by Yokohama, this tire is designed to be eco-friendly; this means that the production process involves utilizing renewable energy sources while its aerodynamic design lowers fuel consumption.
Like all top-of-the-line winter tires, the iG53 also comes with a zigzag groove pattern; this helps improve performance on wet surfaces by reducing rolling resistance and increasing water evacuation from the footprint. Similarly, the grooves create biting edges that further enhance adhesiveness on ice and snow.
This offering by Yokohama features a high density of 3D triple sipes and diagonal sipes that enable the tire to grip the surface for added traction. And finally, the tire promises a smooth, noise-free ride regardless of the terrain.
Additionally, this tire is built to be durable and withstand any given condition; the inner structure is made out of twin steel belts on a polyester cord casing while the nylon ply provides more control and stability on high-speeds.
The speed rating of the iG53 is H (210 km/h) and T (190 km/h), and it is available in multiple sizes that range from 14" to 18".
This tire comes with a limited warranty on uniformity, and materials and workmanship.
The Pros
Outstanding grip on ice, snow and slush

Improved traction on slippery surfaces

BluEarth technology
The Cons
Not better than studded tires on ice
Overall Thoughts
All in all, the Yokohama iceGuard iG53 is an outstanding winter tire with a quality design and build to provide excellent grip and traction throughout winters.
Its specially formulated compound combined with a symmetrical pattern helps it reduce rolling resistance and fuel consumption.
This eco-friendly tire is built with Yokohama's BluEarth technology – this means that it is up to 17% lighter than conventional tires. Also, the use of renewable energy in its construction makes it super environment-friendly.
All things considered, the iceGuard iG53 is an exceptional winter tire built to withstand the toughest sub-zero conditions. Its design makes it highly efficient in terms of fuel consumption and road comfort. Considering all the positives, it's a good choice amongst similar variants by competitors.
What Vehicles Would Continental iceGuard iG53 Tires Fit?
This variant by Yokohama is an eco-friendly studless winter tire designed for passenger cars and minivans.
Following is a list of some vehicles that this tire is compatible with:
Chevrolet Malibu

Honda Accord

Ford Fiesta

Ford Focus

Ford Taurus

Honda Civic

Honda CR-V

Nissan Altima

Toyota Camry

Toyota Corolla

Toyota RAV4
Tire Sizes Available
The iceGuard iG53 is available in the following sizes:
14″
15″
175/65R15 84T IG53

185/55R15 82H IG53

185/60R15 84H IG53

185/65R15 88T IG53

195/65R15 91T IG53
16″
195/50R16 84H IG53

205/55R16 91H IG53

205/60R16 92H IG53

205/65R16 95T IG53

215/55R16 97H XL IG53

215/60R16 95H IG53

225/60R16 98T IG53
17″
205/50R17 93H XL IG53

215/45R17 87H IG53

215/55R17 94H IG53

215/65R17 99T IG53

225/45R17 91H IG53

225/50R17 94H IG53

225/55R17 97H IG53

235/45R17 97H XL IG53

235/55R17 99H IG53

245/45R17 99H XL IG53
18″
215/55R18 95H IG53

225/40R18 92H XL IG53

225/45R18 95H XL IG53

225/50R18 95H IG53

235/45R18 94H IG53

235/50R18 101H XL IG53

245/40R18 97H XL IG53

245/45R18 100H XL IG53

245/50R18 104H XL IG53
Price Range
Yokohama iceGuard iG53's prices range from $89 and up per tire; you may also get additional discounts, deals and rebates when you purchase a set of four.
Warranty Offered
The iceGurad iG53 does not come with a tread life warranty while the uniformity guarantee is for the first 1.6 mm of wear or the first year.
Workmanship and materials are warranted for 5 years with free replacement for the first year or 1.6 mm of wear. Afterwards, a prorated amount is given until the final 1.6 mm of tread depth.