Federal 595 Evo Tire Review & Rating
Delivering summer high-performance at a lower cost is what the Federal 595 Evo tire is built to provide. With its technologically advanced design and aggressive looking tread pattern that features a scorching flame on the sidewall, this model is well-suited for all types of sports cars, coupes and high-powered sedans.
A summer tread compound and unique advanced 3-D tread design not only give this tire added traction and handling on dry pavement, but combined with the larger solid shoulder blocks, it delivers impressive cornering grip and stability. This is an area that has been an overwhelming positive in other driver reviews on this model.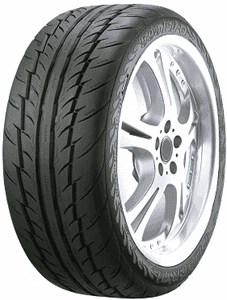 Four large circumferential grooves and 3-D groove profile which enhances surface footprint, increase wet traction and reduces the risk of hydroplaning. This unique 3-D design has been developed with competition in mind.
Federal uses a 2 in 1 tread pitch alignment that helps in reducing road noise when pushing the tires at higher speeds. It works well for the most part. While there is still some noise it is not excessive.
The Federal 595 Evo is available in 15-20 inch sizes with W and Y-speed ratings. ZR sizes are also available. A limited tread warranty is included with all tires.
Pros
Dry traction and handling
Very responsive steering
Grips the corners like a more expensive tire
Surprisingly good ride quality
One of the lowest priced UHP tires sold today
Cons
Needs a slight boost in wet traction and braking
Not the smoothest on harsh road surfaces
Overall Thoughts
It's not every day that we come across tires like the 595 Evo which deliver impressive performance at such a good value. Dry traction and handling are above average among value-priced tires and even among many of the bigger name brands for that matter.
If you're a corner-carver… you're going to enjoy this tire. It grips like glue. Steering response is excellent and you get a good feeling for the road at higher speeds. Treadlife has shown to be average, but with a 240 UTQG rating you should expect 25-35K miles from the tread depending on driving habits.
Areas where we feel improvements could be made would be a bit more traction on wet streets. It's ok, but you want to use a little extra caution. While noise is not an issue with this tire, the ride over rough pavement or in potholes is not the smoothest.
Overall, despite a couple of smaller flaws, the Federal 595 Evo is one of the better low cost UHP summer tires that we've reviewed. We've heard the same praises from other drivers of this tire as well. Highly recommended.
What Vehicles Will The Federal 595 Evo Fit?
(This is not a complete list of ALL vehicles this tire will fit)
Acura TL, RL, RSX
Audi A6, A4, A8L, TT
BMW 135i, 545i, 550i, 750Li, M5, M3, 330i
Buick Regal
Chevrolet Corvette, Impala, Monte Carlo, Camaro, Cobalt, Cruze, Malibu
Dodge Charger, Avenger, Challenger
Ford Mustang GT, Fusion, Focus, Contour
Honda Civic, CRZ
Hyundai Sonata, Veloster
Jaguar XKR, XK8
Lexus GS350, GS430, IS300, LS460L
Lincoln LS
Mazda3, RX-8, Miata
Mercedes-Benz E550, SL55, SL500, SLK320, CLK430
Mercury Milan
Nissan 370Z, Maxima
Pontiac GTO, Grand Am, G8, G6, Grand Prix, Trans Am
Scion tC
Subaru Legacy, Outback, Impreza, BRZ
Volkswagen Jetta, CC Sport, Passat, GTi
Tire Sizes
15″
165/55R15 75V BSW
195/55R15 85V BSW
195/50R15 82V BSW
16″
165/40R16 73V XL BSW
195/40ZR16 80W XL BSW
195/55R16 87V BSW
205/45ZR16 87W XL BSW
205/50ZR16 87W BSW
205/55ZR16 94W XL BSW
17″
195/40ZR17 81W XL BSW
205/40ZR17 84Y XL BSW
205/45ZR17 88Y XL BSW
215/40ZR17 87Y XL BSW
215/45ZR17 91Y XL BSW
225/45ZR17 94Y XL BSW
235/45ZR17 97Y XL BSW
255/45ZR17 102Y XL BSW
265/40ZR17 96Y BSW
18″
205/40ZR18 86Y XL BSW
225/40ZR18 92Y XL BSW
285/30ZR18 97Y XL BSW
19″
225/35ZR19 88Y XL BSW
225/40ZR19 93Y XL BSW
235/35ZR19 91Y XL BSW
245/35ZR19 93Y XL BSW
255/35ZR19 96Y XL BSW
275/30ZR19 96Y XL BSW
20″
225/30ZR20 85Y XL BSW
225/35ZR20 90Y XL BSW
245/40ZR20 95Y BSW
245/35ZR20 95Y XL BSW
255/30ZR20 92Y XL BSW
255/35ZR20 97Y XL BSW
275/30ZR20 97Y XL BSW
285/30ZR20 99Y XL BSW
Price Range
Federal 595 Evo prices range from approximately $60 and up. You may also find occasional rebates, discount prices, coupons and special offers on this tire.
Warranty
Federal provides a limited tread warranty on the 595 Evo.
---