Bridgestone Potenza RE-11 Tire Review & Rating
When it comes to an extreme high performance tire, you hear a lot of drivers mention the Bridgestone Potenza RE-11. That is due in part to the technology and performance that Bridgestone has put into this particular tire.
Engineered for high end sports cars, coupes and sedans, the uniquely designed RE-11 is at home on the street or track. Bridgestone uses 3-D Seamless Stealth technology, which they use in their Formula 1 and Gran Prix2 race tires, to give this tire better all-around grip and traction.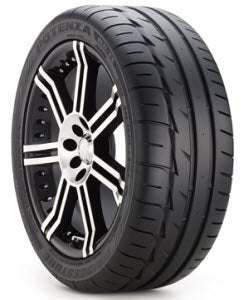 The asymmetric tread pattern features Stealth Blocks that work to provide added stiffness to the tread and better performance when driving on wet surfaces. Large outer tread blocks are interlocked with a notched circumferential rib to enhance cornering grip and steering response.
The RE-11 provides increased wet surface handling and traction with its circumferential grooves and continuous intermediate rib that work to expel water from under the tread and prevent hydroplaning.
Inside the tread you'll find twin steel belts that are spirally wrapped with nylon to give the tire more durability and strength at higher speeds. They also give the tire increased ride comfort and enhance treadlife. Sizes ranging from 15-19 inches are available, and it comes with a V or W-speed rating.
Pros
Cornering traction and stability is outstanding

Wet surface traction and hydroplane resistance is impressive

Treadlife is longer than expected for most drivers
Cons
Overall Thoughts
Whether you plan to use them as a daily driver (not sure you would really want to do that) or for track competition, the Bridgestone RE-11 ranks among the better tires in this class. The grip and stability they provide in the corners is excellent.
Treadwear is much better than you might expect as we've heard of drivers getting more than 30,000 miles out of them. The tradeoff of course is that the tires are a little noisy and ride comfort is not like a touring tire, but if that is what you're looking for then you really don't want this type of tire to start with.
Overall, this Bridgestone model is one of the better extreme high performance tires on the market today.
Click Here For Current Bridgestone Coupons
Shop Bridgestone Potenza RE-11 Now
What Vehicles Will The Potenza RE-11 Fit?
(This is not a complete list of ALL vehicles this tire will fit)
Acura NSX, Integra, TL

Aston Martin

BMW 135i, 328i, M3, M5, Z3

Chevrolet Camaro, Corvette, HHR

Ford Mustang

Honda Civic, S2000, Del Sol

Hyundai Genesis

Mazda Miata, RX-7

Mini Cooper S

Mitsubishi Lancer

Nissan 350Z, 370Z, Sentra

Pontiac G8, GTO, Trans Am, Fiero

Porsche Cayman S, 911, 928, Boxster S

Subaru Impreza WRX, Forester XT

Toyota Echo, Celica, MR2, Starlet

Volkswagen GTI
Tire Sizes
15″
195/50R15 82V BW
205/50R15 86V BW
16″
205/45R16 87V XL BW
205/55R16 91V BW
225/50R16 92VBW
17″
205/45R17 88W XL BW
205/50R17 93W XL BW
215/45R17 91W XL BW
225/45R17 94W XL BW
235/40R17 90W BW
235/45R17 97W XL BW
245/40R17 91W BW
245/45R17 95W BW
255/40R17 94W BW
18″
215/45R18 93W XL BW
225/40R18 92W XL BW
225/45R18 91W BW
235/40R18 95W XL BW
245/40R18 97W XL BW
245/45R18 100W XL BW
255/35R18 90W BW
265/35R18 93W BW
265/40R18 101W XL BW
275/40R18 99W BW
19″
225/40R19 93W XL BW
235/35R19 91W XL BW
245/35R19 93W XL BW
245/40R19 94W BW
255/35R19 96W XL BW
265/35R19 98W XL BW
275/30R19 96W XL BW
285/35R19 99W BW
305/30R19 102W XL BW
Price Range
Prices on the RE-11 range from $134 and up. You may also find occasional rebates, discounts, coupons and special offers on this tire.
Shop Bridgestone Potenza RE-11 Now
Warranty
Bridgestone does not have a mileage guarantee on this model as you might expect. There is a first 1/32 inch of wear warranty on tire uniformity, provided the tires were not shaved.
Materials and workmanship are backed for 5-years and include free replacement during the first 3 years. A prorated amount is given for the remaining time period or until there is 2/32 inch of tread depth left on the tire.
---