Continental ExtremeContact Sport Tire Review & Rating
The new for 2017 Continental ExtremeContact Sport, which will eventually replace the ExtremeContact DW, is specially designed for all types of sports cars, coupes and sedans. Built to deliver maximum traction and cornering grip with refined ride comfort, Continental has engineered this model to compete against the likes of the Michelin Pilot Super Sport and other best in class tires.
Continental uses an advanced summer tread compound with their patented +Silane technology that is matched up to a 5 or 6-rib asymmetric tread pattern for increased traction and handling on both dry or wet road surfaces.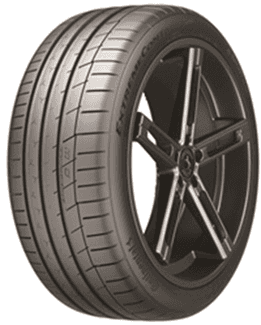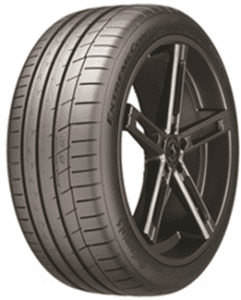 Larger outside tread blocks and the tires' continuous center rib, along with Continental's exclusive SportPlus Technology, give this tire quicker steering response and feel, while delivering the type of cornering grip and stability you would expect from a UHP summer tire. This is an area that places it among the best tires in its class.
The addition of the +Silane compound and optimized footprint with large circumferential grooves provide for increased traction on wet pavement. The grooves reduce the risk of hydroplaning at higher speeds and give you added confidence behind the wheel. We feel the ExtremeContact Sport is the company's best tire to date on wet roads.
Inside the tire you'll find two high-tensile steel belts with a spirally wrapped polyamide cap and two-ply sidewalls that add strength and durability throughout the speed range. Continental has also added Quickview Performance Indicators that are similar to what you find on their DWS06 and DW models. These indicators give you an at-a-glance view of how the tire is wearing and whether it has suitable tread depth for dry or wet road conditions.
Continental offers a wide range of 15-20 inch sizes with speed ratings of W or Y. A 30K mile tread warranty is also included.
Pros
Very good dry and wet traction/braking/acceleration
Extreme cornering grip and stability
Steering is quick, precise and very responsive
Surprisingly comfortable ride without much noise
Cons
Not a tire for cold weather or winter conditions
Overall Thoughts
If it's possible that a max performance tire can make you feel young again… the ExtremeContact Sport does just that. It brings out the full potential of your vehicle in a way that few tires can.
Dry traction and handling is as good as nearly any model you want to put it up against. What may be more impressive is the level of grip on wet pavement, especially during braking. Just when you expect the tire to lose its grip, it simply keeps on going.
Corner carvers are going to like this tire as well. We match it to the Michelin Super Sport in this regard. Other areas like ride comfort and noise are also good points for this tire. You won't find the road noise as you do on many UHP tires.
Other than the obvious negative of attempting to drive on this tire in winter conditions, we can't find any glaring weaknesses on this tire. Treadlife has initially shown itself to be good, but we will be updating as time goes by. With its 340 treadwear rating we would expect 25-35K miles from the tread, but driving habits are naturally going to play a big role in the mileage.
Overall, if you're looking for one of the better max high-performance summer tires, the Continental ExtremeContact Sport is a good choice. It does everything asked of it and more.
What Vehicles Will The Continental ExtremeContact Sport Fit?
(This is not a complete list of ALL vehicles this tire will fit)
Acura ZDX, TSX, ILX, RSX
Audi A3, A4, TT Quattro, A6, S4
BMW 128i, 135i, 328i, 335i, M3, Z4, X5, X6, 535i, X1
Buick Verano, Regal
Cadillac ATS, CTS
Chevrolet Cruze, Malibu, Cobalt, Sonic, Camaro, Impala, Corvette
Chrysler PT Cruiser
Dodge Dart, Challenger, Charger
Ford Focus, Fusion, Mustang, Fiesta
Honda Accord, Civic
Hyundai Sonata, Elantra, Tiburon, Genesis
Infiniti G35, I35, Q45, G37
Kia Rondo, Forte, Optima, Soul
Lexus IS250, IS350, GS350, IS300
Lincoln MKZ
Mazda3, Mazda5, MX-5 Miata
Mitsubishi Eclipse
Nissan Sentra, 350Z, Maxima, Leaf
Saab 9-5, 9-3
Scion xB, tC
Subaru Impreza, Legacy, WRX STI
Toyota Corolla, Matrix, Camry, Avalon, Prius
Volkswagen Beetle, Golf, GTI, Jetta, Rabbit, Touareg, Passat, CC Sport
Volvo C70, S80, V70, S60
Tire Sizes
15″
205/50ZR15 86W BSW
16″
195/50R16 84W BSW
205/45ZR16 83W BSW
205/55ZR16 91W BSW
225/50ZR16 92W BSW
17″
205/45ZR17 88W BSW
205/50ZR17 93W BSW
215/45ZR17 91W BSW
225/45ZR17 91W BSW
225/50ZR17 94W BSW
235/45ZR17 94W BSW
245/40ZR17 91W BSW
245/45ZR17 99Y BSW
255/40ZR17 94W BSW
255/45ZR17 98W BSW
275/40ZR17 98W BSW
285/40ZR17 100W BSW
18″
215/40ZR18 89Y BSW
225/40ZR18 92Y BSW
225/45ZR18 91Y BSW
235/40ZR18 95Y BSW
235/50ZR18 97Y BSW
245/35ZR18 92Y BSW
245/40ZR18 97Y BSW
245/45ZR18 100Y BSW
255/35ZR18 94Y BSW
255/40ZR18 99Y BSW
255/45ZR18 103Y BSW
265/35ZR18 97Y BSW
265/40ZR18 101Y BSW
275/35ZR18 95Y BSW
275/40ZR18 99Y BSW
285/30ZR18 93Y BSW
285/40ZR18 101Y BSW
295/35ZR18 99Y BSW
19″
225/35ZR19 88Y BSW
225/45ZR19 92Y BSW
235/35ZR19 91Y BSW
235/40ZR19 96Y BSW
245/35ZR19 93Y BSW
245/40ZR19 98Y BSW
255/30ZR19 91Y BSW
255/35ZR19 96Y BSW
255/40ZR19 100Y BSW
265/35ZR19 94Y BSW
265/40ZR19 102Y BSW
275/30ZR19 96Y BSW
275/35ZR19 100Y BSW
275/40ZR19 101Y BSW
285/30ZR19 98Y BSW
285/35ZR19 99Y BSW
295/35ZR19 104Y BSW
305/30ZR19 102Y BSW
325/30ZR19 101Y BSW
20″
235/35ZR20 88Y BSW
245/35ZR20 95Y BSW
245/40ZR20 99Y BSW
245/45ZR20 103Y BSW
255/35ZR20 97Y BSW
255/40ZR20 101Y BSW
265/35ZR20 99Y BSW
275/30ZR20 97Y BSW
275/35ZR20 102Y BSW
275/40ZR20 106Y BSW
285/30ZR20 99Y BSW
285/35ZR20 100Y BSW
295/30ZR20 101Y BSW
305/30ZR20 103Y BSW
305/35ZR20 104Y BSW
315/35ZR20 110Y BSW
335/25ZR20 99Y BSW
Price Range
Continental ExtremeContact Sport prices range from approximately $91 and up. You may also find occasional rebates, discount prices, coupons and special offers on this tire.
Warranty
Continental provides a 6-year or 30,000 mile tread life warranty on the ExtremeContact Sport. Mileage is reduced by half if different size is used on rear than in front. There is also a one-year or first 2/32 inch of wear on tire uniformity.
Materials and workmanship are covered for 6-years and call for first year or first 2/32 inch of wear free replacement. Continental then prorates out the amount for the remainder of the warranty period.
You also get a one-year or first 2/32 inch of wear road hazard warranty. Finally, there is a 3-year flat changing warranty and a 60-day customer satisfaction guarantee whereby you can exchange the tires for another Continental model if you are not 100% satisfied.
---