BFGoodrich g-Force Sport Comp-2 Tire Review & Rating
Building off the original g-Force Sport tires, the new BFGoodrich g-Force Sport Comp-2 high performance tires are designed to take summer driving to the next level. While the originals were good, the new generation Sport Comp-2 tires are just plain fun to drive on regardless of whether the roads are dry or wet.
BFG has built this model for drivers of all types of high performance muscle cars, sport coupes, sedans and other sports cars who like to drive fast and take the corners hard. To that end, these new tires do not disappoint in the least.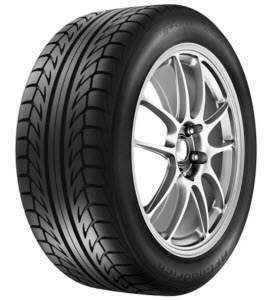 The tire starts with a silica enhanced compound which Goodrich states will provide a much more sticky grip. The difference with this rubber compound is that they have added fillers to reduce tread wear and give the tire a longer life. Based on the tread rating you can expect to get upwards of 30K to 40K out of the tires, which is what we have heard many other drivers mention in their reviews on this tire as well.
A silica compound and Performance Racing Core give the tire much higher performance on wet pavement. In fact BFG claims a 30% improvement in wet traction over the original g-Force Sport. That is something you can feel regardless of who is behind the wheel. There is also an 8% gain in dry pavement traction, which is equally as impressive.
This model uses the latest in tire technology with the use of "g-Hooks" and g-Control Sidewall Inserts that provide enhanced grip at any cornering angle.
The inside structure of the Sport Comp-2 features two high-tensile steel belts that are nylon wrapped for added strength and durability at higher speeds and during hard cornering.
Click Here For Current BFGoodrich Coupons
Click Here To Find Current Prices
Tires grip like glue and are built for fun in the corners even when pushed to their limit

Steering response and handling are far above average

Excellent wet pavement traction

Value for the money is among best in its class
Cons
A little noise as the tread wears
Overall Thoughts
This is by far BFGoodrich's best summer high-performance tire. While it may not be the ultimate straight line acceleration tire, it is one of the better models for cornering and handling on both dry and wet pavement that you will find anywhere.
The steering response is quick and tire stability is excellent. Grip on wet roads is also another strong area for this tire. Beyond that, the value and performance this tire provides is among the best of any tire in this class. Seriously, the only thing you might be able to pick on with this model is that it gets just a little extra noise when the tread has worn down, but that is generally the case with any UHP summer tire.
Overall, if you are looking for a tire that will not let you down when it comes to higher speed cornering and more spirited driving, the Sport Comp 2 makes for an outstanding choice. In fact we feel it ranks up with the top 2-3 tires of this entire class.
What Vehicles Will The Sport Comp 2 Fit?
(This is not a complete list of ALL vehicles this tire will fit)
Acura TL

Audi A4

BMW 525

Cadillac CTS

Chevrolet Camaro, Corvette

Ford Mustang

Infiniti G37

Mercedes E-class

Mini Cooper

Porsche 911

Scion tC

Volkswagen Passat
Tire Sizes
15″
195/50R15 82V BSW
195/55R15 85V BSW
16″
205/45ZR16 87W BSW
205/50ZR16 87W BSW
205/55ZR16 91W BSW
215/55ZR16 93W BSW
225/50ZR16 92W BSW
225/55ZR16 95W BSW
245/50ZR16 97W BSW
255/50ZR16 99W BSW
17″
205/40ZR17 80W BSW
205/45ZR17 XL 88W BSW
205/50ZR17 89W BSW
215/45ZR17 87W BSW
215/50ZR17 XL 95W BSW
225/45ZR17 91W BSW
225/50ZR17 94W BSW
225/55ZR17 97W BSW
235/45ZR17 94W BSW
245/40ZR17 91W BSW
245/45ZR17 95W BSW
255/40ZR17 94W BSW
255/45ZR17 98W BSW
275/40ZR17 98W BSW
18″
215/40ZR18 XL 89W BSW
215/45ZR18 89W BSW
225/40ZR18 88W BSW
225/45ZR18 XL 95W BSW
225/50ZR18 95W BSW
235/40ZR18 91W BSW
235/45ZR18 XL 98W BSW
235/50ZR18 97W BSW
245/40ZR18 93W BSW
245/45ZR18 96W BSW
255/35ZR18 90W BSW
255/40ZR18 95W BSW
255/45ZR18 99W BSW
265/35ZR18 93W BSW
265/40R18 XL 101W BSW
275/35ZR18 95W BSW
275/40ZR18 99W BSW
19″
225/40ZR19 XL 93W BSW
225/45ZR19 XL 96W BSW
245/40R19 XL 98W BSW
245/45ZR19 98W BSW
245/50ZR19 XL 105W BSW
255/35ZR19 XL 96W BSW
255/40ZR19 96W BSW
265/35ZR19 XL 98W BSW
275/35ZR19 96W BSW
275/40ZR19 101W BSW
285/35ZR19 99W BSW
20″
245/35ZR20 XL 95W BSW
245/45ZR20 XL 103W BSW
255/35ZR20 XL 97W BSW
255/45ZR20 101W BSW
275/35ZR20 XL 102W BSW
275/40ZR20 102W BSW
Price Range
Prices on the BFG Sport Comp 2 range from approximately $98 and up. You may also find occasional rebates, discounts, coupons and special offers on this tire.
Click Here To Find Current Prices On All BFGoodrich g-Force Sport Comp-2 Tire Sizes
Warranty
BFGoodrich does not have a tread mileage warranty on this model. You will find there is a one-year or first 2/32 inch of wear guarantee on tire uniformity.
Materials and workmanship come with a full 6-year warranty. It includes first year or first 2/32 inch of wear free tire replacement. The tire is then prorated out to the final 2/32 inch of remaining tread depth.
---