Firestone Firehawk Indy 500 Tire Review & Rating
Firestone's newest ultra-high performance summer tire, the Firehawk Indy 500, is possibly their best model to date. It's certainly a big upgrade over the older Wide Oval Indy 500, which was OK, but nothing that stood out from the crowd.
The Firestone Firehawk Indy 500 has been designed for all types of sports cars, coupes and sedans. Its race inspired technology is built to provide the highest levels of traction and cornering performance to compete against the best tires in this class.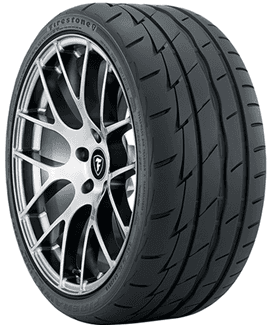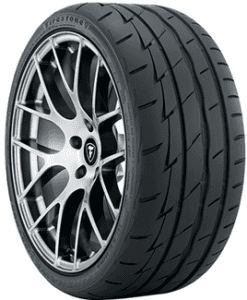 Firestone uses an advanced silica-enhanced tread compound that includes a good amount of Long Link Carbon that enhances traction and handling. It combines with an attractive and aggressive asymmetric tread pattern that helps this tire deliver more than capable cornering grip and stability regardless of speeds.
The tires' continuous center rib increases steering response while Firestone's new Pulse Groove Technology not only helps with traction on wet pavement, but also shortens braking distances much better than the older Wide Oval model. It's obvious that Firestone engineers spent considerable time in this area.
Larger independent tread blocks on the shoulders and a stiffer sidewall add to cornering grip and stability, which other driver reviews have mentioned as a real positive for this model. We agree. Cornering is nearly as good as other top tires like the Michelin Pilot Super Sport.
Inside the tire are two high-tensile steel belts with a polyester casing and spirally wrapped nylon reinforcement that provide added strength and longer lasting durability. You'll find a wide number of 16-20 inch sizes available with W-speed ratings. Firestone includes a limited tread warranty on all sizes.
Pros
Outstanding dry and wet traction
Excellent cornering grip and stability
Comfortable ride without the harshness
Surprisingly quiet
Excellent performance and value for the money
Cons
Don't even think about driving on them in winter conditions
Overall Thoughts
Firestone took their time in developing the new Firehawk Indy 500 and it shows. It's no wonder why this model has immediately become one of the best UHP tires in this class.
Performance is similar to what you find on the Michelin Pilot Super Sport… but at a much lower cost. On dry pavement you would have to be trying in order to break them loose. In fact, the tires launch as well as any ultra-high performance tire you'll find today. This has also been mentioned by many other drivers in reviews as well. Wet traction is equally as impressive if not more so. You'll find this tire provides superior grip on wet pavement as well as much increased braking over the Wide Oval Indy 500.
Overall, if you haven't been a fan of Firestone tires in the past, you will be after driving on this tire. Simply stated… this is a well-balanced summer high performance tire that delivers top-notch performance in every area. It ranks up right up there with other top tires such as the BFG Sport Comp-2, Bridgestone RE760 Sport and several others. Highly recommended.
Click Here For Current Firestone Coupons
Buy Used for 40 – 50% Less than Retail
What Vehicles Will The Firestone Firehawk Indy 500 Fit?
(This is not a complete list of ALL vehicles this tire will fit)
Acura TL, RL, RSX
Audi A6, A4, A8L, TT
BMW 135i, 545i, 550i, 750Li, M5, M3, 330i
Buick Regal
Chevrolet Corvette, Impala, Monte Carlo, Camaro, Cobalt, Cruze, Malibu
Chrysler 300
Dodge Charger, Avenger, Challenger
Ford Mustang GT, Fusion, Focus, Contour
Honda Civic, CRZ, S2000
Hyundai Sonata, Veloster
Jaguar XKR, XK8
Lexus GS350, GS430, IS300, LS460L
Lincoln LS
Mazda3, RX-8, Miata
Mercedes-Benz E550, SL55, SL500, SLK320, CLK430
Nissan 370Z, Maxima
Pontiac GTO, Grand Am, G8, G6, Grand Prix, Trans Am
Scion tC
Subaru Legacy, Outback, Impreza, BRZ, WRX STI
Volkswagen Jetta, CC Sport, Passat, GTi
Tire Sizes
16″
195/55R16 87W BSW
205/50R16 87W BSW
205/55R16 91W BSW
225/50R16 92W BSW
17″
205/45R17 88W BSW
205/50R17 93W BSW
215/45R17 91W BSW
225/45R17 94W BSW
225/50R17 94W BSW
225/55R17 97W BSW
235/45R17 94W BSW
235/50R17 96W BSW
235/55R17 99W BSW
245/40R17 91W BSW
245/45R17 99W BSW
255/40R17 94W BSW
18″
215/40R18 89W BSW
225/40R18 92W BSW
225/45R18 95W BSW
225/50R18 95W BSW
235/40R18 95W BSW
235/50R18 101W BSW
245/40R18 97W BSW
245/45R18 100W BSW
255/35R18 94W BSW
255/40R18 99W BSW
255/45R18 103W BSW
265/35R18 97W BSW
275/35R18 95W BSW
275/40R18 99W BSW
19″
235/35R19 91W BSW
245/35R19 93W BSW
245/40R19 98W BSW
245/45R19 98W BSW
245/50R19 104W BSW
255/40R19 100W BSW
265/40R19 98W BSW
275/30R19 96W BSW
275/35R19 100W BSW
275/40R19 101W BSW
285/35R19 99W BSW
20″
245/40R20 99W BSW
245/45R20 103W BSW
255/35R20 97W BSW
275/35R20 102W BSW
275/40R20 106W BSW
285/35R20 100W BSW
Price Range
Firestone Firehawk Indy 500 prices range from approximately $78 and up. You may also find occasional rebates, discount prices, coupons and special offers on this tire.
Warranty
Firestone provides a limited tread warranty on the Firehawk Indy 500. Tire uniformity is guaranteed for the first 1/32 inch of wear. Materials and workmanship are warranted for 5-years and include free replacement during the first 3 years. A prorated amount is given for the remaining time period or down to the final 2/32 inch of tread depth.
You will also find a 30-day buy and try guarantee whereby you can refund or exchange the tires if you are not completely satisfied.
---