Nitto NT555 G2 Tire Review & Rating
The Nitto NT555 G2 ultra-high performance summer tire is a newly updated version of the original NT555 that has been a popular model for several years running. Created for all types of sport coupes and powerful sedans, the NT555 G2 was released in late 2015 and features an attractive and aggressive tread design that is built to deliver serious traction and handling performance on dry or wet pavement.
Nitto uses a high stiffness and silica enhanced tread compound that is matched up with a directional tread pattern that is designed to increase traction, braking, acceleration and cornering, which it does quite well.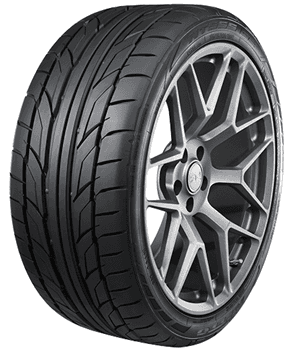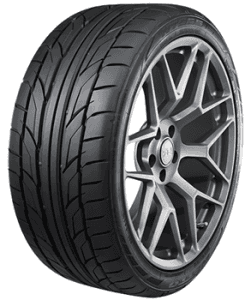 Larger tread blocks are tapered to increase grip in the corners, which is an area that you can really notice an improvement in over the original NT555. Added twin center ribs give this tire quicker steering response, as well as better straight line stability and on-center feel. Finally, Nitto has also reinforced the shoulder treadblocks to squeeze out just a little extra dry and wet cornering grip.
Wide circumferential grooves and the additional silica in the tread compound combine to enhance traction on wet road surfaces, which is another area that is a noticeable improvement over the older version. Even when pushed to the limits, this tire simply inspires confidence behind the wheel.
The ride on the NT555 G2 is comfortable for the most part. It's only when hitting potholes or larger bumps that you notice a little extra harshness. However, this is not a touring tire designed for a luxurious ride. Treadlife is also an area that Nitto spent time in trying to improve and early indications have shown that indeed, treadwear is very good on this tire.
You'll find a wide range of 17-20 inch sizes available with W-speed ratings, and Nitto provides a limited tread warranty on all models.
Pros
Dry and wet traction
Braking and acceleration
Cornering stability and grip
Cons
Would like to see a few 16 inch sizes
Overall Thoughts
It's not too often that you'll find an updated version of a popular tire to seriously outperform the older model it's replacing, but in this case we find the new NT555 G2 does just that. While the older NT555 was a solid choice in a high performance summer tire, the G2 ticks all the right boxes that drivers want in this type of tire.
Dry and wet traction is simply outstanding on this tire. You can really tell that Nitto engineers focused extensively on key areas such as wet grip with this model. The confidence it inspires on wet streets and highways is head and shoulders above the original, especially when pushed to the limits. We would go as far to say that wet traction is among the best in class.
In addition, the G2 hooks up much easier than the older NT555. Cornering grip and stability at higher speeds is just below what you find on other top tires like the Michelin Super Sport or even the Continental DW. However, the new NT555 G2 costs much less than either of those tires. So if budget is a concern you'll appreciate the lower cost.
Overall, Nitto has a winner in this newly updated model and it certainly rates as one of the better tires in the UHP summer tire class. Performance and value for the money is excellent. Highly recommended.
Click Here For Current Nitto Coupons
Click Here To Find Current Prices
What Vehicles Will The Nitto NT555 G2 Fit?
(This is not a complete list of ALL vehicles this tire will fit)
BMW 3-Series, 6-Series, 740i, 545i, 530i
Cadillac ATS, CTS, XLR
Chevrolet Camaro, Corvette, Cobalt, Malibu
Dodge Charger, Dakota, Challenger
Ford Mustang, Taurus
Honda Prelude, Civic, Accord
Infiniti G35
Lexus IS
Mazda RX-8
Mitsubishi 3000GT, Eclipse
Nissan 350Z
Pontiac GTO, Firebird Trans Am, Grand Am
Toyota Camry
Volkswagen Passat, Jetta
Tire Sizes
17″
245/45ZR17 XL 99W BSW
315/35ZR17 XL 106W BSW
18″
225/40ZR18 XL 92W BSW
235/50ZR18 XL 101W BSW
245/40ZR18 XL 97W BSW
245/45ZR18 XL 100W BSW
255/35ZR18 XL 94W BSW
255/45ZR18 XL 103W BSW
275/35ZR18 XL 99W BSW
275/40ZR18 XL 103W BSW
285/40ZR18 XL 105W BSW
295/40ZR18 XL 103W BSW
19″
245/45ZR19 XL 102W BSW
255/40ZR19 XL 100W BSW
275/40ZR19 XL 105W BSW
20″
245/35ZR20 XL 95W BSW
245/45ZR20 XL 103W BSW
255/35ZR20 XL 97W BSW
255/45ZR20 XL 105W BSW
265/35ZR20 XL 99W BSW
275/30ZR20 XL 97W BSW
275/35ZR20 XL 102W BSW
275/40ZR20 XL 106W BSW
285/30ZR20 XL 99W BSW
295/40ZR20 XL 110W BSW
305/30ZR20 XL 103W BSW
Price Range
Nitto NT555 G2 prices range from approximately $128 and up. You may also find occasional rebates, discount prices, coupons and special offers on this tire.
Click Here To Find The Current Prices On All Nitto NT555 G2 Sizes
Warranty
Nitto provides a limited tread warranty on the NT555 G2. There is a first 1/32 inch of wear guarantee on the tire's uniformity. Materials and workmanship are backed for 5-years and include free replacement within the first 25% of wear. The amount is prorated for the remaining time period or until the tire reaches its final 2/32 inch of tread depth.
---