Bridgestone Potenza RE760 Sport Tire Review & Rating
Designed for high performance sports cars and sedans, the Bridgestone Potenza RE760 Sport ultra-high performance tire is built for drivers looking for excellent handling and cornering power, as well as a more comfortable ride on the highway.
Bridgestone uses the latest in tread compound technology with the RE760 Sport. The tread sports an asymmetric design and a 3D center block that increases contact with the road surface. Inside Offset Twin Ribs and a stiffer sidewall provide enhanced steering response and stability. Cornering grip is increased through a Semi-Slick Shoulder design, which this case and is often mentioned a strong point in other driver reviews.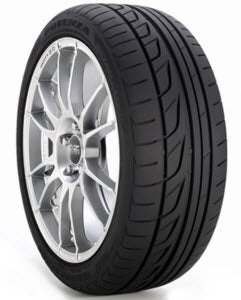 Better traction on wet pavement is improved by wide straight grooves that evacuate more water from under the tread and aid in hydroplane control. The tread pattern has also been optimized to reduce outside road noise and provide a more enjoyable overall driving experience.
Inside the tread are two belts made of high-tensile steel and wrapped with nylon. This results in enhanced handling and stability at higher speeds, while also giving a smoother overall ride. Bridgestone has a wide array of 16-20 inch sizes available, and all sizes come with a W-speed rating.
Pros
Excellent dry surface traction and cornering

Wet road grip is very good

Tire rides comfortably and road noise is low
Cons
Not for use when weather turns cold and snowy
Overall Thoughts
The Potenza RE760 Sport does what it says it will do; provide excellent wet or dry grip and handling. Steering response, braking and acceleration are all very good, and despite the lower profile of the tires, they ride comfortably and quietly. Tread wear has been an issue for some, but others say to expect 30K miles or more. We have not seen this to be a big issue at all.
Overall this model from Bridgestone is near the top in the high performance summer tire category. Note: the RE760 is a summer tire and not designed to be driven in winter weather conditions.
Click Here For Current Bridgestone Coupons
Click Here To Find Current Prices
What Vehicles Will The RE760 Fit?
(This is not a complete list of ALL vehicles this tire will fit)
Audi A4, A6

BMW 3-series, 5-series

Ford Mustang

Infinity G35, G37

Jaguar XF

Mercedes-Benz C Class, E Class

Nissan Z

Saab 9-7
Tire Sizes
16″
195/55R-16 87W BW
205/45R-16 83W BW
205/50R-16 87W BW
205/55R-16 91W BW
215/55R16 97W XL BW
225/50R-16 92W BW
225/55R-16 95W BW
17″
205/40R-17 84W XL B
205/45R-17 88W XL B
205/50R-17 93W XL B
215/45R-17 91W XL B
215/50R-17 95W XL B
225/45R-17 94W XL B
225/50R-17 94W BW
235/45R-17 94W BW
245/40R-17 91W BW
245/45R-17 95W BW
255/40R-17 94W BW
265/40R-17 96W BW
275/40R-17 98W BW
18″
215/35R-18 84W XL B
215/45R-18 93W XL B
225/40R-18 92W XL B
225/45R-18 91W BW
225/50R-18 95W BW
235/40R-18 95W XL B
235/45R18 98W XL BW
245/35R-18 88W BW
245/40R-18 97W XL B
245/45R-18 100W XL B
255/35R-18 90W BW
255/40R-18 95W BW
255/45R-18 99W BW
265/35R-18 93W BW
275/35R-18 95W BW
275/40R18 99W BW
295/35R-18 99W BW
19″
225/45R-19 92W BW
235/35R-19 91W XL B
245/35R-19 93W XL B
245/40R-19 98W XL B
275/35R19 XL 100W BW
20″
245/35R20 95W XL BL
255/30R20 92W XL BL
255/35R20 97W XL BL
275/30R20 97W XL BL
285/30R20 99W XL BL
Price Range
Prices on the Potenza RE760 Sport range from $92 and up. You may also find occasional rebates, discounts, coupons and special offers on this tire.
Click Here To Find Lowest Prices On All Bridgestone Potenza RE760 Sport Sizes
Warranty
Bridgestone does not have a mileage tread warranty on this model. There is a tire uniformity guarantee for the first 1/32 inch of wear.
Materials and workmanship are backed for 5-years and include free tire replacement during the first 3 years. Bridgestone prorates out the amount for the remaining time period or down to the final 2/32 inch of tread depth.
You will also find a 30-day buy and try guarantee that allows you to refund or exchange the tires for another Bridgestone model if you are not satisfied.
---