Top 10 Best Gravel Road Tires
If you regularly drive on gravel roads then you know how tough they can be on your tires. The softer tread and jagged rocks can quickly chew through a set of tires, whether on a truck or car. We receive emails every month from people asking us what are the best tires for gravel roads?
Gravel road tires are designed, specifically keeping in mind the needs of drivers that live out in the countryside or are frequent visitors. With unpaved roads and inferior surfaces, driving with normal tires may not just be difficult and uncomfortable, it could also be hazardous.
Listed below are our top 10 tires for gravel roads for 2018. Please note this list is in no particular order. All tires listed have shown to provide good performance and a longer lasting tread life when driven on gravel roads.
---
Goodyear Wrangler Silent Armor
Goodyear's premium offering, designed to provide frequent cargo haulers the ability to traverse tough conditions. The Wrangler Silent Armor offers the necessary traction on dry and wet roads, making for a comfortable and stable drive.
Featuring a layer of Kevlar and twin high-tensile steel belts, the Wrangler Silent Armor is built tough to resist punctures and damage from driving on rocks and gravel. It also helps extend treadlife, which Goodyear backs for 50K miles.
Key Features
Sidewall designed to resist bruising
Silica-based tread compound that increases tire durability
Tread designed to increase traction in snow and rain
Pros
Exceptional control in light snow conditions
Traction on dry and wet surfaces is excellent
Comfortable driving experience
Cons
Tire durability is good but could be better
Click Here For A Complate Review
Bridgestone Dueler A/T Revo 2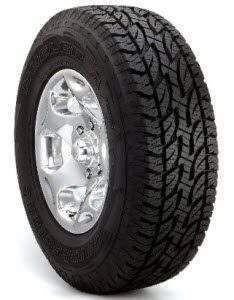 Bridgestone makes the list with their Dueler A/T Revo 2 which sports a unique cut and chip resistant compound and dual tread layer technology that exposes new tread as the tire begins wearing down. This combination adds more strength and durability to the tire when driving on gravel or other harsh off-road terrain.
Bridgestone with the Dueler A/T Revo 2 has designed a tire that provides exceptional traction on rocky, wet, and snowy surfaces. The tire performs just as well on dry roads by providing excellent braking and stability. These factors combine to make it one of the best tires for gravel roads.
Key Factors
Dual layered tread to provide long-lasting wet traction
Shoulder designed to increase wet traction
Saw like grooves to improve handling in snow
Pros
Excellent traction on off-road conditions
Handling and braking on dry roads is great
Makes for a comfortable drive
Cons
Tread life could be improved
Click Here For A Complate Review
Toyo M-55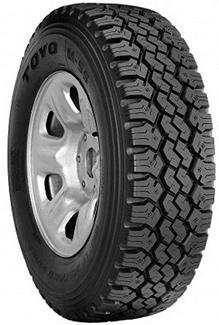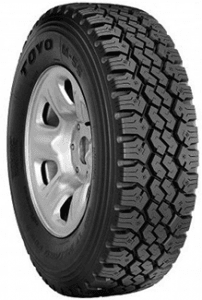 If we were forced to pick the single best tire for driving on gravel roads, the Toyo M-55 would likely be our top choice. We have not found a tougher tread than this one. You don't have to take our word for it either. You'll find review after review from fleet owners and others who drive this tire regularly to know just how tough it is. In fact, it's the choice of many logging companies, construction contractors and others who drive in the most adverse conditions and demand a tire that won't fail.
The Toyo M-55 has been designed with a blocky tread pattern that provides exceptional traction in both on-road and off-road settings. Available in several sizes, this is the perfect tire to equip your SUV or pickup truck with.
Key Features
Sipes for increased traction on wet roads
Studs designed to enable increased traction on snow
Shoulders designed to increase stability
Pros
Excellent traction on snowed out roads
Extremely durable tire perfect for hauling cargo
Performs well on both dry and wet roads
Cons
Tires become extremely noisy with use
Click Here For A Complate Review
Firestone Transforce AT2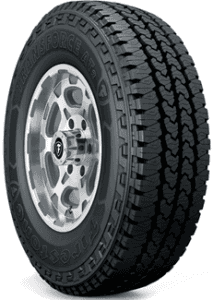 New for 2017, the second generation Transforce AT2 from Firestone is built to handle the abuse from daily driving on gravel, rocks and other difficult conditions. This commercial grade tire is built with a thicker tread depth and a cut and chip resistant compound that withstands the rigors of driving on gravel roads and other rugged terrain. In addition, you'll find this model hauls heavier loads without difficulty.
The Firestone Transforce AT2 is an extremely durable tire that can withstand the slipping and poor traction associated with driving on snow and wet roads. The tire features grooves that increase the resistance to hydroplaning, while the siping allows for better traction in all weather conditions.
Key Features
Tread compound to resist damage
Tread designed towards providing better traction
Tread blocks to increase off-road performance
Pros
Tires perform very well on dry and wet roads
Comfortable driving experience even while hauling cargo
Cons
Tires become noisy with use
Cornering ability at high speeds is poor
Click Here For A Complate Review
Goodrich All Terrain T/A KO2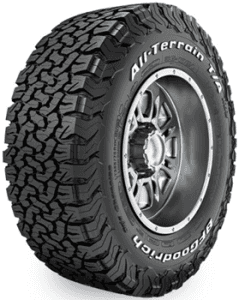 The BFG KO2 is well-known among off-road enthusiasts everywhere. In addition to its excellent off-road capabilities, this model is also one of the longest wearing and better performing tires when it comes to driving on gravel, dirt, rocks and other debris. BFGoodrich uses a double-thick tread compound and a Tri-Gard sidewall design that gives the tire added strength and long term durability. For everyday use on gravel roads, the KO2 does not disappoint.
The BFGoodrich All-Terrain T/A KO2 is arguably the best-looking tire featured on this list; the aggressive tread design is purposeful as it provides exceptional steering control and grip. The shoulders have been designed with biting edges that provide traction on cornering and loose terrain. BFGoodrich All-Terrain is easily one of the best tires for gravel roads.
Key Features
20% tougher sidewalls
Serrated shoulder to increase traction on snow and mud
Stone ejectors to remove debris build-up
Pros
Exceptional off-road traction and stability
Tough, durable tire
Performs extremely well on both dry and wet roads
Cons
Expensive
Considerable noise output
Click Here For A Complate Review
Hankook DynaPro ATM RF10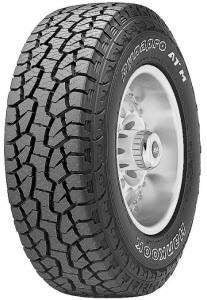 With its thicker tread compound, stone ejectors and angled side grooves, the ATM RF10 from Hankook is an excellent tire on gravel roads. In addition to its dependable traction off-road, this model is also comfortable and quiet on the highway. Hankook has priced this tire less than many competitor models as well.
The Hankook DynaPro RF 10 handles both dry and wet roads exceptionally well by providing excellent handling and braking abilities. A sturdy tire that is able to handle the challenges of driving on rocky terrain, the RF 10 is quite resistant to damage as well, thanks to its tread design.
Key Features
Tread designed to be resistant to damage
Two sipes for better performance on wet roads
Grooves to increase cornering ability
Pros
Excellent dry and wet road traction
Performs exceptionally well in off-roads settings
A stable and comfortable driving experience
Cons
Tire durability is an issue
Click Here For A Complate Review
Goodyear Wrangler MT/R With Kevlar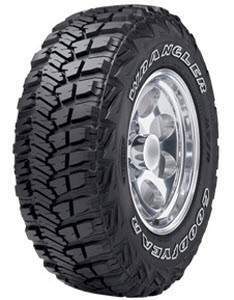 The Goodyear Wrangler MT/R with Kevlar is an expensive option designed to tackle the toughest road conditions. The silica tread compound allows for impressive traction on dry and wet roads, and smart design features reduce the build-up of debris and increase the life of the tire.
Utilizing a tough as nails tread design with its Kevlar reinforcement, the Wrangler MT/R with Kevlar is built to easily withstand the daily grind that gravel roads present. We've heard from numerous drivers who claim this tire is one of the best models available for use on gravel. Goodyear has stated that testing shows this MT tire with its Kevlar reinforcement is 35% more puncture resistant than their non-Kevlar tire.
Key Features
Designed with Kevlar for 35% increased puncture resistance
Silicia based design improves traction on wet roads
Asymmetric treads designed to improve off-road traction
Pros
Excellent traction on dry and wet roads
Off-road stability and grip are exceptional
Extremely comfortable driving experience regardless of terrain
Cons
Performance in snow could be further improved
Noise output is a concern
Click Here For A Complete Review
Cooper Discoverer ST Maxx
Cooper's ST Maxx is one of the tougher tires we've come across when it comes to off-road terrain, especially gravel. Featuring its unique Armor Tek-3 construction and angled plies, this tire offers superior traction and treadlife when used regularly on gravel roads. In addition, the ST Maxx delivers solid performance on the highway with its wet traction being among the best in class.
The Cooper Discoverer ST Maxx features an attractive tread design, which also offers necessary function as the tire digs into loose surfaces to provide the grip needed to power through rugged terrain. Stone ejectors built into the tire will rid it of debris build-up and increase the tread life. The Discoverer ST Maxx is truly one of the best tires for gravel roads.
Key Features
Tread compound designed to be resistant against wear and tear
Stone ejectors to remove debris
Multiple rib design to decrease noise output
Pros
Excellent performance on dry roads, and highways
Wet road and light snow performance is excellent
Sturdy and durable tire
Cons
Tires can be extremely noisy
Click Here For A Complate Review
General Grabber AT2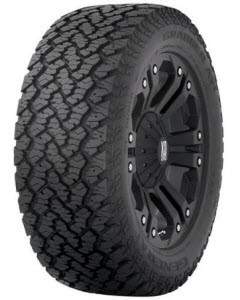 For nearly 10 years running, the General AT2 has proven itself to be one of the better all-terrain tires on the market. Engineered to provide exceptional puncture resistance and long-term durability, this tire is more than suitable for daily driving on rugged gravel roads. It comes backed with a 60K mile tread warranty as well.
The General Grabber AT2 has been designed to provide light trucks and SUVs with a tough tire that can tackle highways as well as off-road conditions. The Grabber AT2 provides traction and steering responsiveness to drive over rocky terrain easily.
Key Features
60,000-mile warranty
Five-row tread design to increase traction
Cut and resistant tread compound
Pros
Exceptional traction on snow, mud and even in the rain
A Comfortable and stable driving experience
Sturdy and durable design
Cons
Click Here For A Complate Review
Atturo Trail Blade A/T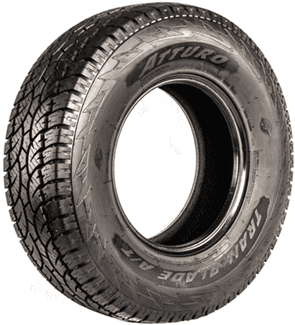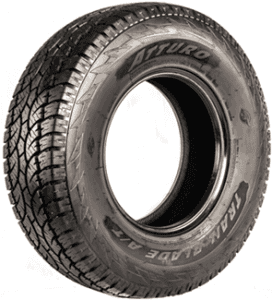 The Atturo Trail Blade A/T is especially designed with a compound that makes for a solid, durable tire. The tire allows light trucks and SUVs to perform equally well on both roads and off-road conditions.
While arguably not as well-known as their BFG or Goodyear counterparts, the Trail Blade AT from Atturo is built tough with its much deeper tread depth than you find on similar models. The deeper tread depth and 3-ply construction give it added cut and tear resistance for protection against gravel use. An added plus with this tire is its lower budget price that will save you some extra money.
Key Features
Siping to increase traction on wet roads
Shoulder blocks designed to improve handling
Rim protector
Stone ejector
Pros
Performance on dry roads is very good
Stability and grip on offer is excellent
Performs very well on gravel and rocky terrain
Cons
Tires are very noisy
Traction on loose soil is average
Click Here For A Complate Review
Why Buy Tires for Gravel Roads?
Whether you enjoy driving in the quiet countryside, are an off-road enthusiast, or a farmer who has to deliver fresh produce to the town market everyday, you are bound to encounter unpaved roads and rocky terrain that will pretty much render normal tires useless.
Enter: tires especially made for gravel roads.
The best tires for gravel roads are designed to provide necessary grip and acceleration to drive through difficult terrain without you suffering a tire blowout or other potential vehicle damage. The tires will also perform all-year-round, and provide excellent traction on wet and snowy roads, making for a smart purchase decision.
---