BFGoodrich All Terrain T/A KO2 Tire Review & Rating
The BF Goodrich All Terrain T/A KO2 is the fourth generation of the company's all terrain tires that were first launched some 15 years ago. Aimed at jeep, SUV and pickup truck drivers, the tire is designed for on and off road use over all terrains and will improve driving confidence by providing greater control through its all weather traction and hard wearing durability.
BFG uses a sidewall rubber compound that is twice as thick as previous versions and a lot tougher. It is a very strong and durable tire due to its twin steel belts which are reinforced with nylon and includes the company's polyester cord sidewall ply construction known as Tri-Gard.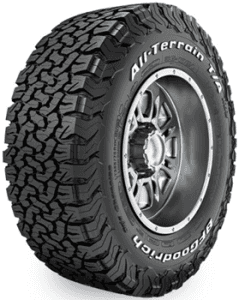 Like the original T/A KO tire, its design is racing inspired with long wear times and durability built in. Computer optimization is used to mold the compound and provide an interlocking tread block all terrain pattern. This optimized tread design works to improve driving in wet or icy conditions.
The new BFGoodrich All Terrain TA KO2 delivers 10% more traction when driven on mud and 19% more traction on snow over the previous KO all terrain tires. The tire is equipped with side biter lugs,which are protruding rubber blocks on the sidewall that provide improved traction for driving through snow and mud, while also increasing rock climbing traction when aired down.
In the shoulder tread area, raised bars (or mud buster bars) are provided to dispel compacted mud which improves traction in soft soil and muddy conditions.
The BF Goodrich All Terrain KO2 is branded with the snowflake / mountain symbol which means that it meets the requirements for driving in severe winter weather just like a dedicated winter tire. Unique locking 3-D sipes around the tread provides more biting edges that help grip snow and ice. This is yet another strength for this tire as evidenced from many driver reviews as well.
Although a number of all terrain tires can produce an uncomfortable ride on the road, the KO2 was remarkably good in this respect. Noise is not a distraction and much quieter than we thought it would be. We attribute this due to the tire's improved design.
The tread compound is tear, chip and cut resistant which results in the tire lasting longer. Up to twice the life of previous generations of the tire is claimed when tread wear is measured on gravel roads, which is good news for those who live out in rural areas where gravel road driving is a part of everyday life. The interlocking tread design is claimed to improve stability and the wear and stress on the tire is evenly distributed due to the advanced footprint feature.
BFGoodrich offers 15-20 inch sizes with load ratings up to an E. There is also a limited tread warranty included.
Pros
Tread is tough and durable

 

 

 

Excellent traction on dry/wet/snow covered roads

 

 

 

Off-road performance

 

 

 

Treadlife

 

 

 
Cons
None worth complaining about

 

 

 
Overall
There's no question that the original KO is a tough AT tire that provides very good performance, but this new BF Goodrich All Terrain T/A KO2 raises the bar even further. It delivers the rugged off-road traction similar to what you find in an MT tire, yet has the on-road manners of a light-duty AT model.
There's simply not much that we can add here other than to say that if you're looking for an all-terrain tire that is strong as steel and built to last, this is one of the better tires you'll find available today. It easily ranks as one of the best tires in this class. Highly recommended.
What Vehicles Will The BFG T/A KO2 Fit?
(This is not a complete list of ALL vehicles this tire will fit)
Chevrolet Silverado, Tahoe, Avalanche, S10, Suburban, K2500, Colorado, Blazer

 

 

 

Dodge Ram, Durango, Dakota

 

 

 

Ford Expedition, Escape, Ranger, Bronco, F-150, Excursion, Explorer

 

 

 

GMC Yukon, Sierra, Canyon

 

 

 

Honda Element, CR-V

 

 

 

Hummer H3, H2

 

 

 

Isuzu Trooper

 

 

 

Jeep Wrangler, Grand Cherokee, Liberty

 

 

 

Land Rover Discovery

 

 

 

Lexus GX470

 

 

 

Mazda B4000

 

 

 

Mercury Mountaineer

 

 

 

Mitsubishi Montero

 

 

 

Nissan Titan, Xterra, Frontier

 

 

 

Toyota Tacoma, Tundra, FJ Cruiser, Sequoia, 4Runner, Land Cruiser, Highlander

 

 

 
Tire Sizes
15″
LT215/75R15/C 100S BSW
LT235/75R15/C 104S RWL
30×9.50R15/C 104S RWL
31×10.50R15/C 109S RWL
33×10.50R15/C 114R RWL
32×11.50R15/C 113R RWL
33×12.50R15/C 108R RWL
35×12.50R15/C 113Q RWL
16″
LT215/65R16/D 103S BSW
LT235/70R16/C 104S RWL
LT245/70R16/D 113S RWL
LT255/70R16/E 120S RWL
LT265/70R16/E 121S RWL
LT275/70R16/D 119S RWL
LT305/70R16/E 124R RWL
LT225/75R16/E 115S RWL
LT245/75R16/E 120S RWL
LT265/75R16/E 123R RWL
LT285/75R16/E 126R RWL
LT295/75R16/E 128R RWL
LT315/75R16/E 127R RWL
LT235/85R16/E 120S RWL
17″
LT225/65R17/D 107S BSW
LT245/65R17/D 111S RWL
LT265/65R17/E 120S RWL
LT275/65R17/E 121S RWL
LT305/65R17/E 121R RWL
LT245/70R17/E 119S RWL
LT255/70R17/E 121S BSW
LT265/70R17/C 112S BSW
LT265/70R17/C 112S RWL
LT265/70R17/E 121S RWL
LT275/70R17/E 121R RWL
LT285/70R17/E 121R RWL
LT315/70R17/E 121S BSW
LT245/75R17/E 121S RWL
LT235/80R17/E 120S BSW
34×10.50R17/D 120R RWL
35×12.50R17/E 121R RWL
37×12.50R17/D 124R RWL
18″
LT255/55R18/D 109R BSW
LT265/60R18/E 119S BSW
LT285/60R18/D 118S RWL
LT265/65R18/E 122R RWL
LT275/65R18/E 123R RWL
LT285/65R18/E 125R RWL
LT305/65R18/E 124R RWL
LT325/65R18/E 127R RWL
LT255/70R18/D 117S BSW
LT265/70R18/E 124R RWL
LT275/70R18/E 125R RWL
34×12.50R18/E 121R BSW
35×12.50R18/E 123R RWL
20″
LT275/55R20/D 115S BSW
LT285/55R20/D 117T BSW
LT305/55R20/E 121S BSW
LT275/60R20/D 119S BSW
LT325/60R20/E 126S BSW
LT275/65R20/E 126S BSW
LT285/65R20/E 127S BSW
Price Range
BFGoodrich All Terrain TA KO2 prices range from approximately $157 and up. You may also find occasional rebates, discount prices, coupons and special offers on this tire.
Warranty
BFGoodrich guarantees tire uniformity for the first 25% of wear.
Materials & workmanship are covered for 6 years and includes free replacement during first year or first 25% of tread wear. Prorated amount after that down to the final 2/32 inch of tread depth.
---