Goodyear Wrangler MT/R Kevlar Tire Review & Rating
Using tougher than steel Dupont Kevlar in the sidewall, the Goodyear Wrangler MT/R is engineered to provide outstanding off-road performance for drivers of pickups and sport utility vehicles. Building on its highly successful Wrangler MT/R lineup, this Kevlar model is built to take maximum traction to a new level.
A silica tread compound and asymmetric tread pattern are designed to provide aggressive off-road performance as well as more than dependable on-road traction and handling. The wrap around tread design is made to enhance traction off-road in deep mud, sand, gravel, rocks and any other type of terrain that gets in the way.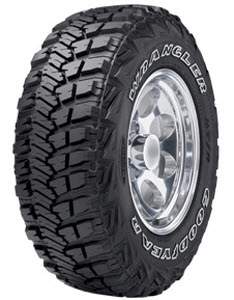 One of the key ingredients to the toughness of this tire is the Kevlar reinforced sidewall. Goodyear is the first tire maker to incorporate Kevlar and they claim it adds up to 35% more cut and puncture resistance than the standard Wrangler MT/R. It shows, because this tire is tough as nails in off road terrain.
Goodyear uses what it calls its advanced mud-flow geometry in the tread design to increase the tire's self-cleaning abilities. In addition to the stepped in and out shoulder blocks, the MT/R Kevlar is a serious mud terrain contender. You'll find sizes available from 15-20 inches and LT models feature an E load rating.
Pros
Dry and wet traction is outstanding

Excellent off-road performance

Good cornering stability

Steering is very responsive

Comfortable ride on road
Cons
A little extra road noise
Overall Thoughts
The MTR is arguably Goodyear's highest performing off-road tire. In fact, this MT model provides overall off-road performance that is almost on the same scale as the BFGoodrich KM2 and Firestone M/T. The tough Kevlar reinforcement gives this tire the ability to go through any terrain and hold its own. It handles mud very well, and once you air the tires down it is equally as impressive on rocks.
Traction on dry, wet and snow covered roads is outstanding on this model. Steering response is quicker than you might expect, and the ride is quite comfortable for a rugged tire like this. About the only complaint is a little extra road noise. While expected of course, it seems to be a little more pronounced on this model than others. That said, it's not extreme.
Treadlife is good for the most part, but can be shorter for some drivers depending on a number of different factors.
Overall, while we like models such as the BFG Mud TerrainT/A KM2 and Cooper STT Pro as the better tires in this class, this Goodyear tire certainly makes our top ten list for MT tires.
Click Here For Current Goodyear Coupons
Click Here To Find Current Prices
What Vehicles Will The Goodyear MTR Fit?
(This is not a complete list of ALL vehicles this tire will fit)
Chevrolet Silverado, Colorado, S10, Avalanche, Tahoe

Dodge Ram, Dakota

Ford F-150, Ranger, Expedition, Explorer

GMC Sierra, K2500, Yukon

Hummer H3, H2

Jeep Wrangler, Liberty, Cherokee, CJ5

Land Rover LR3

Nissan Titan, Xterra, Armada

Toyota Tacoma, Tundra, FJ Cruiser, Sequoia
Tire Sizes
15″
31X10.50R15LT C 109Q BSL
32X11.50R15LT C 113Q BSL
33X12.50R15LT C 108Q BSL
35X12.50R15LT C 113Q BSL
16″
LT305/70R16 E 124Q BSL
LT245/75R16 E 120Q BSL
LT265/75R16 E 123Q BSL
LT285/75R16 E 126Q BSL
LT315/75R16 D 121Q BSL
LT235/85R16 E 120Q BSL
17″
35X12.50R17LT C 111Q BSL
37X12.50R17LT D 124Q BSL
40X13.50R17LT C 121Q BSL
42X14.50R17LT C 121Q BSL
38X14.50R17LT D 121Q BSL
LT245/70R17 E 119Q BSL
LT265/70R17 E 121Q BSL
LT275/70R17 E 121Q BSL
LT285/70R17 D 121Q BSL
LT305/70R17 D 119Q BSL
LT315/70R17 D 121Q BSL
LT245/75R17 E 121Q BSL
LT255/75R17 C 111Q BSL
18″
35X12.50R18LT E 123Q BSL
LT275/65R18 C 113Q BSL
LT275/70R18 E 125Q BSL
LT285/75R18 E 129Q BSL
20″
33X12.50R20LT E 114Q BSL
35X12.50R20LT E 121Q BSL
LT275/65R20 E 126Q BSL
LT285/65R20 E 127Q BSL
Price Range
Goodyear Wrangler MT/R Kevlar prices range from approximately $199 and up. You may also find occasional rebates, discount prices, coupons and special offers on this tire.
Click Here To Find The Current Prices On All Goodyear Wrangler MT/R Kevlar Sizes
Warranty
Goodyear provides a limited tread warranty on the MT/R Kevlar. Tire uniformity is warranted for the first year or first 2/32 inch of wear. Materials and workmanship are guaranteed for 6-years and include free replacement during the first year or first 2/32 inch of wear. A prorated amount is given for the remaining time period or down to the final 2/32 inch of tread depth.
---