Bridgestone Dueler A/T Revo 2 Tire Review & Rating
Designed to handle anything from smooth highway driving to tough off-road conditions, the Bridgestone Dueler A/T Revo 2 is engineered to provide year round high performance traction in all types of on or off-road conditions. Built for use by drivers of pickups, SUV's and crossovers, the Revo 2 sports the latest in tire technology in all-terrain tires.
The all-season all-terrain tread compound features a unique dual tread layer that exposes new rubber as the tire begins wearing down. This is designed to minimize the effects of wear and maximize handling and cornering performance as the miles go by. The compound is also designed to provide added rolling resistance, which increases fuel economy over the life of the tire.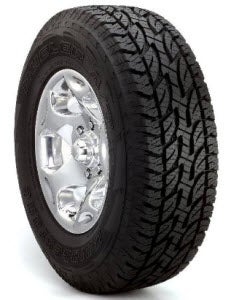 Driving on wet roads or in the snow is one of the many strong suits of the Dueler Revo 2. This is due in part to the open shoulder design and semi-stealth tread block technology that enhance handling and evacuate water from under the tread. Circumferential and lateral grooves add to better wet surface handling and reducing the risk of hydroplaning. The stepped inside notch & saw tooth grooves add more bite when driving on snow and ice, which is another strong point for this tire and one that many drivers often mention in their reviews.
Inside the tread you will find two steel belts with spirally wrapped nylon for added reinforcement and better stability. It also provides increased overall ride quality and a longer treadlife. Sizes are available from 15-22 inches, and Bridgestone includes a 50,000 mile tread guarantee on P-metric sizes as well.
Pros
Excellent traction in dirt, mud, sand, snow, ice, wet grass, gravel and dry/wet road surfaces

Quick steering response and feel

Very quiet tire for being an AT model

Ride comfort is above average
Cons
Treadlife is good but could be better
Overall Thoughts
For traction on or off-road this Revo 2 will get you through just about anything you can throw its way. On-road manners are outstanding, from the quick steering response to the quiet and comfortable ride. It's traction on dry or wet pavement rates highly among the better all-terrain tires in this class.
Off-road, this tire simply delivers amazing performance. Bridgestone has figured out the right combination for an AT tire and it shows. While not a deep mudder or serious rock climber, it delivers solid performance in most any type of terrain. Treadlife is good for the most part, but we would like to see just a bit more out of it.
Overall, the Revo 2 is a solid choice in AT tires and we rank it in the upper half of this class. While arguably not up to the performance level of the best models available today, it remains to be a well recommended tire that should not disappoint.
Click Here For Current Bridgestone Coupons
Click Here To Find Current Prices
What Vehicles Will The Bridgestone Revo 2 Fit?
(This is not a complete list of ALL vehicles this tire will fit)
Chevrolet Silverado, Suburban, Avalanche

Dodge Durango, Ram

Ford Expedition, Explorer, F-150, F-250

GMC Envoy, Sierra

Honda Ridgeline

Hummer H2

Jeep Grand Cherokee, Wrangler

Mercedes-Benz G500

Nissan Titan, Frontier

Toyota Sequoia, Tacoma, 4Runner, Tundra

Volkswagen Touareg
Tire Sizes
15″
P235/75R-15 XL 108T
31X10.50R-15/C1 109S
16″
LT265/75R16 123R E OWL
LT285/75R16 126R E OWL
P235/70R16 104T OWL
P245/70R16 106T OWL
P245/75R16 109T OWL
P255/70R16 109T OWL
P265/70R16 111T OWL
P265/75R16 114T OWL
17″
LT245/70R17 119R E OWL
LT245/75R17 121R E OWL
LT255/75R17 111R C OWL
LT265/70R17 121S E OWL
LT285/70R17 121R E OWL
LT315/70R17 121S E OWL
P235/65R17 103T OWL
P235/75R17 108T OWL
P245/65R17 105T OWL
P245/70R17 108T OWL
P245/75R17 110T OWL
P255/65R17 108T OWL
P255/70R17 110T OWL
P265/65R17 110T OWL
P265/70R17 113T OWL
P285/70R17 117T OWL
18″
255/55R18 109H XL BL
LT275/65R18 123S E OWL
LT285/65R18 125R E OWL
P255/70R18 112T OWL
P265/60R18 109T OWL
P265/65R18 112T OWL
P265/70R18 114T OWL
P275/65R18 114T OWL
20″
LT275/65R20 126S E OWL
P275/55R20 111T OWL
P275/60R20 114T OWL
22″
P285/45R22 110H BL
Price Range
Prices on the Dueler Revo 2 range from approximately $127 and up. You may also find occasional rebates, discounts, coupons and special offers on this tire.
Click Here To Find The Lowest Prices On All Bridgestone Dueler A/T Revo 2 Sizes
Warranty
A 5-year or 50,000 mile treadlife warranty is included on all P-metric and Euro-metric sizes. You will also find a first 1/32 inch of wear guarantee on the tire's uniformity.
Materials and workmanship are warranted for 5-years and include free tire replacement during the first 3 years. A prorated amount is given for the remaining time period or down to the final 2/32 inch of tread depth.
Bridgestone provides a 30-day buy it and try it guarantee, where by you can exchange or refund the tires if you are not completely satisfied.
---