Atturo Trail Blade A/T Tire Review & Rating
Released in the second half of 2013, the Atturo Trail Blade A/T has quickly become one of the best-selling value-priced all terrain tires on the market. Built for light trucks, SUV's, Jeeps and other 4×4's, the Trail Blade AT is best suited for moderate off-road use, as well as everyday use on the street.
A tougher cut and chip resistant tread compound is matched up to a mildly aggressive tread pattern. Atturo has built this model with a 12mm tread depth, which is deeper than what you find on most all-terrain tires. They've also added a 3-ply sidewall for increased protection against damaging rocks and other debris.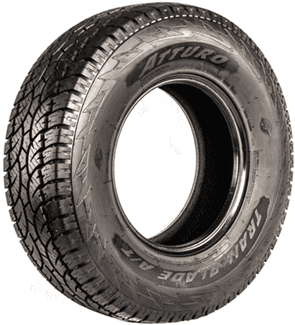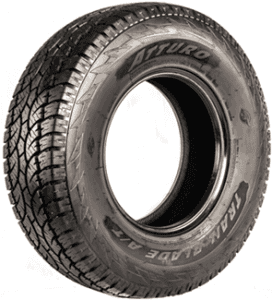 Deeper and more densely packed sipes around the tread add biting edges for traction in dirt, mud and other hard pack terrain. Segmented stone throwers between the shoulder treads rid the tread blocks of rocks for better overall traction. Even without being aired down the tire does quite well on most all types of terrain.
Four circumferential grooves and the added sipes further enhance grip on wet or snow covered road surfaces, which is surprisingly good for this model. The tire's larger shoulder blocks add to handling and stability at highway speeds, and road noise is minimal on all but the roughest grooved pavement.
Inside the tire are two steel belts with two polyester plies and one nylon ply. Atturo has added a built-in rim protector for reducing the risks of wheel damage. Sizes available range from 15-20 inches in both LT and non-LT models, and all sizes come backed with a 50k mile tread warranty.
Pros
Solid performance in moderate off-road terrain
Dry and wet traction on the street
Treadlife
Value priced
Cons
Overall Thoughts
It's easy to see why the Atturo Trail Blade A/T is a popular choice among second-level low priced tires. It delivers solid performance both on or off-road to go with a longer lasting treadlife. You'll find this model cleans out well when it comes to mud, rock and other debris while maintaining excellent grip.
The tire's deeper tread depth and tougher tread design add to treadlife, which is very good and an area mentioned by other drivers as a positive on this tire. On the street, the Trail Blade holds its own quite well. The sipes and grooves help maintain grip on wet pavement, and hydroplaning is not really an issue as well.
Overall, we rank the Trail Blade in the upper half of the budget all-terrain class and recommend it for anyone looking for good all-around performance at a much lower cost.
Click Here To Find Current Prices
What Vehicles Will The Atturo Trail Blade A/T Fit?
(This is not a complete list of ALL vehicles this tire will fit)
Chevrolet Silverado, Avalanche, S10, Suburban, K2500, Colorado, Blazer
Dodge Ram, Dakota
Ford Expedition, Ranger, Bronco, F-150, Explorer
GMC Yukon, Sierra, Canyon
Honda Element, CR-V, Ridgeline
Isuzu Trooper
Jeep Wrangler, Grand Cherokee, Liberty
Mazda B4000
Mercury Mountaineer
Mitsubishi Montero
Nissan Titan, Xterra, Frontier, Pathfinder
Toyota Tacoma, Tundra, FJ Cruiser, Sequoia, Land Cruiser, Highlander
Tire Sizes
15″
LT235/75R15 104/101S C BSW
LT30X9.50R15 104S C BSW
LT31X10.50R15 109S C BSW
16″
LT215/85R16 115/112S E BSW
LT225/75R16 115/112S E BSW
235/70R16 106T BSW
LT235/85R16 120/116S E BSW
245/70R16 111T XL BSW
LT245/75R16 120/116S E BSW
255/70R16 111T BSW
265/70R16 112T BSW
LT265/75R16 123/120S E BSW
17″
LT235/80R17 120/117S E BSW
245/65R17 107T BSW
LT245/75R17 121/118S E BSW
265/65R17 112T BSW
265/70R17 115T BSW
LT265/70R17 121/118S E BSW
18″
265/70R18 116T BSW
20″
275/60R20 115T BSW
Price Range
Atturo Trail Blade A/T prices range from approximately $99 and up. You may also find occasional rebates, discount prices, coupons and special offers on this tire.
Click Here To Find Current Prices
Warranty
Atturo provides a 50,000 mile tread warranty on the Trail Blade AT.
---