Firestone Transforce AT2 Tire Review & Rating
Rolling out in April 2017, the new Firestone Transforce AT2 will replace the original Transforce AT that has been around for a number of years now. Designed for use on all types of light trucks and vans, the AT2 is built to tackle all types of terrain, muddy job sites and more.
With a new cut and chip resistant tread compound and unique tread pattern, Firestone has stated that this new tire outperforms the original in every category. The deeper tread design on this commercial-duty all-terrain tire is built to withstand the rigors of driving over gravel, larger rock, ruts and other difficult off pavement conditions.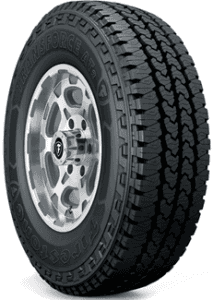 Open shoulders and independent tread blocks further enhance traction on dirt, sand and other terrain, while the tires' tread to road footprint increases grip on the street. We find it delivers better traction over the original, which has also been noted by other drivers as well.
Three large circumferential grooves and the multi-sipe design add to traction on wet roads. Again, we feel the AT2 offers a bigger improvement over the original AT in this area. The added sipes and deeper tread depth provide increased traction on snow, slush and other winter conditions you might encounter. (We can't speak to the type of winter performance it provides yet since this model was just released, but we will update in the future once winter arrives.)
Inside the tire you'll find twin belts made from high-tensile steel that are reinforced with spirally wrapped nylon for increased strength and durability. Firestone uses a two-ply casing that gives the tire a higher level of comfort on the highway.
Firestone offers a range of 16-20 inch LT sizes in the Transforce AT2, and all sizes feature and E load range rating. A limited tread warranty is also included.
Pros
Excellent dry and wet traction
Tackles difficult light terrain as well as any commercial AT tire today
Solid performance under heavier loads
Cons
Too early to know about winter performance or treadlife
Overall Thoughts
While the original Transforce AT is not a bad tire when it comes to off-road and on-road traction, this new AT2 exceeds it in our opinion. Although it is too soon to know how well it will handle deeper snow and ice, our hopes is that it does a better job than the previous generation. We are anxious to find out just how well it will perform in this area later in the year.
If you regularly haul heavier loads, you're going to like this tire. It doesn't disappoint. In addition, grip on the pavement is very good, regardless of whether the pavement is dry or wet. Treadlife was another big issue for the original AT, and again, we can't speak to treadlife yet at this early stage.
Oveall, we like what Firestone has done here with this new tire. For tougher commercial-duty use, the Transforce AT2 fares well against other top tires like the Goodyear DuraTrac and Cooper ST Maxx. It certainly is one of the better options available today.
Click Here For Current Firestone Coupons
Click Here To Find Current Prices
What Vehicles Will The Firestone Transforce AT2 Fit?
Fits these vehicles and many others:
Chevrolet K1500, Silverado, K2500, Colorado
Dodge Ram, Dakota
Ford F-350, F-250, F-150, Ranger
GMC K1500, Yukon, Canyon, Sierra
Jeep Wrangler
Nissan Titan
Toyota Tundra, Tacoma, 4Runner
Tire Sizes
16″
LT215/85R16 115R E BW
LT225/75R16 115R E BW
LT235/85R16 120R E BW
LT245/75R16 120R E BW
LT265/75R16 123R E BW
17″
LT225/75R17 116R E BW
LT235/80R17 120R E BW
LT245/70R17 119R E BW
LT245/75R17 121R E OWL
LT265/70R17 121R E OWL
LT285/70R17 121R E BW
18″
LT265/70R18 124R E BW
LT275/65R18 123R E OWL
LT275/70R18 125R E OWL
20″
LT265/60R20 121R E BW
LT275/65R20 126R E BW
Price Range
Firestone Transforce AT2 prices range from approximately $165 and up. You may also find occasional rebates, discount prices, coupons and special offers on this tire.
Click Here To Find The Current Prices On All Firestone Transforce AT2 Sizes
Warranty
Firestone provides a limited tread warranty on the Transforce AT2. Tire uniformity is guaranteed for the first 1/32 inch of wear. Materials and workmanship are warranted for 5-years and include free replacement during the first 3-years. A prorated amount is given for the remaining time period or down to the final 2/32 inch of tread depth.
You will also receive Firestone's 30-day buy and try guarantee. If you are not completely satisfied you can refund or exchange the tires.
---