Top 10 Most Fuel Efficient Tires
The mileage and fuel efficiency of a vehicle and its components are important factors that buyers take into account when making their purchase decision.
With fuel prices constantly rising and falling, many drivers are looking to get the highest fuel mileage they can out of their vehicles. One of the biggest ways to increase fuel efficiency is with a set of new tires.
Today, tire makers are using the latest in technology to create tires that lower rolling resistance and add 2-8% in higher fuel mileage, which definitely adds up over time.
Fuel efficient tires undergo rigorous testing by tire manufacturers to create a design that performs the expected functionality, with the added benefit of being fuel efficient, which is achieved by lowering the rolling resistance.
Roll resistance is the loss of inertia as the tire continues to roll on the ground. The best low rolling resistance tires available in 2020 are designed specifically to reduce the energy loss that occurs and to optimize the fuel needed to sustain motion.
That said, here's our 2020 Top 10 Most Fuel Efficient Tires. All tires are not listed in any particular order. They are all designed with performance and fuel efficiency in mind.
---
1) Michelin Energy Saver A/S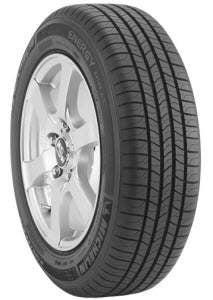 The Michelin Energy Saver A/S has been designed with a special silica-based tread compound that provides increased traction and handling on all surfaces. The tire features an asymmetrical tread pattern, which enables better road grip and increased breaking ability.
The Energy Saver A/S is Michelin's most fuel efficient tire in their lineup. It's unique tread compound and EnergySaver construction claim to add up to 8% more fuel efficiency to your hybrid or fuel efficient vehicle. Beyond that, this model provides excellent dry and wet performance to go with a very comfortable ride quality. There's also a 65,000 mile tread warranty included.
Key Features
Siping to improve traction on dry and wet roads
Comfort control technology to reduce noise output
Pros
Performs well on wet and dry roads
Comfortable driving experience
Cons
Noise output has been reported to be a problem
Average performance in snowy conditions
Click Here For A Complete Review
2) Continental PureContact with EcoPlus Technology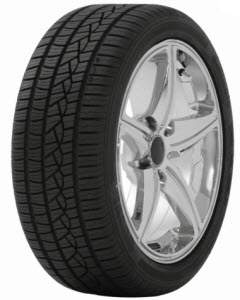 Continental enters our list with the PureContact, a tire that remains true to the prowess of the manufacturer, boasting a beautiful tread pattern perfect for your luxury sedan or tuner car. The twin steel belt design makes this a tough and durable tire that offers great value for money.
The new PureContact from Continental is specially designed with Tg-F Polymers and +Silane additives in the tread compound that provide a lower rolling resistance and enhance fuel efficiency. It also provides increased dry, wet and snow traction. ComforRide technology adds a shock absorbent layer to give the tire extra comfort on all road surfaces. You'll also find a 70,000 mile tread guarantee on this tire.
Key Features
Silane tread compound to increase traction on wet roads
Asymmetric tread pattern to reduce noise output
Grooves to provide traction on snow
Pros
Exceptional performance on dry and wet roads
Responsive steering and handling
70,000 mile warranty
Cons
Performance on snow could be improved
Click Here For A Complete Review
3) Bridgestone Ecopia EP422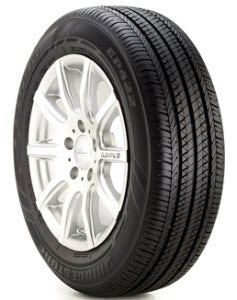 The Bridgestone Ecopia EP422 has been molded with a center block, accompanying a ribbed design that provides improved handling and traction on dry roads. The grooves on the tire push water away from the tire to reduce the threat of hydroplaning and increase performance on wet roads.
With an environmentally-friendly tread design, the Ecopia EP422 uses Bridgestone's NanoPro Tech tread compound for lower rolling resistance and enhanced fuel economy. The symmetric tread pattern also sports a Fuel Saver compound in the sidewalls that further add to better fuel efficiency. Expect to find very capable all-season traction and a comfortable ride on this tire.
Key Features
Nano tech silica compound to increase fuel efficiency
Ribed design to increase traction on dry surfaces
Nylon reinforced to provide a solid and stable driving experience
Pros
Economically priced
Provide a stable and comfortable driving experience
Great traction on dry surfaces
Cons
Poor durability
Poor performance in snowy conditions
Click Here For A Complete Review
4) Goodyear Assurance Fuel Max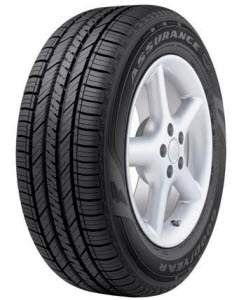 The Goodyear Assurance Fuel Max is molded with dense shoulder blocks and circumferential grooving that provides increased stability and increases the steering responsiveness on all roads.
Goodyear's Assurance Fuel Max is designed with a low rolling resistance tread compound for greater fuel efficiency and all-season driving performance. This model features unique Dry and Wet Zones that function together to provide the best traction and handling possible. Add in the comfortable ride this tire provides and a 65,000 mile tread warranty and it's easy to see why this tire is a popular choice among drivers of all types of coupes, sedans, vans and crossovers. They appear on this list as one of the best low rolling resistance tires available in 2018.
Key Features
Centre rib to increase stability and comfort
Dual Channel grooves that expel water and increase traction
Biting edges designed into the tread to increase snow traction
Pros
Impressive traction on dry and wet surfaces
Steering is precise and responsive
Stable driving experience
Cons
Performance on snow and slush is poor
Tire durability reported to be an issue
Tires can become noisy even on dry surfaces
Click Here For A Complete Review
5) Bridgestone Turanza Serenity Plus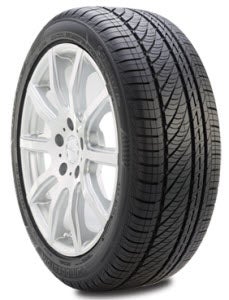 While the Serenity Plus from Bridgestone is designed with a unique NanoPro tech tread compound that lowers rolling resistance and increases the fuel efficiency, this is a tire that also delivers excellent comfort and some of the better traction and handling in its class.
The Bridgestone Turanza is a touring tire designed with all-season capabilities, and as a result is perfect for sedans, coupés and minivans that will need a solid tire to perform capably all- year round. The tires feature Bridgestone patented technology that help reduce the noise output, making for a pleasant driving experience. This is an ideal highway driving tire that also comes with a longer 80K mile tread warranty.
Key Features
Biting edges increase snow traction
NanoPro-Tech rubber compound that increase traction on wet roads
Three-grooved design to increase hydroplane resistance
Pros
Excellent traction and handling on dry and wet roads
Durable tires
Noise output levels are low
Cons
Performance in snow is very poor
Click Here For A Complete Review
6) Michelin Defender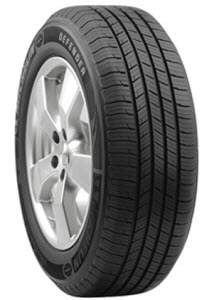 The Michelin Defender with perhaps an ordinary tread pattern could fool you into thinking that these are low-priced tires with average performance. However, that would be grossly inaccurate as these are solid contenders for some of the most efficient tires in the market. The circumferential and lateral grooves work to increase road grip and provide great cornering ability.
Michelin's MaxTouch construction and IntelliSipe technology combine with Green-X low rolling resistance to provide greater all-season grip and enhanced fuel mileage in the new Defender tire. Add in the outstanding ride comfort, longer lasting tread life and 90,000 mile warranty, and it's no wonder why this is one of the best all-season tires available today.
Key Features
Intellsipe technology that increases handling and braking
Green X technology that reduces rolling resistance, to increase fuel efficiency
Lateral grooves to reduce the risk of hydroplaning
Pros
Excellent traction on dry and wet roads
Comfortable driving experience with low noise output
Performance on snow is outstanding
Cons
Tread durability could be improved
Click Here For A Complete Review
7) Continental CrossContact LX20 with EcoPlus Technology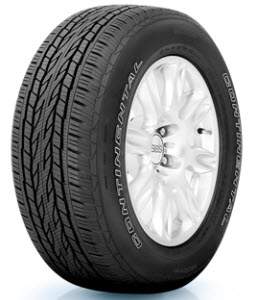 Here's our top choice in a fuel efficient tire for pickups, SUV's and crossovers. The Continental CrossContact LX20 remains true to breed, providing another aesthetically pleasing design done deliberately to invoke better performance from your vehicle. The silane infused tread improves traction and handling, while the grooves increase performance on snow.
The LX20 from Continental not only features an eco-friendly design, but its unique tread compound lowers rolling resistance and enhances fuel efficiency as well. Dry, wet and snow traction is excellent on this model, and the ride is very comfortable and quiet. Treadwear is exceptional for a tire in this class, and is backed with a 70,000 mile warranty.
Key Features
Eco friendly tread compound
Center rib increases dry road grip
70,000 mile tread warranty
Pros
Performance on dry and wet roads is amazing
Comfortable and quiet drive
Provides excellent cornering ability
Cons
Tire durability is an issue
Heavy snow causes performance to degrade
Click Here For A Complete Review
8) Michelin Premier A/S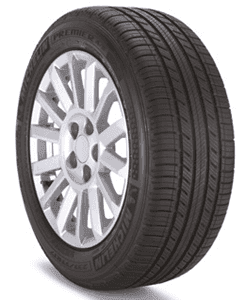 The Michelin Premier A/S is one of the best low rolling resistance tires available in 2018. The reason behind the claim is its performance on wet roads, while also reducing the fuel expenses. The Evergrip technology incorporates expanding rain grooves that widen with tire use, and provide wet road traction throughout the useful life of the tire.
The Premier A/S touring all-season tire features a wide range of tire technology that not only lower the rolling resistance for added fuel economy, but give it outstanding traction and handling on all types of road surfaces. For ride comfort, traction and safety, it's tough to find a better model than this Michelin tire.
Key Features
EverGrip technology that provides wet traction throughout the life of the tire
Siping that increases traction on snow surfaces
60,000 mile warranty
Pros
Excellent dry and wet performance
Ability to take corners at high speeds even on wet roads
Comfortable and stable driving experience
Cons
Snow performance could be further improved
Click Here For A Complete Review
9) Bridgestone Ecopia EP100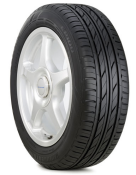 The Ecopia EP100 makes the list due in part to its NanoPro Tech compound and lower rolling resistance that substantially add to improved fuel efficiency. Bridgestone claims that the Ecopia Ep100 rolls 42% more than the average tire. Furthermore, the reduced rolling resistance achieved with this tire will reduce fuel expenditure considerably. To add to the savings aspect is that fact that this tire is inexpensive and performs quite well with stability.
This summer tire provides very good dry and wet traction to go with a smooth, comfortable ride. Bridgestone includes a 50,000 mile tread warranty that is rare for a summer tire.
Key Features
Special Ecopia compound reduces heat and energy loss
Ribbed blocked that increases braking ability
Lower rolling resistance to improve fuel efficiency
Pros
Impressive dry and wet traction
Fuel efficient
Inexpensive
Cons
Poor cornering ability
Poor durability
Click Here For A Complete Review
10) Continental ProContact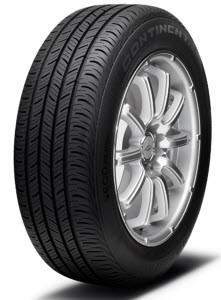 The Continental ProContact has been developed with ecofriendly technologies that reduce its carbon footprint. The addition of grooves on the tread further increases the braking performance of the tire.
Using their unique EcoPlus Technology in the compound and tread makeup, the ProContact is built to lower rolling resistance and save fuel. In addition, this is a tire that confidently grips the road in both dry or wet conditions due in part to Continental's ProActive Edge Technology. The ride is smooth and comfortable and you'll find an 80K mile tread warranty backing it all up.
Key Features
Silane infused tread compound to increase durability
Biting edges to increase traction in snow
Grooves to increase handling on wet surfaces
Pros
Exceptional traction on dry and wet surfaces
Excellent cornering ability even at high speeds
Comfortable driving experience
Cons
Performance on snow could be improved
Tire durability is an issue
Click Here For A Complete Review
Fuel-Efficient Tire FAQs
What Are Fuel-Efficient Tires?
Fuel efficient tires are typically known to have low rolling resistance. What that means is: you save fuel because it takes less energy from your engine to propel your tires forward. That's great considering a fifth of your fuel consumption is based on what tires you use.
How Much Do Tires Affect Fuel Efficiency?
20% of your fuel efficiency depends on the tires. A tire's rolling resistance is the main factor in determining how fuel-efficient a tire is. Rolling resistance depends on the tread compound and design as well as the size of the tire. When a tire is smaller, it takes less fuel to get it moving, and softer tires weigh less, so they need less fuel to move.
How Are Tires Made To Roll More Efficiently?
One way to have efficient rolling is to reduce the weight of the tires. This can be done by reducing the size of the tire. A smaller tire will require less effort to start moving which is straight for stop-and-go traffic conditions. Maintaining tire air pressure is also a great way to make the tire roll more efficiently.
Are Fuel-Efficient Tires Safe To Drive In Winter?
Your mileage can drop considerably during winters. Fuel efficient tires can allow you to get better mileage from your vehicle while providing some traction in winter conditions. Fuel efficient tires may have lesser tread in order to make them more fuel-efficient, so it may not be safe in severe snowy weather.
Does Low Tire Pressure Affect Fuel Consumption?
Yes, lower tire pressure reduces your gas mileage. According to the U.S Department of Energy, a 1 psi drop in average tire pressure in all tires reduces gas mileage by 0.2%. So make it a habit to check your tire pressures and fill it up to recommended levels before you take your vehicle for a ride.
What Are The Most Fuel-Efficient Tires?
There are some great tires on the market that feature the latest technology for minimizing fuel consumption, including silica-based tread compounds and energy-saving designs with asymmetric treads and more. Some of these tires include Goodyear Assurance Fuel Max, Continental Pure Contact and Michelin Energy Saver A/S among others.
---