Bridgestone Turanza Serenity Plus Tire Review & Rating
The Bridgestone Turanza Serenity Plus is the replacement to the original Serenity that has been popular for several years now. This newest touring all-season tire is designed to provide excellent year round performance, a more comfortable ride and a longer lasting treadlife. Built for drivers of all types of coupes, sedans, minivans and crossovers, the Serenity Plus also sports a lower rolling resistance for added fuel efficiency.
A silica enhanced NanoPro-Tech rubber tread compound increases traction, especially on wet and snow covered road surfaces, by controlling the interaction between the silica, carbon black and other polymers which reduce friction and energy loss. It's a high-tech process, but it does its job very well, which has been mentioned in many driver reviews.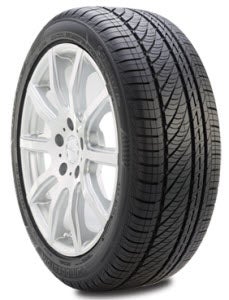 Bridgestone's exclusive Resonance Noise Attenuated silencer grooves around the tread dramatically reduce road noise, which is another area where drivers agree that it is one of the most quiet tires in this class. The tire's continuous center rib further eliminates noise, while also providing increased steering response and stability, as well as enhanced braking and acceleration performance.
Three circumferential grooves combine with lateral grooves to give the tire exceptional wet surface traction and hydroplane resistance. An added 3-D Sub-Surface Platform increases snow traction due to the biting edges that grip snow, hard-packed snow and ice.
Inside the tire you will find two steel belts that are nylon reinforced for added strength and durability throughout the speed range. A polyester cord body provides improved ride comfort and increases stability. Bridgestone provides up to an 80,000 mile tread guarantee on this model, and offers 15-19 inch sizes in H, V or W-speed ratings.
Pros
Dry and wet traction are outstanding

Excellent cornering performance and steering response

Exceptional ride comfort

Treadlife is very good
Cons
Deep snow and ice traction
Overall Thoughts
The Serenity Plus was released in mid-2012, and has quickly positioned itself as an exceptional touring all-season tire. Dry and wet surface traction and cornering grip are excellent. The steering feel and overall stability this tire provides is among the best in this class.
Ride comfort is another area in which this tire excels and is on line with the better tires in this class. We've heard this from many drivers as well. The ride is smooth and very quiet, which is precisely what you want for those longer drives on the highway.
The only issue you may find with this model is its performance in deeper amounts of snow or on thick ice. This is an issue which gets more problematic as the tire begins wearing. As is the case with most all-season tires, it isn't built to perform as a winter tire. Treadlife has already shown to be long lasting, which is backed up with an 80,000 mile tread guarantee.
Overall, this Bridgestone tire is an above average model. The price is budget-friendly, and the performance you can expect is exceptional.
Click Here For Current Bridgestone Coupons
Click Here To Find Current Prices
Buy Used for 40 – 50% Less than Retail
What Vehicles Will The Bridgestone Serenity Plus Fit?
(This is not a complete list of ALL vehicles this tire will fit)
Acura TL, CL

BMW 135i, 330i, 530i

Chevrolet Cobalt, Malibu, Cruze, Impala, Sonic LTZ

Dodge Neon, Grand Caravan, Nitro

Ford Focus, Mustang GT, Taurus, Fusion

Honda Civic, CR-V, Insight, Accord

Hyundai Genesis, Sonata

Infiniti G35x

Kia Optima, Rondo

Lincoln MKZ

Mazda6, 929, Mazda3

Mercedes-Benz E320

Nissan Altima, Maxima, Versa, Leaf, Cube

Pontiac Vibe, Grand Am, Grand Prix, G5

Subaru Legacy, Impreza Outback

Toyota Camry, Prius, RAV4, Avalon, Solara, Sienna

Volkswagen Jetta, Passat, Touareg
Tire Sizes
15″
195/60R15 88H BL
195/65R15 91H BL
205/65R15 94H BL
16″
205/55R16 91H BL
205/60R16 92V BL
215/55R16 93H BL
215/60R16 95V BL
225/55R16 95V BL
225/60R16 98H BL
17″
205/50R17 93V XL BL
215/50R17 95V XL BL
215/55R17 94V BL
225/45R17 91W BL
225/50R17 94W BL
225/55R17 97V BL
235/45R17 94W BL
235/50R17 96V BL
235/55R17 99V BL
245/50R17 99V BL
18″
235/40R18 95W XL BL
235/50R18 97W BL
235/55R18 100V BL
245/40R18 93W BL
245/45R18 96W BL
245/50R18 100V BL
255/45R18 103W XL BL
19″
245/40R19 94W BL
245/45R19 98W BL
255/40R19 100W XL BL
275/40R19 105W XL BL
Price Range
Prices on the Serenity Plus range from approximately $90 and up. You may also find occasional rebates, discounts, coupons and special offers on this tire.
Click Here To Find Current Prices On All Bridgestone Turanza Serenity Plus Sizes
Warranty
Bridgestone provides a 5-year or 80,000 mile tread warranty on H-speed rated models. The mileage warranty is 75,000 for V-rated tires, and 50,000 miles on W-rated tires. There is a first 1/32 inch of wear guarantee on tire uniformity.
Materials and workmanship are warranted for 5-years and include free replacement during the first 3 years. A prorated amount is given for the remaining time period or down to the final 2/32 inch of wear.
You will also receive a 30-day buy and try guarantee that allows you to refund or exchange the tires if you are not completely satisfied.
---