Michelin Premier A/S Tire Review & Rating
There's a good reason why so many other tire companies try to compare their tires to those from Michelin… because Michelin stands at the forefront of the latest in tire technology. Their newest model, the Premier A/S, which will replace the older Primacy MXV4, is a perfect example of this. Built for all types of coupes, sedans, crossovers and minivans, this new tire has never before seen technology in the tread that is designed to provide the highest in all-season performance.
A silica and sunflower oil tread compound features Michelin's new EverGrip safety technology, which is a game changer for delivering long lasting wet traction. This new technology expands the rain grooves as the tire wears, giving it the ability to remove water and continue delivering wet traction. In addition, new grooves that were hidden in the rubber begin to emerge and start evacuating water and also provide added grip. The result is a tire that brakes and performs like new, even as it wears down.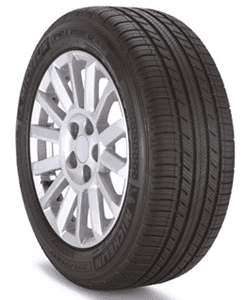 The addition of sunflower oil in the tread compound, and added sipes around the tire that provide biting edges, which further enhance traction on snow and ice by making the tread more pliable in extreme cold temperatures.
Inside the tire you'll find twin steel belts with a polyester cord body for added strength and durability. The Premier AS is available in sizes ranging from 15 to 18 inches and in H or V-speed ratings. Michelin also includes a 60,000 mile warranty.
Pros
Solid dry traction and cornering stability

Excellent wet grip

Latest Michelin tire technology

Very smooth and comfortable ride
Cons
Nothing that truly stands out as a negative
Overall Thoughts
Even though Michelin tires can be among the more expensive models over some of their competitors the fact is, in most cases you get what you pay for in this business. This new Premier A/S may cost a bit more than a cheap tire, but you get real quality in return.
If you drive in climates that get any amounts of rain, you will like this new EverGrip technology built into the tire. We believe it's a true game-changer. Testing by Michelin has shown that even as this tire has worn down it still provides better braking performance than other leading brand new tires.
Ride comfort is excellent on this model and road noise is lower than that of the MXV4, which is very good in itself.
Overall, Michelin has a great reputation, and rightly so, and the new Premier A/S only extends this even further. Simply stated, this is a solid and dependable new touring all-season tire that ranks right near the best in class. Highly recommended.

What Vehicles Will The Michelin Premier AS Fit?
(This is not a complete list of ALL vehicles this tire will fit)

Buick Lucerne, Lesabre, Century

Chevrolet Impala, Venture, Cavalier, Malibu

Chrysler Town and Country, PT Cruiser, Sebring

Dodge Neon, Grand Caravan

Ford Windstar, Taurus, Mustang, Ranger, Crown Victoria

Honda Civic, Accord, CR-V, Odyssey

Hyundai Accent, Sonata

Kia Amanti

Mercury Grand Marquis, Villager, Mystique

Nissan Maxima, Rogue, Altima, Sentra

Plymouth Voyager

Pontiac Montana, Torrent, Grand Am, Vibe, Bonneville, Trans Sport

Saturn SL2, LW1

Subaru Outback

Toyota Sienna, Camry, Corolla, Prius, Tacoma, Echo
Tire Sizes
15″
185 /65 R15 88H SL BSW
195 /55 R15 85V SL BSW
195 /60 R15 88H SL BSW
195 /65 R15 91H SL BSW
205 /60 R15 91H SL BSW
205 /65 R15 94H SL BSW
16″
185 /55 R16 83H SL BSW
195 /55 R16 87V SL BSW
205 /50 R16 87V SL BSW
205 /55 R16 91V SL BSW
205 /55 R16 91H SL BSW
205 /60 R16 92V SL BSW
205 /60 R16 92H SL BSW
205 /65 R16 95H SL BSW
215 /55 R16 93H SL BSW
215 /60 R16 95H SL BSW
215 /60 R16 95V SL BSW
225 /55 R16 95H SL BSW
225 /60 R16 98H SL BSW
225 /65 R16 100H SL BSW
235 /60 R16 100H SL BSW
17″
205 /45 R17 84V SL BSW
205 /50 R17 93V XL BSW
205 /50 R17 93H XL BSW
215 /45 R17 87H SL BSW
215 /45 R17 87V SL BSW
215 /50 R17 95V XL BSW
215 /55 R17 94V SL BSW
215 /55 R17 94H SL BSW
225 /45 R17 91H SL BSW
225 /45 R17 91V SL BSW
225 /50 R17 94V SL BSW
225 /55 R17 97V SL BSW
225 /55 R17 97H SL BSW
225 /60 R17 99H SL BSW
235 /45 R17 94V SL BSW
235 /45 R17 94H SL BSW
235 /50 R17 96H SL BSW
235 /55 R17 99H SL BSW
18″
225 /55 R18 98H SL BSW
225 /60 R18 100H SL BSW
235 /55 R18 100V SL BSW
245 /45 R18 100V XL BSW
Price Range
Michelin Premier A/S prices range from approximately $116 and up. You may also find occasional rebates, discount prices, coupons and special offers on this tire.
Warranty
Michelin provides a 6-year or 60,000 mile tread warranty on the Premier A/S. Tire uniformity is guaranteed for the first year or first 2/32 inch of wear.
Materials and workmanship are warranted for 6-years and include free replacement during the first year or first 2/32 inch of wear. A prorated amount is given for the remaining time period or down to the final 2/32 inch of tread depth.
You will also find a 3-year flat tire changing service and Michelin's 30-day customer satisfaction guarantee.
---