Continental ProContact With EcoPlus Technology Tire Review & Rating
Continental Tire's next generation touring all-season tire, the ProContact with EcoPlus Technology, is designed to save you money on fuel, increase driving enjoyment and safety, and reduce CO2 emissions for a cleaner environment.
Developed for drivers of all types of coupes, sedans, crossovers and minivans, the Continental Pro Contact uses special polymers and additives in the tread compound that are designed to improve fuel efficiency and reduce its carbon footprint.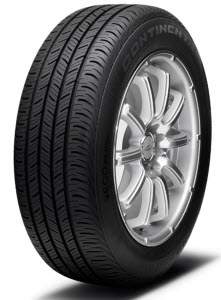 This newest tread compound combines with asymmetrical tread pattern to give the tire better overall handling capabilities in all-season road conditions. Wet surface traction is enhanced by wider circumferential grooves and numerous sipes. One benefit of this tread design that Continental touts is the increase in wet braking traction. It reduces the distance needed to come to a stop when the roads are wet. The result is better safety and more confidence behind the wheel.
Continental also uses what they call PROactive Edge Technology, which increases the number of active edges in the tire's contact patch. This further increases traction on wet or snow covered roads. A side benefit to this technology is a greater reduction in road noise, making it a quieter riding tire, which the company has done a very good job at here.
Inside the tread you will find two steel belts that add more strength and durability, as well as more even tread wear over the life of the tire. Continental provides an 80K tread warranty on this model.
Pros
Outstanding dry surface grip and cornering

Traction and handling on wet and snow surfaces is excellent

Ride comfort is among the best in all-season touring tires

80,000 mile warranty
Cons
Treadlife has been an issue for some

Braking on icy surfaces
Overall Thoughts
The Continental ProContact EcoPlus is one of the better tires in the standard touring all-season class. The grip and handling on dry, wet or snow covered roads is impressive. The tires will simply get you to where you want to be without worries. Steering response and stability are also impressive on this model.
The only real disappointment is that treadwear may be lower than the 80,000 miles that Continental provides on the warranty. Some drivers have reported getting 50K miles out of the tread. That said, others have not had treadwear issues with the tire. One other area that may be a concern for you is braking on ice covered surfaces. That said, we've seen much worse.
All in all this model has a lot of strengths that make it highly recommended for anyone looking for an all-season tire.
Click Here For Current Continental Coupons
What Vehicles Will The ProContact Fit?
(This is not a complete list of ALL vehicles this tire will fit)
BMW X3, 328i

Chevrolet Impala, Malibu, Cavalier

Chrysler Town and Country

Dodge Grand Caravan

Ford Fiesta, Fusion, Taurus, Escape

Honda Civic, Odyssey, CR-V, Insight EX

Hyundai Sonata

Jeep Patriot, Grand Cherokee

Kia Optima

Mercury Mariner, Milan

Nissan Altima

Pontiac G6, Vibe

Saab 9-3

Saturn Aura XE, SL2, SW2

Toyota Prius, Sienna, Highlander, RAV4

Volkswagen Jetta, Passat
Tire Sizes
15″
185/65R15 88T BSW
195/65R15 91T BSW
185/60R15 84T BSW
195/60R15 88T BSW
205/60R15 91T BSW
16″
205/65R16 95T BSW
215/65R16 98T BSW
235/65R16 103T BSW
205/60R16 92T BSW
215/60R16 95T BSW
225/60R16 98T WSW
225/60R16 98T BSW
205/55R16 91T BSW
17″
215/65R17 99T BSW
225/65R17 102T BSW
235/65R17 104T BSW
215/60R17 96T BSW
225/60R17 99T BSW
225/55R17 97T BSW
235/55R17 99T BSW
225/50R17 94T BSW
235/50R17 96T BSW
18″
215/55R18 95T BSW
225/50R18 95T BSW
Price Range
Prices on the ProContact EcoPlus range from $103 and up. You may also find occasional rebates, discounts, coupons and special offers on this tire.
Click Here To Find The Lowest Prices On All Continental ProContact Sizes
Warranty
Continental warrants Pro Contact Eco Plus tires for 6-years or 80,000 miles. Tire uniformity is covered for 1-year or the first 2/32 inch of treadwear.
Materials and workmanship are backed for 6-years and include free tire replacement during the first year or first 2/32 inch of treadwear. The amount is prorated for the remaining time period down to the final 2/32 inch of tread depth left on the tire.
You will also find a 1-year or first 2/32 inch of wear road hazard warranty. In addition, Continental provides a 60-day customer satisfaction guarantee that allows you to exchange the tire for another Continental brand tire in the event you are not completely happy with the tires.
---