Top 10 Touring All-Season Tires
Touring tires are designed with mileage in mind. These are tires that are meant to last thousands of miles, and provide the buyer the ability to drive his vehicle all year round without worrying about potential breakdowns and the hassle of regular tire changes.
With so many different choices of quality touring tires in front of you, it can be difficult in knowing which brand and model is the best for your particular vehicle. We've created our choices for the 2020 Top 10 Touring All-Season tires based on areas such as ride comfort and low road noise, dry and wet surface performance, tread life, etc.
In this list, we breakdown the best grand touring all-season tires. These tires come equipped with not only increased durability, but also features that allow them to function optimally in all-weather conditions, whilst providing great comfort to the driver and producing low noise so as not to make for a monotonous driving experience.
Hopefully, this list will allow you to make your best choice. All tires on this list were chosen based on our own experience and reviews and comments from other tire owners.
---
Michelin Premier A/S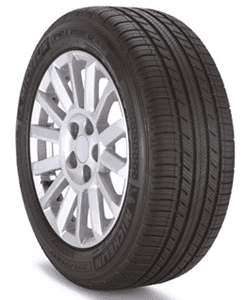 For all-around ride comfort and dependable year-round traction, the newer Michelin Premier A/S is hard to beat.The Premier A/S is Michelin's design, to provide all-weather capabilities in a grand touring tire that will fit perfectly in a family sedan to provide responsive control and increased comfort over long distance drives.
As with most every Michelin touring tire you know you're going to get a smooth and comfortable ride, and the Premier AS doesn't disappoint. But in addition, traction and handling is equally as impressive due in part to Michelin's EverGrip technology.
Key Features
Rain grooves provide traction on wet surfaces
Rubber compound provides fuel efficient drive
Pros
Outstanding breaking capabilities in dry and wet conditions
Responsive steering and handling capabilities
Cons
Tire is prone to wearing out prematurely
Cooper CS5 Grand Touring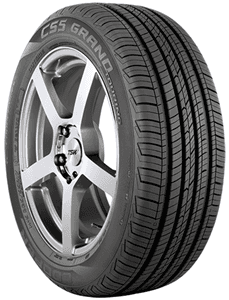 Utilizing next generation tire technology, the CS5 Grand Touring is built to deliver the kind of traction and comfort you want out of your all-season touring tires.
The Cooper CS5 tires are purpose built for both sedans and SUVs, and are easily one of the best grand touring all season tires. The tires provide a design that boasts plenty of features to allow for a quiet driving experience with exceptional handling and cornering whilst maintaining stability.
The tire's added silica content in the tread gives it excellent grip in all types of weather. Ride comfort is among the best in class, and treadlife is long lasting and warranted for 80K miles.
Key Features
Grooves allow for hydroplane resistance
Visual indicators to estimate remaining useful life
3D technology that allows for better acceleration and braking
Pros
Excellent ride comfort
80,000-mile warranty
Cons
Poor performance in snowy conditions