BFGoodrich Advantage T/A Sport Tire Review & Rating
Released in August 2016 as an eventual replacement to the older Advantage T/A, the new BFGoodrich Advantage T/A Sport all-season touring tire features a wide range of new tire technology that is created to increase traction, handling, ride comfort and treadlife. Built for owners of coupes, sedans, minivans and other vehicles, the Advantage T/A Sport is designed with performance in mind.
BFGoodrich uses a silica-infused all-season tread compound that combines with a symmetrical tread pattern for enhanced traction and handling. BFG has optimized the footprint and added a continuous center rib that quickens steering response and provides improved cornering stability at higher speeds.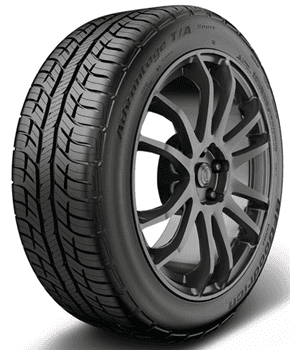 Next generation g-Wedge Sidewall inserts do their job well in stabilizing the tire and reducing distortion during cornering, which is a noticeable difference over the older Advantage T/A.
When roads get wet, BFGoodrich utilizes its full-depth 3D Active Sipe Technology to deliver increased grip. Along with Aqua-Flume grooves around the tread, the risk of hydroplaning is dramatically reduced. You'll find that traction stands far above the previous generation on this tire. In fact, BFG claims a 12% increase in wet grip over the previous model, which we feel is about right.
The tire's optimized footprint also helps in reducing road noise and providing a more comfortable ride quality. Again, this is another plus for this tire.
Inside the tire are dual steel belts with nylon reinforcement and a single ply polyester casing that adds more strength and stability. BFGoodrich offers a number of 15-18 inch sizes with T, H and V-speed ratings. All sizes come backed with either a 70K mile or 60K mile warranty depending on the tire's speed rating.
Pros
Excellent dry and wet traction
Steering response
Cornering stability
Treadlife
Cons
Too soon to know about winter performance (we will update)
Overall Thoughts
While the original Advantage T/A has been a solid performing tire that stands in the upper half of its class, the new Advantage T/A Sport has taken its position to a higher level. We really like the total package that this model provides, especially when it comes to traction and cornering stability.
Dry and wet traction are up there with tires like the Michelin Premier A/S or Continental TrueContact among others. You get a confident feeling behind the wheel that adds to driving enjoyment around town or out on the highway at higher speeds. Cornering grip is very good for a touring all-season tire, and the steering is quick and responsive as well.
It's difficult to find many things to complain about with this new model. Naturally, it is too soon to know how well the T/A Sport will handle snow and ice, but we will update our review when winter returns.
The new BFG Advantage T/A Sport is an excellent addition to the all-season line of tires. The value for the money is outstanding. Overall, we rank it up there with the better tires in this class.
Click Here To Find Current BFGoodrich Coupons
Click Here To Find Current Prices
Buy Used for 40 – 50% Less than Retail
What Vehicles Will The BFG Advantage T/A Sport Fit?
(This is not a complete list of ALL vehicles this tire will fit)
Acura ILX, CL, CSX, TL, RSX
Audi A4, A6, TT, A8, RS
BMW 3-Series, Z4, 5-Series, Z3
Buick Verano, Regal, Lacrosse, Park Avenue, LeSabre
Chevrolet Cobalt, Sonic, Aveo, Impala, Monte Carlo, Cruze, Volt, Malibu
Chrysler 300, PT Cruiser, Sebring, Town and Country, 200
Dodge Avenger, Challenger, Dart, Stratus, Intrepid, Grand Caravan, Magnum
Ford Focus, Taurus, Crown Victoria, Fusion
Honda Civic, Accord, Prelude, Insight, Odyssey
Hyundai Genesis, Azera, Sonata, Elantra
Kia Amanti, Optima, Soul
Mazda 626, Mazda5, Mazda6, Mazda3
Nissan Altima, Sentra, Leaf, Maxima
Scion xA, xB, xD, FR-S
Subaru Impreza, Forester, Outback, Legacy
Toyota Corolla, Camry, Solara, Avalon, Sienna, Prius
Volkswagen Jetta, Beetle, Passat, Touareg
Volvo S40, S70, V40, V70, C70, XC70
Tire Sizes
15″
195/55R15 85V BSW
185/60R15 84T BSW
195/60R15 88T BSW
195/60R15 88H BSW
205/60R15 91H BSW
185/65R15 88T BSW
185/65R15 88H BSW
195/65R15 91T BSW
195/65R15 91H BSW
205/65R15 94H BSW
205/65R15 94T BSW
215/70R15 98T BSW
16″
205/50R16 87V BSW
195/55R16 87V BSW
205/55R16 91T BSW
205/55R16 91H BSW
215/55R16 XL 97H BSW
205/60R16 92V BSW
205/60R16 92H BSW
215/60R16 95T BSW
215/60R16 95H BSW
215/60R16 95V BSW
225/60R16 98H BSW
225/60R16 98T BSW
235/60R16 100T BSW
205/65R16 95H BSW
215/65R16 98T BSW
225/65R16 100T BSW
235/65R16 103T BSW
17″
215/45R17 87V BSW
225/45R17 91H BSW
235/45R17 XL 97H BSW
205/50R17 XL 93V BSW
215/50R17 XL 95V BSW
225/50R17 94T BSW
225/50R17 94V BSW
215/55R17 94V BSW
215/55R17 94H BSW
225/55R17 97H BSW
225/55R17 97V BSW
235/55R17 99H BSW
215/60R17 96T BSW
215/60R17 96H BSW
225/60R17 99H BSW
235/60R17 102H BSW
235/60R17 102T BSW
18″
225/45R18 XL 95V BSW
235/45R18 XL 98V BSW
245/45R18 96V BSW
225/50R18 95T BSW
215/55R18 95H BSW
225/55R18 98V BSW
235/55R18 100T BSW
225/60R18 100H BSW
Price Range
BFGoodrich Advantage T/A Sport prices range from approximately $88 and up. You may also find occasional rebates, discount prices, coupons and special offers on this tire.
Click Here To Find Current Prices On All BFGoodrich Advantage T/A Sport Tire Sizes
Warranty
BF Goodrich provides a 6-year or 70,000 mile tread warranty on T-speed rated sizes, and a 60,000 mile warranty on H and V-speed rated sizes of the Advantage T/A Sport. Tire uniformity is guaranteed for one-year or the first 2/32 inch of wear.
Materials and workmanship are warranted for 6-years and include free replacement during the first year or first 2/32 inch of wear. A prorated amount is given for the remaining time period or down to the final 2/32 inch of tread depth.
---