Yokohama Avid Ascend Tire Review & Rating
The Yokohama Rubber Company is globally renowned for being a true revolutionary in the tire industry. Therefore, it's no surprise that in the league of all-season performance-oriented tires, the 2018 Yokohama Avid Ascend is receiving heaps of critical acclaim. The manufacturer ensured that the Avid Ascend shall sustain the splendid all-season treatment of a performance tire while exhibiting long wear and low noise traits of a touring tire. There are few concerns about its price, but that primarily depends upon your vehicle's type and the intended application.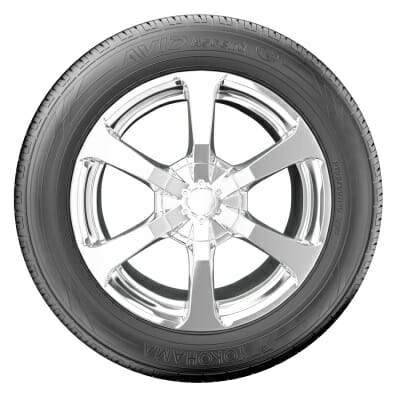 As per a majority of motorists, these Yokohama tires apparently have a dual-personality. This is because they are calm as a cucumber during a smooth ride, but will wake up in no time to provide a jolt of grip and traction, if you step on the gas. According to professional test drivers, the Avid Ascend will firmly grip a water-soaked surface, and will offer enough traction to keep your vehicle securely planted on the road. Yokohama promises all this without unsettling the rhythm of your ride.
Specifically, the variable pitch tread shape of Avid Ascend minimizes pattern noise and gives you a quiet ride. Also, its 3D adaptive sipes produce more nipping edges for damp and winter grip.
Pros
These tires offer solid traction to firmly plant your vehicle on a wet surface
The exclusive Yokohama Orange Oil Compound gives its tires remarkable mileage for the money
The tires are delivered with a 30-day trial offer, apart from guaranteed 85,000 miles
The Avid Ascends will remain pliable whether its cold or wet
Cons
A few users have raised concerns about its price, as you can get an all-season competent set of tires for a comparatively lower cost
Performance
Professional as well as every day motorists from across the world are praising the supreme comfort of the Avid Ascend tires. We personally tested these tires on a flashy 2010 Nissan Altima, and can testify that they offer advanced levels of grip and traction on bone-dry as well as water-soaked roads.
The product is engineered with the manufacturer's distinctive Orange Oil Compound to encourage the rubber-adhesion on both dry and wet roads. This technology uses oil extracted from orange peels to substitute some of the petroleum that is generally used in tires. The Orange Oil allows the tire to sustain a lower rolling resistance without affecting all-season grip and traction. It's pertinent to mention that Orange Oil is the most indestructible high-performance compound created by Yokohama in its century old history of tire making.
The Avid Ascend tires come stocked with an optimized tread profile with innovative tread block ridges to minimize tread movement when the wheel is in motion. This allows the tires to function silently even at top speed. The deep cross grooves and circumferential grooves further improves water evacuation while offering solid grip on icy or slippery roads. Also, the accommodative 3D sipes are built to enhance the rigidity of the blocks to encourage even tire wear and increased all-season traction.
Moreover, to alleviate the steering feel and stability of your automobile, the Avid Ascend is crafted with an added tapered center rib. The tire also profits from a multi-pitch tread innovation, which deploys variable shaped tread blocks to neutralize tire roar at soaring speeds. Lastly, the road noise is kept to a bare minimum. The tires will remain totally silent at a slow speed, or on tight city roads, but will make a slight roar as you add speed.
Cold Weather & Winter Performance
The 2018 Yokohama Avid Ascend will offer your vehicle an admirable winter and chilly weather performance. However, do not expect these tires to remain calm, if you're driving on roads littered with snow and thick ice. Moreover, braking and acceleration will be slightly uneasy when it's snowing, but that's manageable.
Available Tire Sizes
175/65R15 84T
185/55R15 82V
P185/60R15 84T
P185/65R15 86T
195/60R15 88H
P195/60R15 87T
195/65R15 91H
P195/65R15 89T
P205/65R15 92H
P205/65R15 92T
P205/70R15 95T
215/70R15 98T
185/55R16 83H
195/50R16 84V
P195/60R16 89H
205/55R16 91H
P205/55R16 89T
P205/60R16 91H
P205/60R16 91T
205/65R16
215/55R16 97H
P215/60R16 94T
P215/60R16 94V
215/65R16 98H
225/60R16 98H
225/60R16 98T
225/65R16 100H
225/70R16 103H
P235/60R16 99T
235/65R16 103H
205/50R17 93V
P215/50R17 93V
P215/55R17 93V
P215/60R17 95T
P215/65R17 98T
225/45R17 91V
225/50R17 94V
P225/55R17 95T
P225/60R17 98H
225/65R17 102H
235/45R17 97V
P235/60R17 103H
235/65R17 104H
P215/55R18 94H
225/45R18 95V
P225/50R18 94T
P225/55R18 97H
P225/60R18 99H
235/45R18 94V
235/50R18 97V
235/55R18 100H
235/60R18 107H
235/50R19 99V
Warranty
Your 2018 Yokohama Avid Ascend tires are delivered with a life warranty for the original usable tread depth, or for 5-years from the date of purchase, wherein you're required to present the proof of purchases. Alternatively, the warranty stretches to 6-years from the date of manufacturing, if there's no available proof of purchase. Remember, the warranty will be void upon meeting any of the time period's first.
The Following Conditions Will Void The Warranty
Road hazard damages or injuries due to debris or obstacles, such as punctures (irrespective of repairability), snags, cuts, bruises, abrasions, tears, or impact breaks
Improper repairs or maintenance abuses
Incorrect application of the tire specification and/or size
Accident, vandalism, fire, corrosion, or damages caused by nature
Customer Reviews
The majority of buyers have reported no drop in performance even after plenty of regular usage. Also, despite its premium price, motorists have expressed satisfaction over its consistent performance over a longer run on snow and wet surfaces. The users have termed the Avid Ascend to be ultra-responsive during inclement weather.
Conclusion
The 2018 Yokohama Avid Ascend tires are crafted to function better, and keep you safer while taking you further. The product comes built-in with tread block bridges to minimize tread movement for balanced tread-wear and low noise.
These tires may come with a premium price tag, but offer splendid grip and traction, while still offering quiet and comfort on both dry and wet roads. All in all, Yokohama delivers on its promise of low road noise and exceptional comfort.