Top 10 Mud-Terrain Tires
Finding the top performing mud terrain or M/T tires can often times be a little confusing with all the different choices available today. We've attempted to cut through all the noise and bring you our list of the 2020 Top 10 Mud-Terrain tires for your truck, jeep, sport utility vehicle or other type of 4×4.
With the plethora of different types of tires a consumer is barraged with, it is important to be able to distinguish between the different categories available in stores today.
Mud terrain tires are specifically designed to aid trucks and SUVs deal with mud and loose sand surfaces, where most normal tires would get clogged and be unable to function.
As stated above, there are several options available for the enthusiast, and we seek to provide you the list of the best Mud Terrain Tires to choose from.
Every model listed below provides excellent off-road performance, as well as more than competent on-road drivability. Our list is not only based on our own experience, but reviews and comments made by other tire owners. Please note that our list is not in any particular order. All ten tires make excellent choices.
---
BFGoodrich Mud Terrain T/A KM2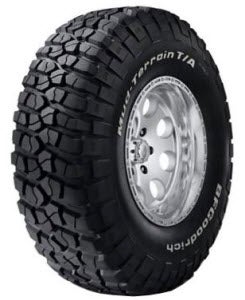 Built tough to withstand all the abuse you want to throw its way, the BFG Mud Terrain KM2 is one of the most popular M/T tires sold today. Expect to find excellent off-road traction in all types of terrain. This tire also sports very good manners when driving on-road, with very good marks for wet and snow handling as well. Treadlife is longer than you might expect, making this tire an excellent choice.
The BFGoodrich Mud Terrain T/A KM2, are solid performers that are able to provide excellent grip and handling in loose soil and and on slick rock surfaces to enable you to make the most out of your SUV or pickup truck.
Key Features
Specially designed tread compound that enables the tire to clean itself
Sidewall design to help protect the tire from damage
Sturdy build quality incorporating two steel belts and a nylon cap ply
Pros
Excellent off-road performance
Good handling on dry surfaces coupled with responsive steering
Durable tire that will last long
Cons
Performance on wet roads is subpar; steering responsiveness and braking are average
Nitto Trail Grappler M/T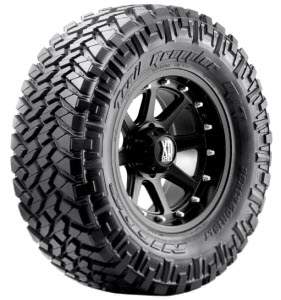 The Trail Grappler M/T from Nitto, is another excellent mud terrain performer. Its ability to meet the challenges posed by off road driving on mud and rock surfaces whilst allowing for responsive steering and stability make them a worthy choice to include in our list of the best mud terrain tires.
Playing in the mud is a lot of fun on this Nitto Trail Grappler M/T. With a tough 3-ply construction and aggressive good looks, it's easy to see why drivers enjoy taking their trucks or SUV's out for a day on the trails, river beds and other areas. The tire goes through it all and keeps you in complete control. Taking this tire for a spin down the highway is a very pleasant, and quiet, experience. Overall, one of the better MT tires available.
Key Features
Sidewall design adds to life by reducing tire bruising
Tread blocks designed to reduce noise output
Siping to increase hydroplaning resistance
Pros
The performance on off road trails is excellent
Noise output is very low
Cons
Performance on wet road conditions is average