Cooper Discoverer MTP Tire Review & Rating
Released in Jan 2016, the new Cooper Discoverer MTP mud-terrain tire is the newest addition to the company's tire lineup. It's also a tire that is exclusively offered by Discount Tire. Built for use on all types of pickups, Jeeps, SUV's and other 4×4's, the MTP has a number of features that are designed to appeal to serious off-road enthusiasts.
A tougher tread compound is molded into a tread pattern with staggered blocks and alternating scallops on the shoulders. Together, this enhances the tire's performance over rougher terrain, while also increasing the traction on soft dirt, sand and mud.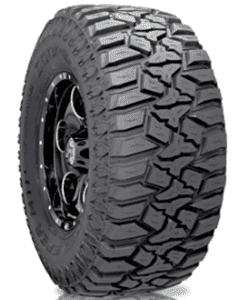 The sidewall features a 2-ply construction, which can provide some advantages over a 3-ply in some cases, such as traction when fully aired up. You'll also find Cooper's unique side-biters down the sidewall to further assist in preventing cuts, abrasions and bruises. In addition, stone ejector ribs aid traction by expelling rocks and small stones from building up between the tread blocks, which this tire does well.
For improved highway drivability, the MTP utilizes larger tread blocks and chamfered edges that help give the tire more stability and better overall handling. You'll also find the tread compound is silica enhanced, and Cooper has added variable depth sipes around the tread for better traction on wet or snow covered surfaces. This is an area which is a plus for this model.
Cooper currently offers a range of 15-20 inch sizes with more being added in the coming months. Load ratings of C, D and E are available on the MTP as well.
Pros
Attractive and rugged design
Serious off-road traction in nearly all types of rough terrain
Well-mannered on the highway
Good winter performance
Treadwear is outstanding
Cons
2-ply sidewall could be an issue for some
Overall Thoughts
For a heavy-duty MT tire, the Cooper MTP is a winner. From the aggressive good looks to its tough and durable tread, this model has a lot going for it. We'd say it compares favorably against the likes of other tires such as the BFG KM2.
Expect to find more than adequate traction on any type of terrain, including deeper mud. Aired down it climbs most rocky surfaces quite well, although the 2-ply sidewall may be an issue for those looking for a hard-core rock climber to climb sharp jagged rocks. Snow performance is very good for an MT tire and similar to what you find on the Goodyear Duratrac.
A nice bonus here is that highway drivability is better than you might think from looking at the tread design. This tire runs much quieter on the road than most in this class, with only a small hum at higher speeds. Finally, the treadwear on this tire is exceptional. We've heard the same from many other drivers as well.
Overall, this is a nice addition to the MT class and we rate it right up there as one of the best in class. Taking into account the lower price versus the competition and it offers a solid value. Highly recommended.
Click Here For Current Cooper Coupons
Click Here To Find Current Prices
What Vehicles Will The Cooper MTP Fit?
(This is not a complete list of ALL vehicles this tire will fit)
Chevrolet Silverado, Avalanche, Suburban, Tahoe, TrailBlazer
Dodge Ram, Dakota
Ford F-150, Escape, Explorer, Expedition, Ranger
GMC Canyon, Sierra, Yukon
Honda Pilot, Ridgeline
Jeep Grand Cherokee, Wrangler
Land Rover Range Rover
Mercury Mountaineer
Mitsubishi Montero
Nissan Titan, Frontier, Armada, Pathfinder
Ram 1500
Toyota FJ Cruiser, Highlander, 4Runner, Sequoia, Tundra, Tacoma, Land Cruiser
Tire Sizes
15″
31/10.50R15 109Q C OWL
33/12.50R15 108Q C OWL
35/12.50R15 113Q C OWL
16″
LT265/75R16 123Q E OWL
LT285/75R16 126Q E OWL
LT305/70R16 124Q E OWL
LT315/75R16 127Q E OWL
17″
LT265/70R17 121Q E OWL
LT285/70R17 121Q E OWL
LT315/70R17 121Q D OWL
18″
LT275/65R18 123Q E OWL
LT275/70R18 125Q E OWL
20″
LT305/55R20 121Q E BSW
35/12.50R20 121Q E BSW
Price Range
Cooper Discoverer MTP prices range from approximately $170 and up. You may also find occasional rebates, discount prices, coupons and special offers on this tire.
Click Here To Find Current Prices On All Cooper Discoverer MTP Tire Sizes
Warranty
Cooper provides a limited tread warranty on the Discoverer MTP. There is a first 2/32 inch tire uniformity guarantee, while materials and workmanship are covered for 5-years and include free tire replacement during the first 2/32 inch of wear. Cooper then prorates out the amount for the remaining time period or down to the final 2/32 inch of tread depth.
---