Milestar Patagonia M/T Tire Review & Rating
Released in late 2015, the Milestar Patagonia M/T tire has quickly become a popular choice among truck, SUV and CUV drivers. Sporting rugged good looks and the latest in tire technology, the Milestar MT is built to deliver higher performance on and off-road, while coming in at a much lower cost than many of today's bigger brand names.
Milestar takes their tougher cut and chip resistant tread compound and matches it up to a high-void tread pattern and 3-ply sidewall. (on select sizes) The results are a tire that confidently goes through the roughest terrain, whether it be rocks, gravel, mud or anything else for that matter.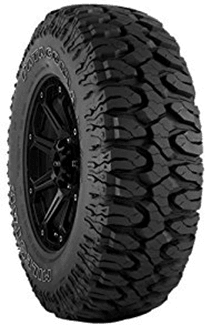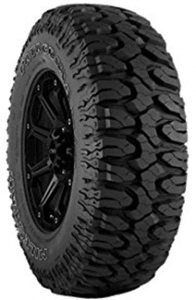 The higher tread voids allow the Milestar MT to self-clean much better than we anticipated. Built-in stone ejectors kick out the rocks and other debris for added performance off-road.
The Patagonia M/T features a staggered tread block design and alternating notched shoulder lugs that further increase traction on or off-road. The tires' biting edges and unique sipe design aid in providing more than capable traction on wet or snow covered road surfaces, which is an area often mentioned in driver reviews as well.
Milestar offers a number of different 15-20 inch sizes in both LT and flotation models. A limited tread warranty is also provided.
Pros
Aggressive tread design looks great on any truck
Good all-around off-road performance
Surprisingly quieter and smoother ride on the street
Value and performance for the lower cost
Cons
Tread may wear faster than expected for some
Overall Thoughts
Although Milestar may not be a familiar name to everyone, they have been making some very good lower-priced tires for many years now, with this Patagonia MT being no exception. Performance on this tire is somewhat surprising. It will take you over any terrain without putting up a fight.
At first glance you might think that such an aggressive tread design would make driving on the street a real pain so to speak. However, the ride is much smoother and quieter than expected. We've heard this from several drivers as well.
The biggest concern with this tire may be a shorter treadlife. That said, it hasn't been an issue for most drivers.
Overall, if you're looking for a lower-priced good-value MT tire, the Milestar Patagonia MT is certainly worth a look. We give it a rank in the upper half of its class and consider it to be one of the better lower-cost models available today.
Click Here To Find Current Prices
What Vehicles Will The Milestar Patagonia M/T Fit?
(This is not a complete list of ALL vehicles this tire will fit)
Chevrolet Silverado, Colorado, K1500, Avalanche, S10, C2500, Blazer, Tahoe
Dodge Ram, Dakota, Durango
Ford F-150, F-250, F-350, Ranger, Bronco, Expedition
GMC Sierra, Canyon, Envoy, Yukon, Jimmy, Suburban
Isuzu Trooper, Hombre5, Rodeo, Amigo S
Nissan Titan, Pathfinder
Jeep Wrangler, Cherokee, Grand Cherokee, Liberty, CJ5, CJ7
Suzuki Sidekick, Equator
Toyota FJ Cruiser, 4Runner, Tacoma, Tundra, Sequoia
Tire Sizes
15″
31X10.50R15LT 109Q OWL
33X12.50R15LT 108Q OWL
35X12.50R15LT 113Q OWL
16″
LT265/75R16 123/120Q OWL
LT285/75R16 126/123Q OWL
LT315/75R16 121/118Q OWL
LT305/70R16 124/121Q OWL
17″
33X12.50R17LT 114Q OWL
37X12.50R17LT 124Q OWL
LT265/70R17 121/118Q OWL
LT285/70R17 121/118Q OWL
LT315/70R17 121/118Q OWL
18″
LT305/70R18 126/123Q OWL
LT305/60R18 121/118Q OWL
20″
35X12.50R20LT 121Q OWL
38X15.50R20LT 125Q OWL
LT305/55R20 121/118Q OWL
Price Range
Milestar Patagonia M/T prices range from approximately $124 and up. You may also find occasional rebates, discount prices, coupons and special offers on this tire.
Click Here To Find The Current Prices On All Milestar Patagonia M/T Sizes
Warranty
Milestar provides a limited tread warranty on the Patagonia MT tire.
---