Sailun Iceblazer WST2 LT Tire Review & Rating
The Sailun Iceblazer WST2 LT is a dedicated winter tire meant for light trucks and SUVs. This tire can be studded for better winter grip in extreme ice conditions and is intended for heavy-duty ice performance. The tread pattern features aggressive sipes as well as a zig-zag block pattern with angled grooves designed to eject snow and slush.
The blocks are arranged in a variable pitch sequence, which means the shape changes block to block in order to optimize smoothness and quietness out on the road. Heavy use of silica in the tread compound helps this tire earn the Severe Service Emblem for extreme winter conditions, and the tire materials include environmentally friendly compounds that meet European REACH (Registration, Evaluation, Authorisation and Restriction of Chemicals) regulations.
Sailun Iceblazer WST2 LT tires are available in a limited amount of sizes from LT225/75R16 to 275/60R20. There are two main groups, split into standard ratings and LT ratings. Standard tires come with S and T speed ratings, or 112 mph to 118 mph. Load index on these tires ranges from 102 (1,874 lb per tire) to 119 XL (2,998 lb per tire). The XL designation also means these tires have tougher sidewalls and can handle larger loads than comparably sized tires.
LT-prefixed Iceblazer tires are all rated Q, for speeds up to a maximum of 100 mph. Load ratings climb as high as 125, for 3,638 per tire when fully inflated.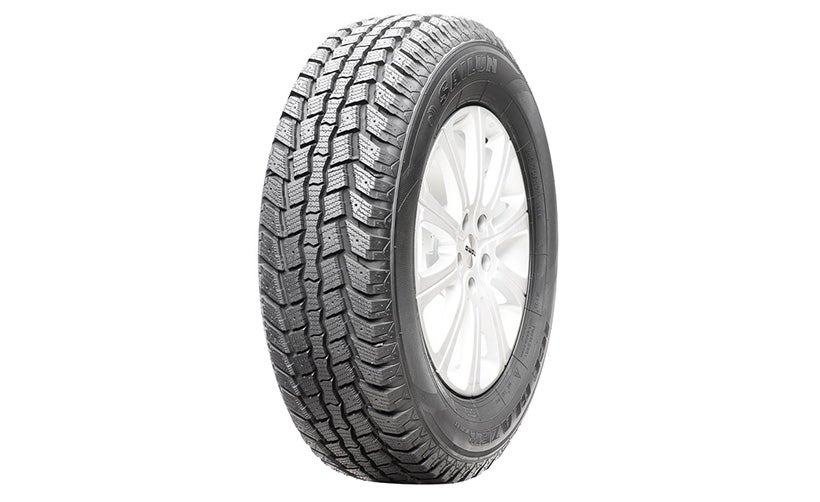 Pros:
Excellent ice performance
Can be studded
Cons:
Some users reported a slight "hum"
Noisy
Overall Thoughts
A no-compromise winter tire, the Sailun Iceblazer WST2 LT offers high-performance grip in a range of extreme winter scenarios at a lower price than most of its SUV and light truck competitors. The trade off is a tire that is sometimes noisy, and could lose some performance as it wears.
Drivers love the low price and winter-driving confidence, with fleet owners in snowy and icy climates impressed by their grip and reliability. The tread blocks are noisy, and the road manners from these tires are harsher than many others.
Choose this tire if you value safety but have a limited budget, or if you need a tire to fit out a small to medium fleet of SUVs and light trucks.
SUV Sizes
17" Rims
245/70R17—110S
265/70R17—115S
18" Rims
235/60R18 XL—107T
235/65R18—106T
245/60R18—105T
255/70R18—112S
265/60R18—110T
265/65R18—114T
275/65R18—116S
20" Rims
245/50R20—102T
275/55R20 XL—117S
275/60R20—119S XL
Light Truck Sizes
16" Rims
LT225/75R16—115/112Q
LT245/75R16—120/116Q
17" Rims
LT245/70R17—119/116Q
LT245/75R17—121/118Q
LT265/70R17—121/118Q
18" Rims
LT265/70R18—124/121Q
LT275/65R18—123/120Q
LT275/70R18—125/122Q
Competitors & Alternatives
The General Grabber Artic LT is also studdable, comes in at a similar price point and is just as winter-ready as the Iceblazer. SUV drivers could also look to the Dunlop Winter Maxx for impressive grip on wet and icy roads, as well as a smoother and quieter ride, though expect to pay more for the comfort level. Goodyear's Wintercommand is also an option for light truck drivers who want high levels of grip but don't need a lot of deep snow traction.
Price Range
The Iceblazer is another great value proposition from Sailun, and you can expect to pay around $200 per tire for the more common larger sizes. You may also find occasional rebates, discounts, coupons, and special offers on this tire.