Goodyear Eagle F1 SuperSport R Tire Review & Rating
The Goodyear Eagle F1 SuperSport R sits in the middle of the company's lineup of Extreme High-Performance tires, above the SuperSport and just below the SuperSport RS. It features Goodyear's Advanced Control Compound for maximum traction in a range of dry weather scenarios. This is a performance driving tire oriented for track use over the road, though it is road legal.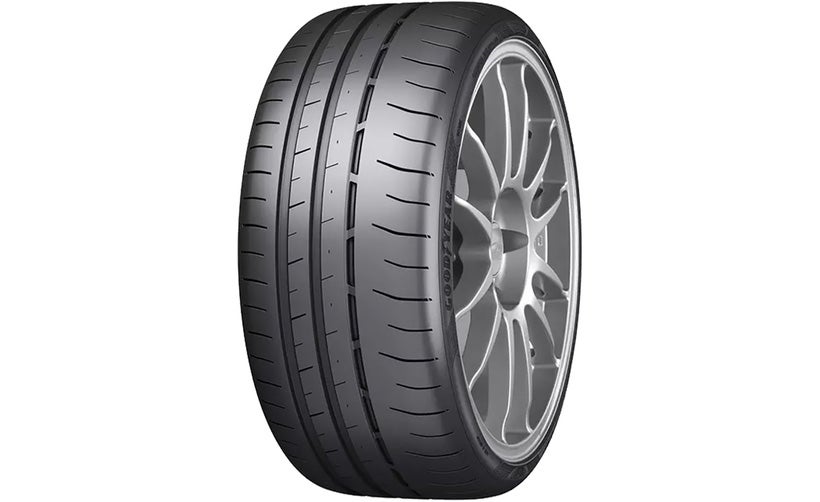 The grooves for evacuating water contain bridging elements that support the tread blocks and maintain tire stability under heavy cornering loads. The four-layer construction includes Goodyear Powerline Cover technology, which uses Kevlar to prevent tread deformation. The result is consistent, compliant, and confidence-inspiring grip. The asymmetrical tread pattern puts the water-clearing channels on the inside of the channel, with a wide, lightly grooved surface toward the outside of the tire for maximum contact with the road.
Sizes are available for 19" through to 21" rims. All carry a speed index of V, for a maximum speed of rated to at least a V speed rating, or up to 149 mph. This is lower than some other high-performance tires. The smallest size has a load index of 91, or 1,356 lbs per tire, while the largest load index is 108, or 2,205 lbs per tire.
Pros:
Extreme grip and performance
Poor wet-weather performance
Cons:
Fast wearing
Comparatively low speed rating
Overall Thoughts
Goodyear's Eagle F1 SuperSport R tire is a compelling choice for track day or performance driving enthusiasts who need the best possible grip and control. This tire offers excellent steering response and precision with a stiff but well-balanced carcass that maintains its integrity without sacrificing feedback.
Wear is fast, but the tires are regarded for consistent degradation before they drop off. It is not recommended to drive on these tires in wet conditions where standing water may be present due to a lack of serious grooves or sipes. Eagle F1 SuperSport R tires like to be warm to come up to pressure, but some drivers report they are sensitive to starting pressures, especially on warm days.
Choose this tire if you want a reliable level of grip and performance from a genuine sport tire that you can also run on the road.
Tire Sizes
19" Rims
235/35R19
235/35R19
245/35R19
305/30R19
265/35R19
20" Rims
265/35R20
265/30R20
245/30R20
285/30R20
21" Rims
Competitors & Alternatives
The Eagle F1 SuperSport R from Goodyear is among a handful of streetable track-ready tires on the market, it competes well with the Michelin Pilot Sport Cup 2 and is a similar price point. That tire may offer more-extreme cornering grip than the Goodyear. The Pirelli P Zero Corsa System is a more wet-weather-friendly performance tire worth comparing to the Eagle F1.
Price Range
At just over $400 per tire, you have to pay to play in this segment. That price puts the Goodyear Eagle F1 SuperSport R on a level pegging with its Michelin counterpart.
Warranty
Goodyear's 30-day satisfaction pledge is available on this tire, enabling drivers to return the set for a different Goodyear model within 30 days, free of charge.
Goodyear does not offer a treadwear warranty on this tire.