Blackhawk Iceprey HW06 Tire Review & Rating
The Blackhawk Iceprey HW06 is the least-expensive winter tire you can buy for a light truck. Newcomers to North America, Blackhawk has entered the fray with an aggressive pricing strategy, and the IcepreyHW06 is no exception. Despite the low price, the company says this is a "premium" offering in the studdable winter tire market, with sizes for SUVs and light trucks.
Proprietary "X-Groove" channels eject slush, snow, water, and ice from deep channels in the symmetrical tread pattern, and a genuinely solid centre rib offers a stable platform for consistent control and road comfort, while also reducing road noise. Laser-cut sipes expand out from thick notches in the shoulders of the tread blocks and across the face. As for the shape of the tire itself, the outside of the tread scallops sharply down to the tire sidewalls forming an aggressive profile. Heavy helpings of silica in the winter-focused compound help provide maximum ice and wet-weather traction, and you can confident these will outperform both all-weather and four-season tires when the temperature plummets.
Speed ratings cover Q through T and also H (for highway speeds) giving a wide range of speed ratings up to a high of 130 mph. Sizes for SUV tires range from 15" to 20". LT tires are available with Q and R speed ratings (100-106 mph). Load ratings are also hugely variable, with some SUV tires good for a load index of 102, or 1,874 lb per tire, while LT tires climb as high as 3,638 lb per tire, or 125 on the load index.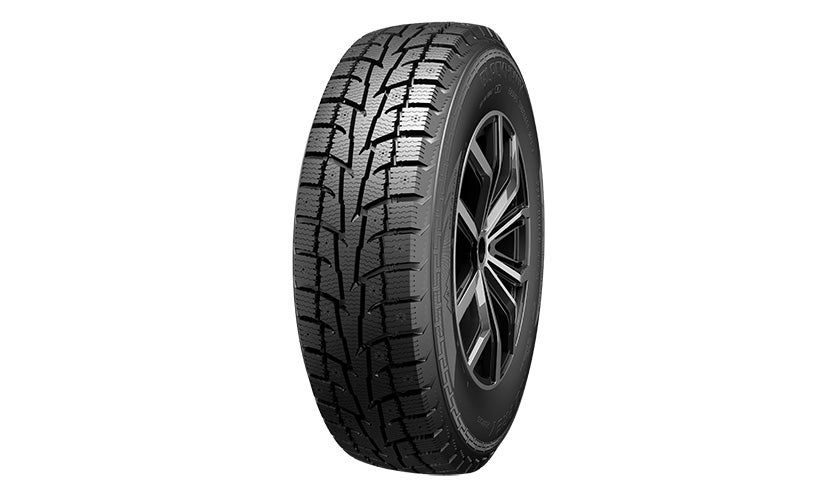 Pros:
Excellent ice performance
Great value
Cons:
Some users reported a "hum"
Limited pedigree
Overall Thoughts
At almost 20 percent cheaper than other winter tires and with an impressive variety of sizes and use cases, the Blackhawk Iceprey HW06 is a compelling new entrant to this competitive segment. Studdable, extreme-performance winter tires for light trucks and SUVs at this price are almost impossible to find.
There is a small amount of risk factor for early adopters, and the Blackhawk range has more then fair warranty offering. The tires are reportedly "hum" compared to others, likely due to the intricate siping that may be prone to drop-off in performance as the tire wears. It's too early yet to know how well these tires hold up over time.
This is a great option for drivers who are on the fence about switching to a dedicated winter tire but find themselves in treacherous winter conditions on a regular basis. Blackhawk Iceprey HW06 tires are priced as aggressively as they are designed, with the promise of maximum grip for minimum outlay.
SUV Sizes
15" Rims
16" Rims
225/70R16—103S
235/70R16—106S
245/70R16—107S
245/75R16—111S
17" Rims
245/65R17—107S
245/70R17—110S
265/70R17—115S
18" Rims
235/55R18—100T
235/60R18—107T
235/65R18—106T
245/60R18—105T
255/55R18—105H
255/70R18—112S
265/60R18—110T
275/65R18—116S
19" Rims
225/55R19—99H
235/45R19—95H
235/55R19—101H
245/55R19—103T
20" Rims
245/50R20—102H
275/55R20—117S
275/60R20—119S
Light Truck Sizes
16" Rims
LT225/75R16—115/112Q
LT245/75R16—120/116Q
17" Rims
LT245/70R17—119/116Q
LT245/75R17—121/118R
LT265/70R17—121/118Q
18" Rims
LT275/70R18—125/122R
LT275/65R18—123/120R
Competitors & Alternatives
There is no cheaper winter tire for light trucks than the Blackhawk Iceprey HW06, but it is an untested unit. Sailun's Iceblazer WST2 LT studdable winter tire is not a lot more expensive though, and offers slightly more warranty protection and pedigree. Goodyear Wintercommand tires are more expensive but offer a more reliable brand pedigree and better road manners than the Blackhawk options.
Price Range
With 18" options hitting shelves at less than $170 per tire Blackhawk Iceprey HW06 is a serious price predator. It sits about 20 percent lower than others in this class. You may also find occasional rebates, discounts, coupons, and special offers on this tire.
Warranty
Blackhawk offers a manufacturers warranty on its Iceprey HW06 tire and will replace the tire at a pro-rated amount down to the final 2/32" of wear (the top of the treadwear indicators) Also a free replacement road hazard coverage and also a 5 year (25%/per Year free replacement) workmanship and materials warranty.