Michelin Pilot Sport 4S Vs. Pilot Sport A/S 3+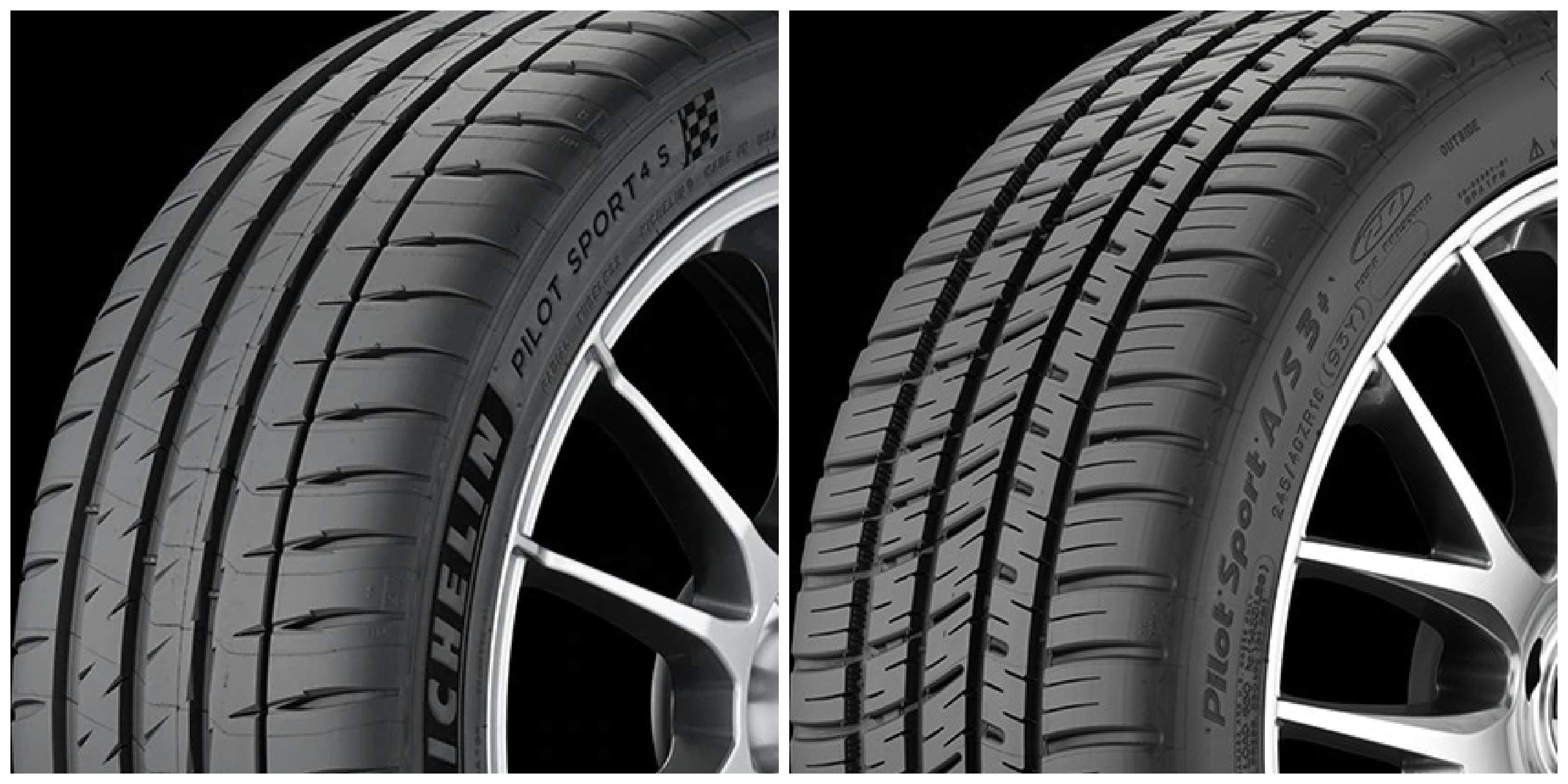 The Michelin Pilot Sport 4S and the Pilot Sport A/S 3+ are great options if you want your car to perform well under all conditions. Michelin's Pilot Sport family offers high performance tires designed for road and track use.
While both tires provide similar features, one is better than the other in terms of its longevity and performance. Both tires have different compounds and make use of different technologies to offer the best handling, traction and stability for drivers across seasons.
But which one trumps the other? Let's find out.
Michelin Pilot Sport 4S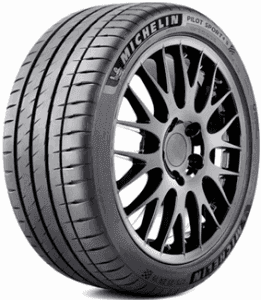 For sports car drivers, Michelin has always been a brand they can trust. Coming from a long line of high performance tires for high-end vehicles, the Michelin family of Pilot Sport series is well known as the tire of choice for most auto manufacturers.
The latest iteration builds on that reputation too, as the 4S is a better version of the already popular Pilot Super Sport series.
The key difference between the two tires, if compared side by side, is probably the use of enhanced rubber compound, developed to provide more stability and traction in normal and track conditions.
Product Information
The tread design is where the 4S comes into its own. While testing a sports car on the track, the construction of the tire is showcased when the car is thrown into corners at high speeds.
The Dynamic Response Technology introduced with the 4S allows the car to remain stable and provides better road traction.
But the compound needs time to build and retain heat to work efficiently. The asymmetrical tread pattern on the 4S is why drivers can run their cars at high speeds.
Another important aspect of this tread design is that, it works in all conditions and surfaces. If heavy snow is avoided, you'd still be in control of your vehicle at high speeds.
It is amazing how Michelin has managed to provide so much versatility in just one tire.
Pros
This ultra-high performance tire is the tire of choice for most notable automotive manufacturers in the world, especially known for providing seamless grip in high performance vehicles
Superior grip, rivalling slick tires which are not road legal, along with great tread life
An all-season tire that provides the best handling characteristics of any tire in this price range
Only second to brands like Pirelli P-Zero, which is only meant for ultra-high performance vehicles
The tire delivers precision steering, outstanding stability and exceptional grip on dry and wet surfaces
Cons
The only con is that other manufacturers in this range are providing the same, if not, the exact same features
What We Liked About The Pilot Sport 4S
The tire of choice, only second to the Pirelli P-Zero range
Unmatched grip and traction for track use
Priced better compared to the Pirelli range
An all-season tire
What We Didn't Like About The Pilot Sport 4S
Ride quality is not as good
Road noise could be improved
Tread life could be better for the price
Cannot be used on snowy roads
Loses grip on wet roads
Doesn't fit most vehicles
Michelin Pilot Sport A/S 3+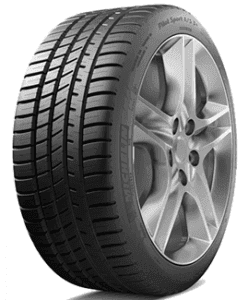 Another high performance all-season tire by Michelin, the Pilot Sport A/S 3+ is built for sports cars drivers.
The tire also provides good cornering grip at high speeds through the use of a Helio+ compound, which is infused with higher amounts of silica, to promote longevity.
The tread of the Pilot Sport A/S 3+ was inspired by the Pilot Sport summer tire, to be a better rounded all-season tire.
The introduction of the Contact Patch 3.0 technology used in the tire may result in road noise, but helps improves traction.
Product Information
Michelin uses the Helio+ compound that gives more longevity and better treadwear through its life. The tread life is better compared to the Pilot Sport S4 series.
This tire also uses Michelin's variable Contact Patch 3.0 technology that reduces heat distortion — to help improve responsiveness of the vehicle.
Pros
Great handling dynamics for dry and wet tarmac
Superior control and stability in wet conditions
Better tread life compared to the Pilot Sport S4
Cheaper alternative to an ultra-high performance tire
Better in terms of value for normal sedans and sports cars
Better ride quality compared to the S4
Cons
The only con is that it is marginally better in terms of ride quality, but not as good in providing vehicle grip at high speeds compared to the Pilot S4
What We Liked About the Pilot Sport A/S 3+
Better value for money against the Pilot Sport 4S
Much better in terms of ride quality
Tread wear is better compared to the Pilot Sport 4S
An all-season tire with superior control and traction
Performs well in wet conditions as compared to the Pilot 4S
Is available in more sizes
6-year or 45,000 mile tread warranty
What We Didn't Like About the Pilot Sport A/S 3+
Ride quality could be better
Cannot perform as well as the Pilot 4S on dry tarmac
Great for high performance vehicles
Priced higher against some of its competitors
Poor winter season performance
Tire Size Comparison
Michelin Pilot Sport 4S
Michelin Pilot Sport A/S 3+
18″

245/40ZR18 (97Y) BLK

16″

225/50ZR16 92Y BSW
205/55ZR16 91Y BSW

19″

225/35ZR19 (88Y) BLK
225/40ZR19 (93Y) BLK
225/45ZR19 (96Y) BLK
235/35ZR19 (91Y) BLK
235/40ZR19 (96Y) BLK
245/35ZR19 (93Y) BLK
245/40ZR19 (98Y) BLK
255/30ZR19 (91Y) BLK
255/35ZR19 (96Y) BLK
265/30ZR19 (93Y) BLK
265/35ZR19 (98Y) BLK
275/30ZR19 (96Y) BLK
275/35ZR19 (100Y) BLK
285/35ZR19 (103Y) BLK
295/30ZR19 (100Y) BLK
305/30ZR19 (102Y) BLK
325/30ZR19 (105Y) BLK

17″

245/40ZR17 91Y BSW
255/40ZR17 94Y BSW
205/45ZR17 84W BSW
215/45ZR17/XL 91W BSW
225/45ZR17/XL 94Y BSW
235/45ZR17/XL 97Y BSW
245/45ZR17/XL 99Y BSW
205/50ZR17/XL 93Y BSW
215/50ZR17/XL 95W BSW
225/50ZR17 94W BSW
235/50ZR17 96Y BSW
235/55ZR17 99W BSW

20″

235/35ZR20 (92Y) BLK
235/45ZR20 (100Y) BLK
245/30ZR20 (90Y) BLK
245/35ZR20 (95Y) BLK
245/40ZR20 (99Y) BLK
255/35ZR20 (97Y) BLK
255/40ZR20 (101Y) BLK
255/45ZR20 (105Y) BLK
265/30ZR20 (94Y) BLK
265/35ZR20 (95Y) BLK
275/30ZR20 (97Y) BLK
275/35ZR20 (102Y) BLK
285/30ZR20 (99Y) BLK
285/35ZR20 (104Y) BLK
295/30ZR20 (101Y) BLK
305/30ZR20 (103Y) BLK
345/30ZR20 (106Y) BLK

18″

245/35ZR18/XL 92Y BSW
255/35ZR18/XL 94Y BSW
265/35ZR18/XL 97Y BSW
275/35ZR18 95Y BSW
285/35ZR18 97Y BSW
205/40ZR18/XL 86W BSW
215/40ZR18 85Y BSW
225/40ZR18/XL 92Y BSW
235/40ZR18/XL 95Y BSW
245/40ZR18/XL 97Y BSW
255/40ZR18 95Y BSW
275/40ZR18 99Y BSW
285/40ZR18 101Y BSW
215/45ZR18/XL 93Y BSW
225/45ZR18/XL 95Y BSW
245/45ZR18/XL 100Y BSW
255/45ZR18 99Y BSW
225/50ZR18 95W BSW
235/50ZR18 97Y BSW

19″

275/30ZR19/XL 96Y BSW
285/30ZR19/XL 98Y BSW
225/35ZR19/XL 88Y BSW
245/35ZR19/XL 93Y BSW
255/35ZR19/XL 96Y BSW
265/35ZR19/XL 98Y BSW
275/35ZR19 96Y BSW
285/35ZR19/XL 103Y BSW
225/40ZR19/XL 93Y BSW
245/40ZR19/XL 98Y BSW
255/40ZR19/XL 100Y BSW
265/40ZR19 98W BSW
275/40ZR19 101Y BSW
285/40ZR19 103Y BSW
225/45ZR19/XL 96Y BSW
245/45ZR19 98Y BSW
255/45ZR19 100Y BSW
245/50ZR19/XL 105W BSW

20″

285/30ZR20/XL 99Y BSW
255/35ZR20/XL 97Y BSW
275/35ZR20/XL 102Y BSW
285/35ZR20 100W BSW
245/45ZR20/XL 103Y BSW
255/45ZR20 101Y BSW
Our Verdict
Michelin's high performance tires have come a long way. Both tires have been developed after years of research and testing.
We found out that the Pilot Sport 4S is more focused toward track driving and dry conditions, even though it is an all-season tire. But our tests showed that in wet conditions, you are better off using the A/S 3+, since it is a better all-rounder compared to the 4S.
Our tests also showed that the A/S 3+ lasts longer than its counterpart in terms of tread quality. If you are looking for a Michelin tire with all-season capability, good ride quality and moderate track response, you can go for the A/S 3+.
However, if you have an ultra-high performance vehicle and you go on the track often, then the 4S is the tire to choose since it is specifically designed for tracks.