Michelin Defender T+H Vs. Michelin Premier A/S
Sudden seasonal shifts have become quite common due to global warming. People who live up north often need all-season tires to get by year round.
It is best to invest in quality winter tires if you live in a region that sees heavy snow to make sure your ride runs well all year long.
You may choose all-season tires — they last longer and work well in snowy or wet conditions. However, all-season tires do not always offer good grip or traction — so if you live in a region that is accustomed to heavy snowfall all-season tires might not do you good.
This is why you need to be very diligent when choosing all-season tires. We suggest you look for performance recommendations before making a decision.
There are many options out there – and to help you make a wise call – we pinned two of the best tires out there — the Defender T+H and Michelin Premier A/S.
Let's dive in and explore each choice. What makes them so good and what will be ideal for your vehicle?
Michelin Defender T+H
After demands went through the roof for the original Defender, Michelin introduced a new tire, the Defender T+H.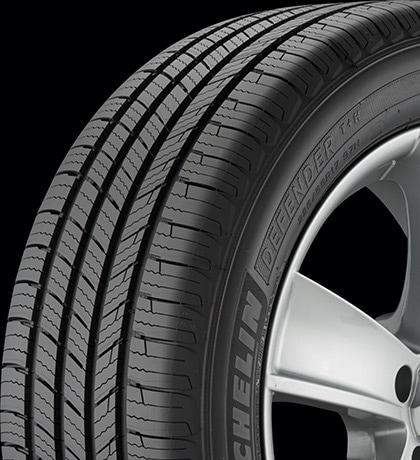 The company made use of customer feedback to further improve the Defender series. The Michelin Defender T+H is built from the latest in tire technology. It also has a new tread pattern, which makes it more durable.
If you own a coupe, minivan, sedan, or a small crossover and look forward to buying a comfortable set that lasts a good number of years the Defender T+H is right up your alley.
Product Information
One suggestion that users of the original Defender had was that the tire could be more durable and offer better longevity. This is exactly what you can expect from the Michelin Defender T+H because of its tread compound.
The tire has an asymmetric pattern, which offers a comfortable and noise-free ride. Plus, the design also utilizes Michelin's very own IntelliSipe technology — the zig-zag sipes improve firmness and ensure that the tire always maintains contact with the road.
Also, the Defender T+H is made up of – a silica-based material – for better traction on wet surfaces. And to provide better resistance against hydroplaning. The grooves and lateral notch on the tire drive out all the water from the tire.
Due to the zig-zag sipes there are many biting edges on the tire to ensure a smooth ride during winters. On the inside, the Defender T+H has twin steel belts that are strengthened by polyamide. The belts stabilize the tread, which in turn, improves longevity and provides better steering control.
The polyester cord used to build the two-ply body casing improves the durability of the tire.
The Michelin Defender T+H is available in 14 – 18-inch variants.
Pros
Good performance on wet and dry roads

The commute is safe and noiseless

You get many capabilities at a reasonable price

You do not have to switch tires each season
Cons
Not a good winter tire for snowy roads
Michelin Premier A/S
If Michelin comes up with something it has to be good, and the Premier A/S reaffirms the notion. Its design, functionality, and versatility make it a brilliant all-season tire.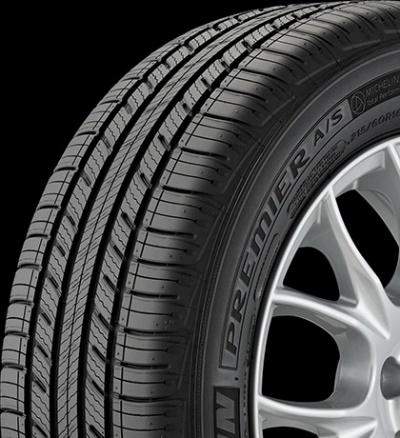 The Michelin Premier A/S is an all-season tire that can be mounted on coupes, minivans, and sedans. The best part is that they perform well throughout their life cycle — with excellent grip on wet surfaces or even when they have seemingly worn out.
The braking distance is much shorter on wet roads against rival models in the same price range, and so is traction control.
Product Information
The innovative technology that backs the Michelin Premier A/S offers responsive steering control, and more miles to the gallon. Simply put, if you had any reservation about all-season tires the Premier A/S has put them to rest.
The tread compound is made from sunflower oil and silica — a combination that allows for better traction in cold and wet conditions.
The tire's asymmetric tread pattern provides a better grip. This helps control the vehicle on dry roads and allows better straight-line tracking.
Also, the shoulders of the Premier A/S have grooves that add to the longevity of the tire and enhance the overall look.
As the treads start to wear, the grooves broaden across each shoulder block and the rain grooves widen. This ensures that even with heavy use traction will not suffer in winters.
On the inside of the Michelin Premier A/S, there are two steel belts that are protected by a polyester a polyamide cord. The design allows for a balance between durability and offers a comfortable ride at the same time.
The Premier A/S comes in various sizes, starting from 15 – 19-inch variants.
Pros
Strong resistance to water accumulation

Good performance on wet and dry surfaces

Treadwear is quite slow

Comfortable and safe ride on uneven roads
Cons
The treadwear happens at a quicker pace

Handling on dry roads could have been better
Difference Between The Two Tires
It is quite common for tire manufacturers to introduce a bunch of good models together. This tends to confuse potential buyers on which variant to go with.
After the many reviews you may agree that both the Michelin Premier A/S and the Michelin Defender T+H are impressive all-season tires.
Plus, Michelin is known for its fuel-efficient, durable and safe tires for all types of vehicles.
Despite the many similarities, these tires are meant for different purposes. But rest assured! Both guarantee exceptional performance.
In one corner, we have the Michelin Defender T+H, which is a perfect fit for day-to-day use at normal speeds and comes with an 80,000-mile tread-life warranty.
On the other end, we have the Michelin Premier A/S, a tire with a soft tread compound that works well at high speeds. You can seamlessly change lanes without compromising on control. Simply put, the cornering performance is —brilliant!
When it comes to winter driving, the Defender works great in light snow. Thanks to the tread blocks and outer sipes.
The Premier does a little better in heavy snow. The sunflower oil and silica-based rubber compound allow the tire to perform well in freezing temperatures.
Apart from workmanship and material warranty, the Premier A/S has six years or 60,000 miles of tread-life warranty, while the Defender T+H offers six years or 80,000 miles.
You can purchase the Michelin Defender T+H for $123, while the Premier A/S will cost you $116.
Comparison
Aspects
Michelin Defender T+H
Michelin Premier A/S

Diameter

24.5″

24.4″

Width

7.4″

7.4''

Rim Size

15″

15''

Weight

17 Lbs

19 Lbs

Revolutions Per Mile

851

851

Maximum Load

1235 Lbs

1235 Lbs

Air Pressure

44 PSI

44 PSI

Tread Depth

10/32″

8.5/32″

Rim Width

5-6.5″

5-6.5″
What We Like/What We Didn't
The treadlife warranty is quite appealing

For the many capabilities, both tires are reasonably priced

Changing lanes is easy with Michelin Premier A/S

Both tires are resistant to hydroplaning

The ride is more comfortable with the Premier A/S

Treadwear is quite slow on both tires

Dry-road handling is not Premier A/S's strong suit

The Michelin Defender T+H ride was a little uncomfortable on bumpy roads.
Conclusion
We think both tires are amazing and offer good value for money. If you are not a thrill seeker who loves to drive at high speeds and set track records — you should buy the Michelin Defender T+H.
But if you expect your tires to perform well at high speeds consistently– choose the Michelin Premier A/S. It depends on your preference and what you plan to use the vehicle for.
We have laid out what all you need to know. Now assess what you want and make a wise choice!