Bridgestone Blizzak vs. Firestone Winterforce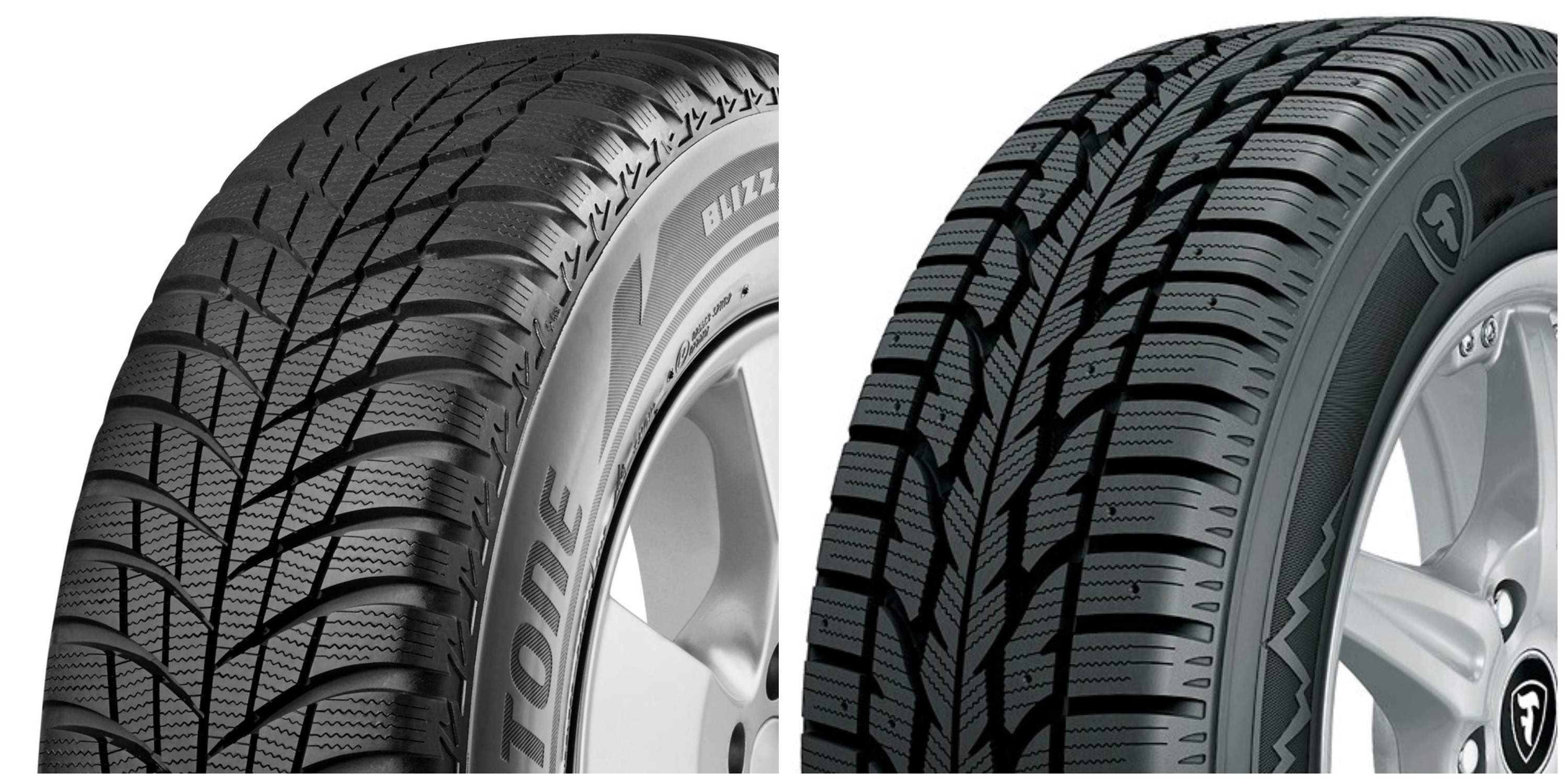 We compared Bridgestone's winter tires against Firestone's Winterforce to see which tire came out on top. The Blizzaks have a reputation to live up to this time since they are to be compared with one of the most affordable winter tires one can buy. 
But could the Winterforce range outmaneuver, outperform and outlive the Blizzaks? This review will give you the insights you need, as well as a detailed answer on what each tire does best. 
For this test, we fitted two cars, one with Blizzaks and the other with Winterforce, and conducted strenuous tests in a variety of environments to sum up a valuable conclusion. 
After taking both the cars for a spin, our experts noticed some differences between the two offerings. So Without further ado, let's start with the comparison! 
Bridgestone Blizzak
The Bridgestone Blizzak WS80 is a specialized winter tire that comes with a variety of intelligent features, designed to make winter and extreme weather driving easier. 
Bridgestone backs their claims after lots of winter testing against the best tires in the business and reveals compelling reasons why you should buy their product. 
Pros
The adaptive

Nano Pro-Tech

multi-cell found in the

Blizzak's

compound is revolutionary. This tread design was developed to suck in as much water as possible and then displace it during rotations — which makes the tire dry on wet tarmac.

The same is the case on snowy roads. When tested, the

Nano Pro-Tech

multi-cell compound worked wonders. We felt that the more we drove the better the car felt. This gave us the confidence to push the car and see how well it grips the tarmac at high speeds. 

The tires have increased winter traction as the company has tested many tests on it, better control over corners, and superior braking capabilities make the

Blizzaks

one of the very best winter tires available today. 

Wet traction is second to none in this range, increasing cornering stability at high speeds.

Stopping distance is much less as compared to the

Winterforce

tires. The multi-cell compound brings more than just grip to the car's handling performance. 
Cons
Price. Compared to other winter tires, the

Blizzak

range is priced higher than usual. 

The

Blizzak

doesn't perform as well as it should during high-speed cornering, and the tread wears off sooner when compared to other winter tires. 
Firestone Winterforce
For icy roads and better traction during rain, Firestone's Winterforce range is one of the most affordable winter tire available today. Hence the Firestone Winterforce series appeals more to the common buyer who is not picky about his choice and just wants a new set for his/her vehicle. 
Compared to the Blizzak, the Winterforce is a low-profile tire that is offered in 13-18 inch size, suitable for most road cars, sports cars, sport utility vehicles, and minivans. Priced as low as $60/tire, Firestone's Winterforce is quite light on the pocket. 
Pros
The high-density sipes and wider shoulder blocks help displace snow and water. The

Winterforce

range shows commendable results when tested during heavy rains, in terms of grip and control. 

This tire was designed to be extra thick, which not only increases resistance against punctures, but also ups the tire's longevity. 

The low-profile give a more presentable stance to cars and doesn't compromise on the vehicle's handling performance. Something our drivers thought was worthy to consider when comparing with other tires for purchase. 

Good steering response was observed when driving on moderately wet roads. Deep snow traction is also on par with other brands in the same category, and tread wear is quite better than the

Blizzaks

. 
Cons
Being a low-profile tire, the

Winterforce

tends to produce more noise as compared to the

Blizzak

. This is noticeable on dry roads especially. 

The ice traction is good but not as precise as the

Blizzak

. 

Ride comfort is not on par with the

Blizzaks

. 
Comparison — Blizzak Vs. Firestone
Following are the major differences we noticed between the two tires:
Performance
Tread Design
Cost Factor
Bridgestone Blizzak

Better performance, more grip, better stability. 

Vehicles fitted with Blizzaks often outperform those with other tires. 

New technology developed after extensive testing. Updated sipes and tread design helps displace water and snow more efficiently.

Expensive compared to other tires in the same category, but the reviews and tests do justice if we think about value for money. 

Firestone Winterforce

Excellent performance lacks in high-speed grip, offers reasonable stability

3-D design, developed to displace water and snow, but not regularly updated. 

One of the most cost-efficient winter tire you can buy today with reasonable performance. 
What We Like/Don't Like
Bridgestone Blizzak
What We Like
The

Blizzak

range is praised for its winter-driving capabilities on several forums and product reviews. When tested to the max, it clearly shows that it is a superior tire in terms of performance, grip, and stability needed by drivers during harsh winters. 

The

RC Polymer

has surely improved the tire's performance in snowy and icy roads. 

The centered Z-Pattern improves traction in snow — which leads to better acceleration and reduces stopping distances dramatically against the

Winterforce

. 
If you don't know much about traction you wouldn't even feel the difference — but if you love your wheels and are particular about how your vehicle drives then you will notice the difference. 
What We Don't Like 
The only gripe we have is the price. Even in the used-tire market, a used pair of

Blizzaks

can set you back $70-80 (without any warranty,) which is expensive, knowing the

MSRP

for Winterforce starts at just $60.

Another aspect of the

Blizzak

we are against is longevity. Even though the

Blizzak

range from Bridgestone is one of the best tires you can buy for winter driving, it tends to lose its multi-cell compound rather sooner (12 – 13,000 miles.)

In dry conditions, the tire produces high rolling resistance because it is developed as a winter tire. This rolling resistance leads to road noise, which can be irritating. 
Firestone Winterforce
What We Like
The cost is the most attractive aspect of the

Winterforce

range.

Commendable winter performance and a low stance.
What We Don't Like 
Being low-profile tires, they do offer a good grip but wear out quicker.

The issue of longevity paired with road noise may be a dealbreaker for many drivers.

In most of the tests, the

Winterforce

tires kept up with the

Blizzaks,

but fell behind when stability was tested. 

Last but not the least, the tire doesn't offer the same level of confidence as the

Blizzak

in warm weather. 
Our Verdict
The cost factor of the Winterforce combined with commendable performance makes it a worthy consideration over the more expensive Blizzak. Bridgestone's performance, which was achieved after years of research and testing, was showcased during our test drives. We think Blizzak is a clear winner! 
The use-case scenario might be different for you though. In the end, it all boils down to what you want from your vehicle. 
If you want the best in terms of performance, stability, and service, you should go with the Blizzak. 
People from several forums shared that the Blizzaks provide a total of 12-15,000 miles in winter season before they wear out. If you are into innovation, the Blizzaks stand apart with their use of the latest multi-cell and Nano-Pro Tech rubber compound that's been perfected over the years since the WS70 first hit the markets. 
Still undecided! There is another option to consider in the market. Nowadays the used-tire market is full of winter tires like the Blizzaks and other brands, which are slightly used with little to no visible wear. You can get a used set for a better price if you do not want to pay more for a brand new set.