Goodyear UltraGrip Arctic 2 Tire Review & Rating
Goodyear UltraGrip Artic 2 tires are a recent introduction to the studded winter tire segment. Because these are a studded option, they are not legal for highway use in many states and municipalities, so be sure to check your local laws before shopping for this tire. They are currently only available for purchase in Europe and Russia.
If you do find a set, you can expect extreme levels of braking and cornering performance from these hyper-aggressive winter tires. The tires feature up to 220 Arctic Eagle Claw studs with a sharp point for short braking distances on icy roads. The studs have a redesigned base over the predecessor which improves stud retention, so they stay in the tread face for the life of the tire. They also have a revised stud bed which better absorbs the impact of the stud head against the road surface. This means less road noise and less high-frequency vibrations.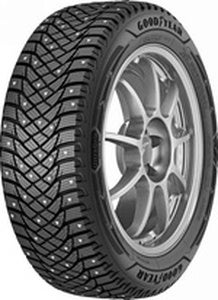 The studs are supported by Goodyear's Snow Grip Technology, which is an aggressive, symmetrical tread pattern. The tread criss-crosses in the center ridge for maximum tread edge density. It's these edges that offer up biting force to the asphalt and help with the base level of grip. Wide grooves in the shouder evacuate snow and slush.
The Goodyear UltraGrip Arctic 2 was released to suit cars with 16 to 20-inch rims as well as SUV-specific tires from 17 to 21-inch, although there appears to be limited availability for this tire at the moment, and Goodyear currently only lists the sizes below.
Pros:
Ultra short braking distances
Impressive straight-line traction
Cons:
Occasional understeer
Poor on fuel economy
Overall Thoughts
Goodyear's UltraGrip Arctic 2 performs consistently well in tire tests with regular podium performances, and users appreciate this tire's impressive braking and acceleration traction. The noise level is adequate for this segment, but driver's report less impressive fuel economy than some others.
Perhaps as a result of the dense groove pattern with no really wide channels, this tire isn't as good at evacuating slush, though that can be an asset when you need the snow to bond to the road surface. The tread face itself is very wide, with no pronounced shoulder down to the sidewall. This may explain some of the understeer reviewers have mentioned.
Even that complaint is a very subtle one though, and most drivers report nothing but confidence-inspiring traction under all conditions from these studded winter tires. Remember to make sure these tires are legal in your area before fitting.
Tire Sizes
16" Rims
195/55 R16 91T XL
205/55 R16 94T XL
205/60 R16 96T XL
215/60 R16 99T XL
215/65 R16 102T XL
17" Rims
205/50 R17 93T XL
205/55 R17 95T XL
215/50 R17 95T XL
215/55 R17 98T XL
225/45 R17 94T XL
225/50 R17 98T XL
225/55 R17 101T XL
235/55 R17 103T XL
18" Rims
215/50 R18 92T
225/50 R18 99T XL
235/45 R18 98T XL
235/55 R18 104T XL
245/40 R18 97T XL
245/45 R18 100T XL
19" Rims
215/50 R19 93T
225/45 R19 96T XL
235/40 R19 96T XL
245/45 R19 102T XL
Competitors & Alternatives
Nokian Hakkapeliitta 10 and Michelin X-Ice 4 studded tires are effectively level-pegging with the Arctic 2 in most tests, and any one of those alternatives are a worthy competitor. For a non-studded option look to Goodyear's own UltraGrip Ice 2, or the Continental VikingContact 7.
Price Range
This is a premium tire from a Tier 1 tire brand, and you can expect pricing to match. These are slightly less expensive than the Nokians mentioned above, but significantly more expensive than studded winter offerings from Yokohama or Continental.
Warranty
Goodyears offers a standard limited manufacturer's warranty against defects in workmanship and material for this tire with free replacement within 12 months or 2/32" of tread wear, whichever comes first. UltraGrip Arctic 2 tires are not included in the brand's "30 Day Pledge" program, and there is no treadlife warranty.