Pirelli Cinturato Winter 2 Tire Review & Rating
Pirelli's Cinturato Winter 2 is the brand's most recent winter tire release and is designed for passenger cars and small-medium crossovers. It is a genuine winter tire that bears the three-peak mountain snowflake (3PMSF) symbol for extreme winter performance.
This is a top-tier tire manufacturer with a reputation for performance and confidence-inspiring grip, and as expected, the Pirelli Cinturato Winter 2 is designed to offer consistent traction no matter the steering or braking load, especially on snow and ice.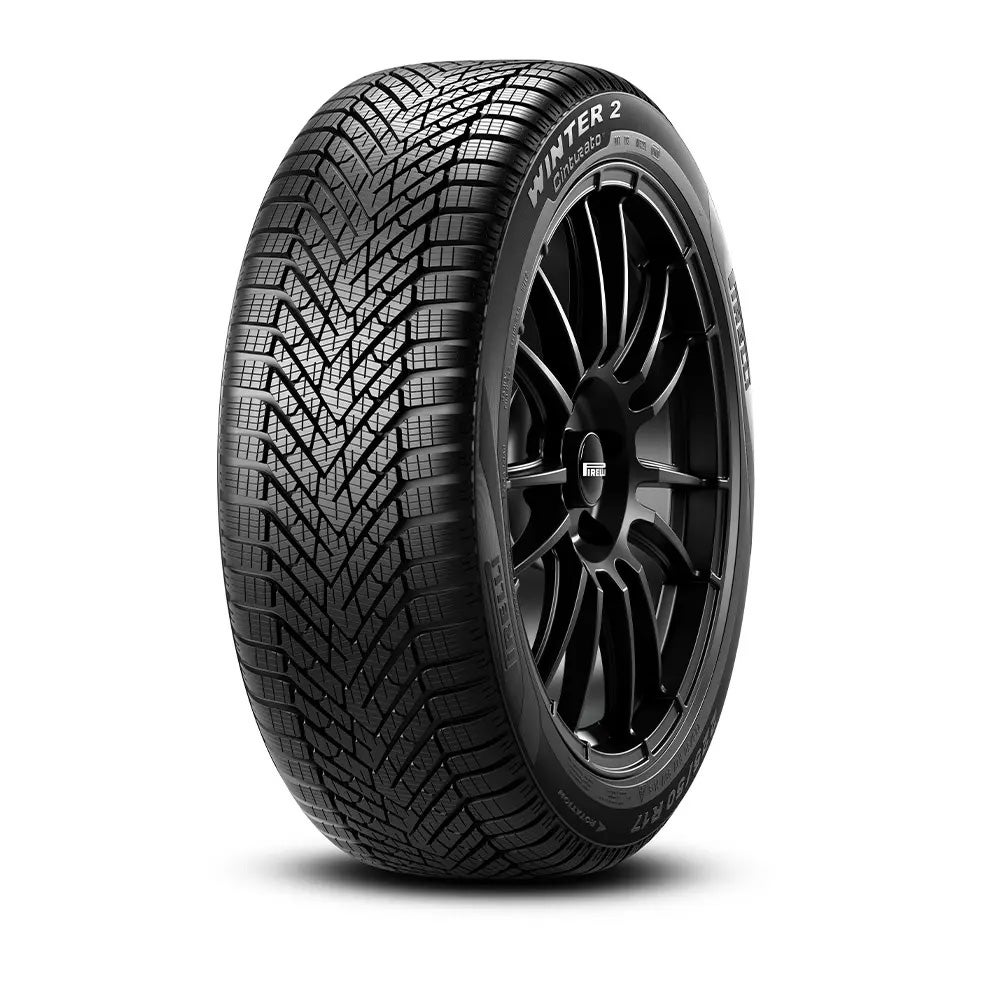 The tread pattern features a directional and staggered V-shaped design with high edge density and a multitude of interlocking sipes. The two wide grooves toward the outside of the tire combine with side-cut grooves and textured floors to force water out from under the tire more effectively, greatly improving wet-weather performance.
Pirelli's MultiActive 4D sipe technology allows for impressive snow and ice traction, with sharp, linear sipe edges that transform to a zig-zag shape as they wear in order to maintain biting traction even as the edges smooth down.
Another Pirelli highlight is its Seal Inside technology, which offers puncture resistance for intrusions into the carcass as long as 4mm deep. A special gel/mousse compound inside the tire automatically seals smaller punctures to avoid a flat tire.
The tire is offered in sizes from 16" to 20" initially, but the Cinturato Winter tire it replaces were available in a larger variety, so you can expect more sizes to become available in the near future. Speed ratings are H (130 mph) or higher.
Pros:
Grip and traction in all conditions
Puncture resistance
Cons:
Noisy during run-in phase
Price
Overall Thoughts
As one of the newest offerings from a premium tire brand the Pirelli Cinturato Winter 2 naturally stands out for its grip levels and comfort. Some drivers report that this tire becomes noisy briefly after the initial wear-in period as the MultiActive 4D sipes settle into shape, and the price point is higher than many other winter tires. These tires also wear faster than others, especially on dry pavement.
Where the Pirelli Cinturato Winter 2 excels is on snow. The 4D sipes move to lock and secure traction under heavier steering and braking loads, which results in even, sure-footed road holding even under pressure.
If you're after dedicated snow performance and confidence these are the tires for you. For less extreme, drier winter weather you should look to a more rounded winter tire. Drivers love the surety provided by these tires in snow, where you'll find consistent, confident road holding.
Tire Sizes
16" Rims
205/55R16
205/60R16
215/55R16
215/60R16
215/65R16
17" Rims
205/45R17
205/50R17
205/55R17
215/40R17
215/45R17
215/50R17
215/55R17
225/45R17
225/50R17
225/55R17
235/55R17
18" Rims
195/60R18
215/40R18
215/50R18
215/55R18
225/40R18
225/45R18
225/55R18
19" Rims
205/55R19
215/50R19
225/45R19
20" Rims
Competitors & Alternatives
As with any winter tire segment, Michelin is a leading brand, and the X-Ice Snow is a good option for drivers who want a high degree of confidence in snow and ice conditions. The Goodyear Winter Command Ultra offers more all-round performance at a slightly lower price point than the Cinturato Winter 2 as well.
Price Range
At around $180 per tire for common 17" sizes the Pirelli Cinturato Winter 2 is one of the more expensive tires in its class. There are performance winter tires priced higher, but you will find comparable performance and longevity from tires priced slightly lower too. You may also find occasional rebates, discounts, coupons, and special offers on this tire.
Warranty
Pirelli offers an unlimited-time warranty against defects in workmanship or materials for this tire, with free replacement within 12 months or 2/32" of tread wear, whichever comes first. It also comes with a 1-year/ 2/32" warranty for uniformity. There is no treadlife warranty or road defect guarantee offered on this tire.