Falken Azenis RT660 Tire Review & Rating
The Falken Azenis RT660 is a DOT-legal streetable high-performance tire designed for passenger cars. It features a directional tread pattern with large tread blocks and a solid center rib for maximum braking and acceleration performance.
The profile has been stretched wide with robust shoulders for lateral grip and a rigid-construction carcass. These extra-stiff sidewalls offer better steering response and turn-in than tires with softer sidewalls, but ride less comfortably.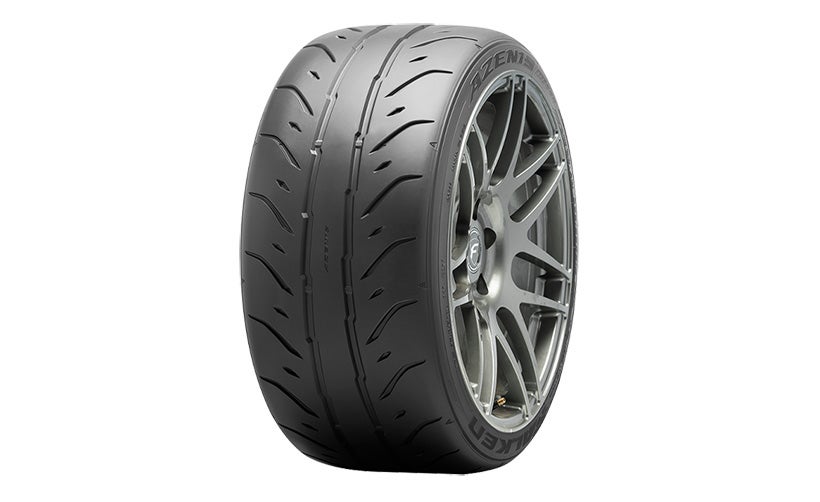 Falken applies a new, softer compound to this tire. The trade-off for this stickiness and inherent traction is shorter treadlife and sensitivity to cold weather. The good news is the tires are still rated 200 for treadwear, which means they have a projected tread life of 60,000 miles under standard road use. These also have a directional tread pattern that allows you to swap tires side to side. This helps with wear because performance tires usually wear on the inside, so swapping the tire prolongs the usable tread life.
While there are two large grooves and deep side grooves in the outside tread blocks to evacuate water, these tires are not recommended for wet weather.
The Azenis RT660 is DOT-legal as mentioned, but it is designed for performance drivers who drive their occasional-use car to the local track day for autocross, rally, or track day events.
Sizes range from 14" to 19" rims, and each tire has a speed rating of W, for speeds up to 168 mph. The smallest load rating of 83 for the 205/40ZR16 size will accept up to 1,047 lb per tire, with the largest load rating of 103 supporting up to 1,929 lb per tire.
Pros:
High-performance tire
Directional design means it can be switched side to side
Cons:
Short tread life
Modest wet weather performance
Overall Thoughts
The Azenis RT660 from Falken earns high praise from performance driving enthusiasts and amateur competitors for its high levels of grip and performance. In particular, drivers praise its responsiveness and road holding under stress in hard cornering.
Falken Azenis RT660 tires seem most at home on lighter cars running smaller circuits and autocross courses, though they have some tarmac rally credentials too. The extra stiff sidewall is appreciated by drivers who want crisp feedback through the steering wheel and a responsive, obedient tire under foot.
Traction is consistent right through to the limit, but the tires do drop off sharply toward the end of the usable tread life. While this is a 200 treadwear tire and therefore has a projected tread life of 60,000 miles, that's only under normal road-going conditions. Performance driving cuts that significantly, and these are some of the faster-wearing tires in the class.
Regardless, at this price point, the Azenis RT660 is a compelling option in the extreme performance summer tire segment for serious sport drivers.
Tire Sizes
14" Rims
15" Rims
205/50ZR15
225/45ZR15
245/40ZR15
16" Rims
205/40ZR16
215/45ZR16
225/50ZR16
17" Rims
205/40ZR17
215/40ZR17
215/45ZR17
225/45ZR17
235/40ZR17
235/45ZR17
245/40ZR17
245/45ZR17
255/40ZR17
275/40ZR17
18" Rims
225/40ZR18
235/40ZR18
245/40ZR18
255/35ZR18
255/40ZR18
265/35ZR18
275/35ZR18
285/30ZR18
295/40ZR18
315/30ZR18
19" Rims
245/35ZR19
265/35ZR19
275/30ZR19
275/35ZR19
295/35ZR19
305/30ZR19
315/30ZR19
Competitors & Alternatives
Drivers looking for even more performance and mixed-condition grip are well-catered to by the Continental ExtremeContact Force in this segment. Those of you looking for an asymmetrical tread pattern could look to the BF Goodrich G-Force Rival 1.5. Budget-minded shoppers might look to the Kumho Ecsta V730, but that tire is less than $10 cheaper than the Falken Azenis RT600.
Price Range
At just under $190 per tire for common 17" sizes Falken prices the Azenis RT660 among the more accessible performance tires, which is why they are a track darling. In a segment where prices range up over $300 a tire for well-regarded rubber and as low as $160 per tire for entry-level equipment, this is an aggressively priced tire. You will find smaller sizes as low as $130 per tire and wider 19" sizes up to $385 per tire. In either case you're looking at the bottom half of the price point for the segment. You may also find occasional rebates, discounts, coupons, and special offers on this tire.
Warranty
Falken offers a guarantee against faults in material or workmanship, with free replacement down to the first 2/32" of tread wear, and pro-rated replacement down to the final 2/32" of tread.
The company will replace tires that are damaged by road hazards completely free of charge for up to 12 months and for the first 2/32" of wear.
There is no tread-life warranty on the Falken Azenis RT660 tire.