Goodyear Assurance ComfortDrive Tire Review & Rating
The Goodyear Assurance ComfortDrive is a Grand Touring All-Season tire designed for all sizes of passenger sedans as well as small to medium SUVs and crossovers. This tire is designed for long-lasting all-weather performance with road noise and comfort top of mind. It is not a winter tire and is not rated for severe cold or snow performance.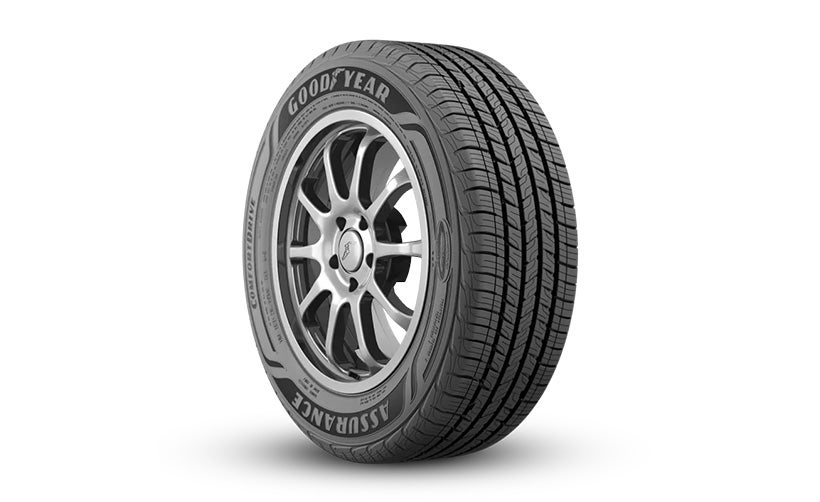 Key features of the Goodyear Assurance ComfortDrive include a tread compound infused with soybean oil to increase traction. The company's patented TreadLock technology provides stability and responsiveness under cornering load in the dry. The Evolving Traction Grooves shift pattern slightly as they wear to offer renewed sharp edges and sipes for a consistently fresh biting surface against the road in all weather conditions.
The symmetrical tread pattern features three circumferential grooves for water evacuation and a block design that is tuned for minimal road noise and maximum comfort. Goodyear ComfortFlex technology, effectively a reinforced ply backed by two steel belts, helps absorb impacts and provides a sturdy platform for the tire.
There is a wide range of sizes available for 16" through to 20" rims all rated to at least a V speed rating, or up to 149 mph. The smallest size has a load index of 92, or 1,389 lb per tire, while the largest load index is 107, or 2,149 lb per tire.
Pros:
Ultra-quiet ride
Long tread life
Cons:
Vague steering feel
Not winter rated
Overall Thoughts
The Goodyear Assurance ComfortDrive tire is an excellent choice of tire for drivers who do long miles on the highway or city and value comfort and quiet. The tires offer excellent wet-weather grip throughout the life of the tread. Speaking of tread life, some drivers report as much as 90,000 miles of use from their ComfortDrives, while Goodyear itself offers a 60,000-mile treadwear guarantee.
Drivers report greatly enhanced road manners over OE-fit tires, but some complain of a lack of road feedback and increase in vagueness. This affects dry-weather cornering response and braking feel in particular. Despite that lack of tactile connection, the tires offer sure grip and traction in a range of circumstances, as well as consistent performance over the entire lifespan of the tire.
Goodyear is one of the most well-known and well-regarded brands for a reason. Choose this tire for a quieter, smoother ride, especially over long distances.
Tire Sizes
16" Rims
205/65R16
205/55R16
215/60R16
215/65R16
215/55R16
17" Rims
215/60R17
215/55R17
215/50R17
215/45R17
225/65R17
225/45R17
225/50R17
225/55R17
225/60R17
235/60R17
235/65R17
235/55R17
245/45R17
18" Rims
225/60R18
215/55R18
225/45R18
225/55R18
235/45R18
235/60R18
225/50R18
245/60R18
235/50R18
235/65R18
235/55R18
245/45R18
19" Rims
235/45R19
235/40R19
235/55R19
235/50R19
245/55R19
225/55R19
255/40R19
255/50R19
20" Rims
255/55R20
235/55R20
255/50R20
245/50R20
255/45R20
Competitors & Alternatives
Grand-Touring, All-Season Tires are a competitive set, and some of the alternatives offer similar levels of performance and grip, but sacrifice comfort for cost. Those include tires like the Cooper CS5 Ultra Touring or the General Altimax 365 AW, which has the additional benefit of being snow-rated.
In Goodyear's own stable, the Assurance WeatherReady offers the 3PMS snowflake symbol for extreme winter and snow performance, with a similar price tag to the ComfortDrive.
Price Range
Goodyear is a top-tier tire brand, and at around $210 per tire, the Assurance ComfortDrive is in the mid-to-upper end of the grand touring tire price bracket.
Warranty
Goodyear's 30-day satisfaction pledge is available on this tire, enabling drivers to return the set for a different Goodyear model within 30 days, free of charge.
There is also a six-year guarantee against defects in workmanship and material, with free replacement within the first 12 months or 2/32" of wear, and prorated credit after that down to the final 2/32" of tread.
The Goodyear Assurance ComfortDrive tire comes backed by a 60,000-mile tread-life warranty.