Centennial Dirt Commander Mud
Overview
Centennial tires are known to provide a perfect blend of durability, quality and ultimate performance. Their prolific off-road tires are capable of sturdy application and excellent grip while driving on different terrains.
The Centennial dirt commander is another quality offering from the manufacturer with extra attention to detail and superior performance. As such, this tire is designed to give SUVs and light trucks excellent traction and off-road capabilities.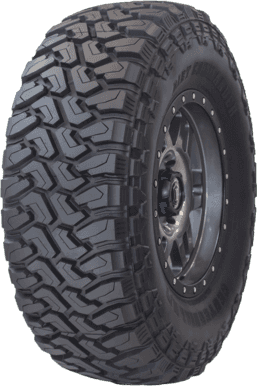 This all-season performer comes with a symmetrical tread design for a more comfortable ride combined with excellent control. The interspersed tread pattern on the dirt commander M/T lends tremendous strength and durability to counter harsh weather conditions and rough terrains with ease.
A wider contact patch ensures optimum grip on a majority of surfaces and also helps reduce the risk of hydroplaning in slippery conditions. The wider stance also allows for better traction and control while cutting corners on higher speeds.
The tread design features a high void ratio that further increases the tire's performance in mud and wet conditions. A larger gap between the tread block further ensures efficient evacuation of water, mud and snow from the contact patch.
Additionally, the high void ratio and stone ejectors in the sidewall self-clean the tread; this helps evacuate mud and remove rocks throughout the journey for even traction.
The broad shoulder lug design helps protect the tire's sidewall and provides extra biting edges for maximum grip when navigating harsh terrains. Even better, the wider footprint of the tire increases control and handling while also ensuring superior traction both on and off-road in all weather conditions.
This tire has a speed rating of Q (160 km/h) and is available in different sizes ranging from 15" to 22".
The Pros
All-weather, high performance

Superior control on wet and mud surfaces

Highly durable

Self-cleaning tread

Highly affordable
The Cons
Not intended for regular highway driving

Susceptible to wear and tear
Overall Thoughts
To sum it up, the Centennial Dirt Commander is an all-out performer built to withstand tough conditions and terrains.
This tire's superior design is what separates it from the competition; the interspersed tread design proves excellent in harsh terrains while the raised shoulder blocks protect the tire's side blocks. This ensures that the tire is safe from accidental damage to the sidewalls and unwanted punctures.
Although the tire is well suited for off-road use, it is not intended to be used as a touring tire or for extended driving on highways. With that said, the Dirt Commander is an excellent choice among other mud tires with its exceptional off-road capabilities and a sturdy look.
What Vehicles Would Centennial Dirt Commander Mud-Terrain Tires Fit?
The Centennial Dirt Commander Mud-Terrain all-weather tire is designed for SUVs and light trucks, and provides superior handling both on and off-road.
Some of the vehicles that this tire can fit are given below – please note that this is not an exhaustive list:
Cadillac DeVille Fleetwood Seville.

Chevrolet Blazer Caprice S10 Tavera.

Dodge D150.

GMC Envoy Jimmy Safari Sonoma.

Isuzu Crosswind D-MAX Panther.

Mazda B-Series.

Chevrolet Avalanche 2500

Chevrolet C2500

Chevrolet C2500

Chevrolet Suburban

Chevrolet D-Max

Chevrolet Express 1500

Chevrolet Silverado 3500

Chevrolet Silverado 3500 HD

Ford F-250

GMC Sierra 3500HD

Ram 3500

Chevrolet Cheyenne Silverado

Chevrolet Silverado 1500

Dodge Ram 1500

Dodge Ram 2500

Dodge Ram 3500

Ford Expedition

Ford F-150

Ford F-250

Ford F-350

Ford Lobo

GMC Sierra 1500

Lincoln Mark LT Navigator

Nissan Titan XD

Ram 1500

Toyota Sequoia Tundra
Tire Sizes Available
15″
LT235/75 R15

31X10.50 R15 LT

33X12.50 R15 LT
16″
LT235/85 R16

LT245/75 R16

LT265/75 R16

LT285/75 R16
17″
LT235/80 R17

LT245/75 R17

LT265/70 R17

LT285/70 R17

LT295/70 R17

33X12.50 R17LT

35X12.50 R17LT

35X12.50 R17LT
18″
LT275/65 R18

LT275/70 R18

33X12.50 R18 LT

35X12.50 R18 LT
20″
33X12.50 R20 LT

35X12.50 R20 LT

37X12.50 R20 LT
22″
33X12.50 R22 LT

35X12.50 R22 LT

37×13.50 R22 LT
Price Range
The Centennial Dirt Commander is available for a price starting from $155.77 per tire in some online stores. You can get better deals and discounts from some dealers and online retailers if you buy in a set of four.
Warranty Offered
These tires are warranted against any failure resulting from defected materials. They come with a materials & workmanship warranty for 4 years from the manufacturing date or 2 years from the date of purchase.
Additionally, these tires are covered by a replacement warranty during the first 10% of wear due to defects; this means that the tire will be replaced with a new one without any charge.