Bridgestone WeatherPeak Tire Review & Rating
The Bridgestone WeatherPeak touring tire is a genuine four-season tire designed for year-round use on sedans, SUVs, and crossovers. It sports the Three-Peak Mountain Snowflake (3PMSF) symbol that denotes impressive performance in wet or snowy conditions.
The WeatherPeak touring tire promises a 5% improvement in acceleration versus leading tires in the segment and a 30-foot shorter stopping distance than the Michelin Primacy Tour A/S tire on snow. This all-weather prowess comes thanks to full-depth 3D sipes that maintain their biting grip even after miles of wear. Raised ridges in the tire grooves help evacuate water at a high rate and promote snow compacting to help the tires bond with snow and ice-covered roads.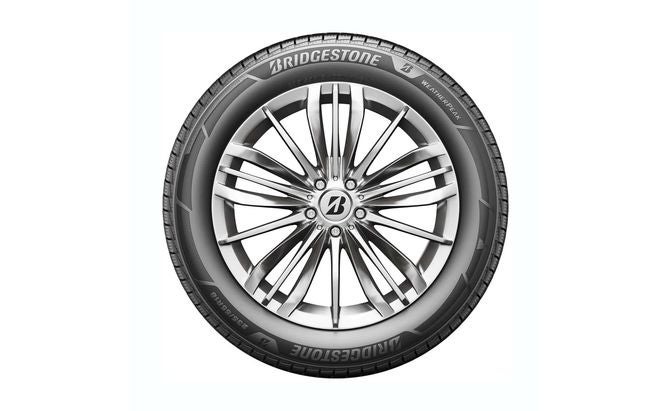 Bridgestone promotes this tire for high-end vehicles like the Audi Q5, and BMW 3 Series, as well as popular consumer models like the Honda Accord or Toyota Rav4. It has been designed for easy comfort and solid levels of performance that match aspirational touring models. The wide range of uses makes this tire suitable for 85% of the passenger cars on the market.
This is the company's first touring tire to boast genuine all-weather performance.
Pros:
Strong performance in bad weather
Suitable for most passenger vehicles
Cons:
Price
Might be noisier than
Overall Thoughts
This is a very new tire with limited feedback coming in from real-world users at this point. On the plus side, Bridgestone is a top-tier tire brand with a strong reputation for performance.
The fact that these all-weathers sport the 3PMSF symbol combined with Bridgestone's competitive test claims makes this a compelling option for drivers who don't mind putting their money behind the rubber on the road.
It is worth noting that all-season tires sporting the severe snow rating symbol and this style of tread design are often noisier than their three-season counterparts and offer slightly less dry weather performance, particularly in cornering and braking stability. However, the trade-off is that you don't have to swap tires in the winter and can rely on one set year-round.
That makes the WeatherPeak a great option for drivers with less severe winters but who need a tire that can handle the occasional snow dump or sleeting rain weather.
Tire Sizes
15-inch Rims
175/65 R15 84H XL
185/55 R15 82V XL
185/60 R15 84H XL
185/65 R15 88H XL
195/65 R15 91H XL
16-inch Rims
185/55 R16 83H XL
195/50 R16 84V XL
195/55 R16 87V XL
205/55 R16 91V XL
205/60 R16 92V XL
205/65 R16 95H XL
215/55 R16 93H XL
215/60 R16 95V XL
215/65 R16 98H XL
215/70 R16 100H XL
225/60 R16 98V XL
225/65 R16 100H XL
235/65 R16 103T XL
235/70 R16 106H XL
17-inch Rims
205/50 R17 93V XL
215/45 R17 91V XL
215/50 R17 95V XL
215/55 R17 94V XL
215/60 R17 96H XL
215/65 R17 99H XL
225/45 R17 91V XL
225/50 R17 94V XL
225/55 R17 97V XL
225/60 R17 99H XL
225/65 R17 102H XL
235/50 R17 96V XL
235/55 R17 99V XL
235/60 R17 102H XL
235/65 R17 104H XL
245/65 R17 107H XL
18-inch Rims
215/55 R18 95H XL
225/40 R18 88V XL
225/45 R18 95V XL
225/50 R18 95H XL
225/55 R18 98V XL
225/60 R18 100H XL
235/45 R18 94V XL
235/50 R18 97V XL
235/55 R18 100V XL
235/60 R18 103H XL
235/65 R18 106H XL
245/40 R18 93V XL
245/45 R18 96V XL
245/60 R18 105H XL
255/65 R18 111H XL
19-inch Rims
225/55 R19 99V XL
235/40 R19 96V XL
235/55 R19 101H XL
255/60 R19 109H XL
20-inch Rims
235/55 R20 102H XL
245/50 R20 102V XL
Competitors & Alternatives
Michelin is your main competitor to the Bridgestone WeatherPeak. The Primacy Tour and CrossClimate from the French manufacturer are both good performing contenders that also boast a severe snow rating. You can also opt for a touring tire that doesn't have the 3PMSF symbol if you want more dry weather performance, including the Michelin Premier A/S tire or the Cooper CS5 Ultra Touring.
Price Range
At around $220 for the popular 18-inch sizes, Bridgestone WeatherPeak tires are in the upper end of this category's price range. You can find options from General Tire like the Altimax for slightly less, while Michelin's CrossClimate is another $20 more expensive on average. Nokian's Encompass tire is significantly less expensive at around $180 for 18-inch sizes. You may also find occasional rebates, discounts, coupons, and special offers on this tire.
Warranty
Bridgestone Tires are covered by a six-year, 70,000-mile warranty against problems with materials or workmanship. The company will replace tires completely free of charge for up to three years of that period – one of the most generous new-for-old replacement warranties on the market. There is no tread life warranty on the WeatherPeak tire.