Toyo Celsius Sport Tire Review and Rating
Toyo Celsius Sport Ultra-High Performance All-Weather Tire is designed for year-round use on sedans, crossovers, and SUVs. It sports the 3PMSF (three-peak mountain snowflake), indicating strong performance in snow, ice, and rain, making it a genuine four-season tire.
Toyo says this is an "ultra-high performance" tire with a special silica compound that promotes impressive road-holding adhesion. A modest sidewall height and stiff carcass offer stability and control as well as strong road-holding and good feel under high cornering loads. The carcass is built from high-tensile steel belts with bead filler to help maintain uniformity.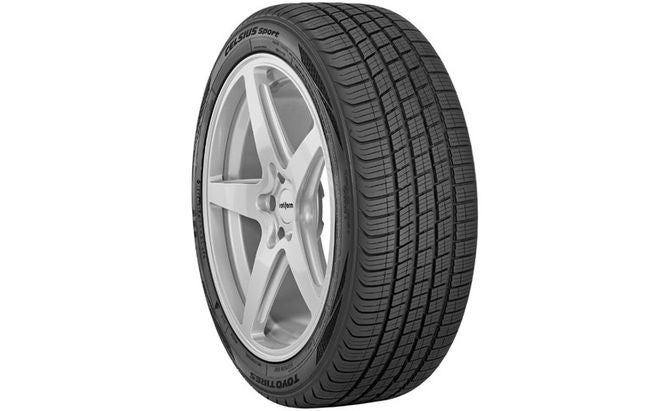 The tread design features diagonal cut tread blocks with a semi-solid center ridge and four wide grooves. Sipe density is high, and the multi-wave sipes offer plenty of biting edges to the road surface, helping traction in slippery conditions. The shoulders are straight and stiff on the inside of the tire, while the outside shoulder features curved grooves to help with both water evacuation and compliance.
Traction bars embedded in the grooves further promote grip by offering more edges to bite into the road. The entire tread design is reinforced for stability and to maintain contact with the road. The tread varies slightly for wider variants, with the center rib split into two sections with a narrow groove to help minimize aquaplaning.
There are sizes to suit 17-inch to 22-inch rims, with a load rating of 91W (1,356 pounds and 168 mph) through to 112W (2,469 pounds and 168 mph). Some sizes carry a Y rating for speeds of up to 186 mph.
Pros:
High performance year-round
Good stability and responsiveness
Cons:
Reduced fuel economy
Compromised dry-weather handling
Overall Thoughts:
Toyo's commitment to building high-performance tires is commendable, and this is a compelling option because it offers genuine four-season capability for your high-end sedan, SUV, or crossover.
The world of high-performance tires is one of thin margins, and the gap between this and a genuine summer performance tire is impressively narrow. Still, the Toyo Celsius Sport isn't quite as good in dry conditions as the brand's other high-performance tire, the Proxes Sport. These are also louder and stiffer than competitors that don't bear the 3PMSF symbol.
On the plus side, this is a high-performance tire with impressive grip and stability that continues to offer that grip even in winter, and it means you don't have to change tires but can still appreciate any insurance benefits that come from having a true winter-rated tire on your car. Plus, in some places where winter tires are mandatory, you can run these year-round and not have any problems with the law.
17-inch Rims
205/50R17
215/45R17
215/50R17
215/55R17
225/45R17
225/50R17
225/55R17
235/45R17
265/60R17
18-inch Rims
225/40R18
225/50R18
225/60R18
235/45R18
235/50R18
235/55R18
235/60R18
245/55R18
255/60R18
19-inch Rims
225/45R19
235/40R19
235/50R19
235/55R19
245/45R19
255/55R19
265/50R19
275/40R19
20-inch Rims
235/55R20
245/40R20
245/45R20
255/50R20
265/45R20
275/35R20
275/40R20
275/45R20
21-inch Rims
255/40R21
265/40R21
275/45R21
285/40R21
295/35R21
295/40R21
22-inch Rims
Competitors & Alternatives
While Toyo refers to this as an Ultra-High-Performance all-season tire, it is better cross-shopped with Grand Touring All-Season tires like the Bridgestone Weatherpeak, Michelin Cross Climate 2, or General Altimax tire. The Toyo is a less expensive option than all three. If you want more dry-weather focus, you might look to the Bridgestone Potenza, which offers more dry weather grip but isn't good in winter.
Price Range
At just shy of $200 for common 18-inch rim sizes ranging to $370 for 22-inch rim tires, the Toyo is a compelling value option in this segment of Grand Touring tires, and especially so in the UHP segment. The only tires priced consistently lower are from lesser-known brands.
You may also find occasional rebates, discounts, coupons, and special offers on this tire.
Warranty
V and W-rated Toyo Celsius Sport tires carry a 60,000-mile tread-life warranty, while Y-rated tires are guaranteed for 40,000-miles of tread life. Toyo also offers a limited warranty for this tire. It will replace free of charge any tire with uniformity issues in the first 1/32-inch of wear. It will also guarantee workmanship or materials for this tire, with free replacement within the first 25% of wear and within the first 60 months of purchase. After that, Toyo will issue a pro-rated replacement for tires worn beyond 25% that show problems within the first 60 months of purchase.