Mastercraft Courser Quest and Quest Plus Tire Review & Rating
Mastercraft's newest all-season tire for SUVs and Minivans, as well as its upgraded sibling for larger SUVs and pick-up trucks, offers dependable all-season performance complete with the M+S (mud and snow) rating. While not the same as a 3PMSF (three-peak mountain snowflake) rated all-weather or winter tire, M+S tires are rated for traction in falling snow and mud conditions, making them dependable in places with mild winters and occasional snowfalls.
The Courser Quest is the smaller of the two tires while Quest Plus is the same but bears higher load ratings for larger vehicles. Both come from Mastercraft, which is the value-focused subsidiary of Goodyear.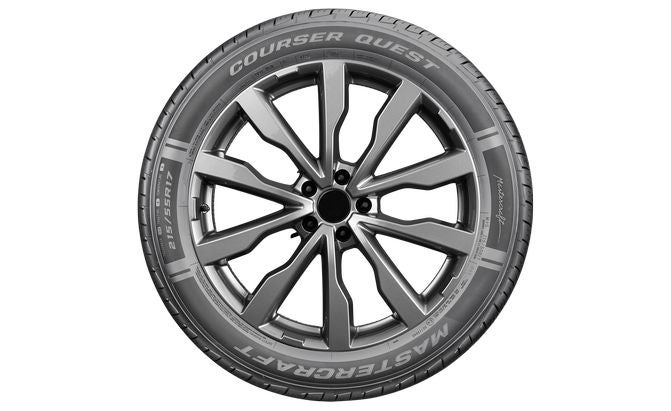 These tires feature an asymmetrical tread pattern with sharp shoulders on the inside for cornering stability and four wide grooves, with the widest on the outside to help promote water evacuation. A revised compound featuring silica helps with wet weather traction as well.
Courser Quest and Quest Plus both feature Mastercraft's "Noise Barrier" tire walls that cut down on tire wind noise, and the tread blocks have been reinforced further for better and more even treadwear over the life of the tire.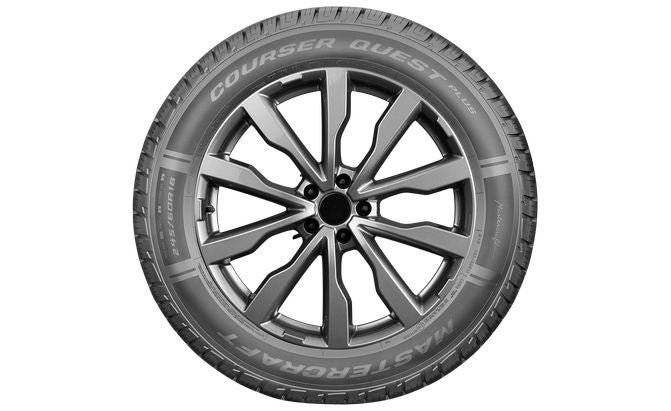 Sizes range from 16-inch to 22-inch rims, with a load range of between 1,609 pounds (97 H) and 2,822 pounds (117 H). Most are rated H for up to 130 mph, with select sizes rated V for up to 149 mph. Some of the narrower and smaller sizes are rated T for only 118 mph, so do be wary as you shop your size.
Pros:
Good value
All-around performer
Cons:
Moderate winter performance
Limited loose-surface grip
Overall Thoughts
As a subsidiary of Goodyear, Mastercraft brings the weight of that pioneering tire company to market at a more accessible price than its parent. This is a newer tire, so not many reviews exist to judge its real-world credentials.
Having said that, these Courser Quest and Courser Quest Plus tires promise solid and dependable year-round performance for drivers of SUVs, minivans, or light trucks who spend most of their time on paved roads in mild weather conditions. The high sipe density on the tread blocks creates plenty of biting grip for the road surface, and the wide grooves are effective at evacuating snow, mud, and standing water. The compound offers good traction too.
The busy tread face makes this a noisier tire than some on the market, and the 665,000-mile treadwear warranty is on the modest side. Mastercraft notes a limited performance level on loose surfaces like rocks and gravel, but the sibling tire to this, the Courser Trail and Courser Trail HD is ready to step up for drivers who need more off-road credibility.
Though not as widely distributed as some other brands, Mastercraft Courser Quest and Courser Quest Plus are available from retailers like Simpletire.com and even eBay.
Tire Sizes
16-inch Rims
205/70R16
215/70R16
235/70R16
245/70R16
265/70R16
215/65R16
235/65R16
17-inch Rims
245/70R17
255/70R17
265/70R17
215/65R17
225/65R17
235/65R17
255/65R17
215/60R17
225/60R17
235/60R17
235/55R17
18-inch Rims
235/65R18
255/65R18
265/65R18
275/65R18
225/60R18
235/60R18
245/60R18
265/60R18
215/55R18
225/55R18
235/55R18
255/55R18
235/50R18
19-inch Rims
255/60R19
225/55R19
235/55R19
245/55R19
20-inch Rims
275/60R20
255/55R20
275/55R20
245/50R20
255/50R20
265/50R20
22-inch Rims
Competitors & Alternatives
Road-going all-season tires with enhanced mud and snow capability are becoming more and more common with the consistent rise in popularity of SUVs and pick-up trucks. That means a lot of choice in this competitive segment. Drivers who want more off-road capability can look to the BF Goodrich KO2, while drivers looking for a more serious winter performer will find 3PMSF-rated tires like the Pirelli Scorpion All-Season for slightly more money than these. Direct competitors include Continental Cross Contact and Cooper Discoverer SUV tires.
Price Range
At under $190 for common 18-inch rim sizes, the Courser Quest and Quest Plus tire is just shy of the average price range for its segment, making it an interesting value proposition. Comparable tires from BF Goodrich go for around 5% more, with Cooper Discoverer SX tires coming in on the lower side. You may also find occasional rebates, discounts, coupons, and special offers on this tire.
Warranty
Mastercraft offers a limited warranty against defects in workmanship or materials for this tire, with free replacement within the first 2/32-inch of tread wear and a pro-rated adjustment credit after that, down to the final 2/32-inch of tread. There is a 65,000-mile tread life warranty on this tire.