Best Scratch Removers
These eight scratch removers will help cure paint defects and marks to restore your car's bodywork.
It only takes a minor nick to put a serious dent in the curb appeal of your car, truck, or SUV. That perfect paint is easily marked by the rigors of daily driving, and doesn't it always seem you get the worst chips, flecks, and scrapes right after you've finished detailing?
Salt, dirt, washing, and wiping all slowly erode the clear coat and color of your bodywork over time, not to mention tree sap splashes or insect splatter. Even if the visual impact doesn't bother you, the microscratches in your body work need to be cured quickly.
That's because those marks allow dirt and grime to penetrate into your paint and speeds up the erosion of it. A small scratch left untreated will grow in depth over time.
The best scratch removers erase these marks by cutting away a thin layer of your clear coat. High-end variants have a progressive blend of abrasives that help smooth out the edges of damaged areas as they polish. There are some that use a wax or polymer additive to protect and shine as you polish, and some of these are effective but it's important to remember they tend to fill in marks, which can then reappear down the road.
All of these products do reduce the layer of paint over time, so we always advocate that you go back over the area with a wax or ceramic coat once you've repaired the defect. This also restores protection and color to the area. Of course, no scratch remover is magic, and deeper gouges in your paint are going to require sanding and paint to repair properly. When it comes to quickly and easily repairing minor scuffs or scratches in your paint though, these products have you covered.
---
1. Editor's Pick: Carfidant Scratch and Swirl Remover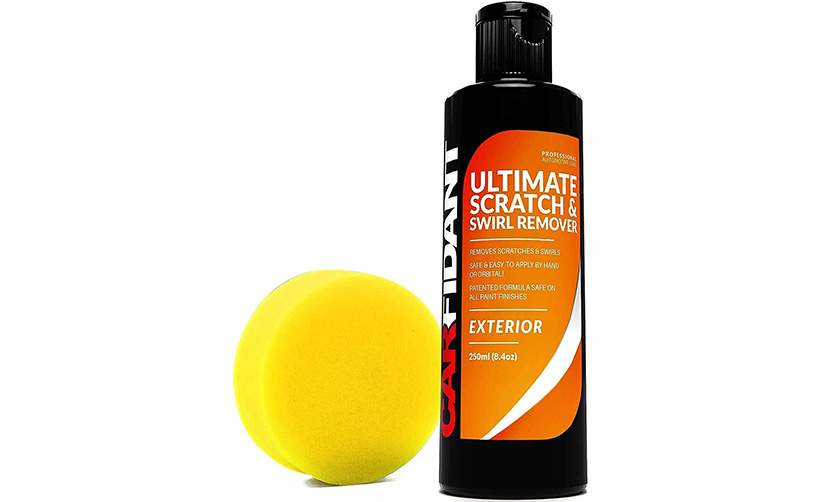 Users rave about the results offered by the Carfidant Ultimate Scratch and Swirl Remover kit.
Carfidant's 8.4oz compound and thick foam applicator are ideal for minor nicks and paint stains including heavier mineral deposits and swirls.
The pad itself is thick but deteriorates quickly if you apply excessive pressure, it's also hand-applied which can be tiring after a while. You can use the rubbing compound with a machine applicator if you like, and the solution itself is extremely high quality.
With a blend of luscious lubricants, this compound goes on easily and covers a wide area, but it may take several passes to cut through larger marks. It is safe on all painted surfaces and has no colors or scents. Carfidant backs this compound with a 100-percent money-back guarantee.
Pros:
Easy to apply
Money-back guarantee
Cons:
Pad doesn't hold up to regular use
Easy to apply too much liquid
---
2. Best Drill-Mounted System: Meguiar's Scratch Eraser Kit
Meguiar's is a household name in car care and its easy-to-use scratch removal system makes it easy for any driver to fix light-to-moderate marks.
The Quik Scratch Eraser kit features a drill-mounted buffing pad and Meguiar's ScratchX 2.0 cutting compound to work quickly on light defects. Just a small amount of compound on the center of the soft applicator and a light touch with the trigger will have your swirl marks, light chips, or scuffs sorted in seconds.
ScratchX 2.0 is a lightly abrasive compound that cuts through the clear coat and helps smooth down the edges as it goes. You only need a small amount and light pressure, and you should remember that cutting compounds always reduce the clear coat on your car. The 4" drill-mounted applicator pad and 16" microfiber cloth in this kit are great for light paint repair in the driveway. That includes curing paint transfers, light chemical stains, and swirl marks. You can use it on any painted surface.
Pros:
No effort
Great finish on light-to-moderate defects
Cons:
Not a heavy-duty compound
Cost
---
3. Chemical Guys VSS Scratch and Swirl Remover
U.S. car-care enthusiasts Chemical Guys offer an effective and affordable paint repair solution in the company's signature style.
VSS Scratch and Swirl Remover is a quick and effective way to erase minor scuffs, scratches, and swirls from your car's body work.
It works best with a machine applicator like an orbital polisher, but a small amount goes a long way. The company says its blend puts the more aggressive abrasives at the fore, and that they slowly make way for the lighter, smoother cutting fluid as you work through. The results back up those claims with consistently crisp and clear results on a wide range of blemishes.
This is a true cutter, with no polymers or waxes to fill in and cover-up marks. This means you get a permanent solution but also necessitates the addition of a wax layer after you've finished. One thing to look out for, the solution separates in the bottle and requires a vigorous shake before use, failure to do so can lead to inconsistent results.
VSS is a great option for cars with large areas of marked, scuffed, or faded paint.
Pros:
Clear finish
Works well with machine applicators
Cons:
Not as effective when applied by hand
Liquid can be inconsistent
---
4. Best Hand-Applied: Adam's Car Scratch & Swirl Remover Hand Correction System
The Adam's Scratch and Swirl Remover Hand Correction System cures moderate paint defects without the use of power tools.
Car lovers who like to get hands on and give their arms a workout will appreciate this two-stage hand-application system from Adam's. The applicator pad is ergonomically sculpted for consistent and even grip giving you a more even finish. The kit also includes a small, 4oz bottle of the company's toughest cutting compound, as well as a hand polish.
The company touts its micro-alumina (tiny aluminum shards) abrasive that quickly breaks down as you apply it, making sure you don't over-polish the affected area. Only a small amount of the solution is required for most jobs, which is good because the bottles are remarkably small. The whole system is affordable and effective, and we like the foolproof design.
Adam's Scratch and Swirl remover and hand polish are both safe to use on any painted surface, and they contain no silicone or waxes.
Pros:
Ergonomic pad
Foolproof formula
Cons:
Tiny bottles
Not for machine use
---
5: Best All-In-One: 3D Speed All-In-One Scratch Remover & Swirl Correction with Wax Protection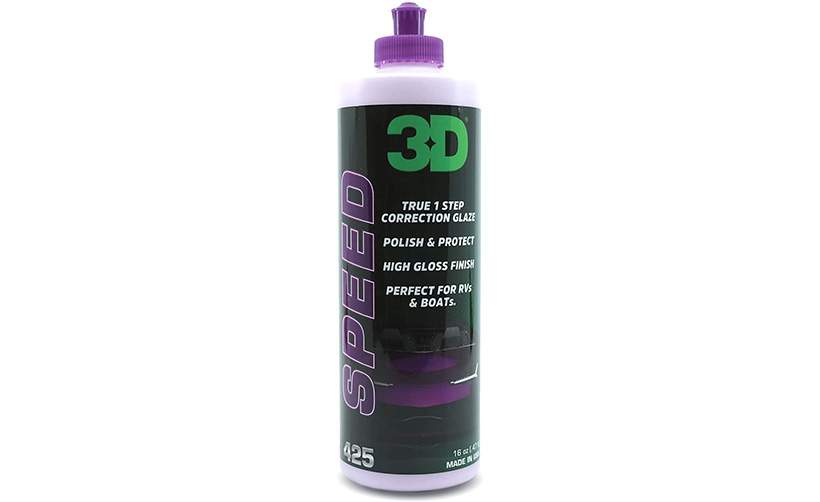 The 3D Speed all-in-one scratch remover adds a wax protectant for a quick, one-stop paint correction solution.
This easy-to-use formula from 3D makes short work of your paint repair job by adding both a swirl correction cutting compound and a wax formula. That means you both cure and protect your paint in one movement. The product works best on light scuffs, scratches, and abrasions, as well as on UV damage. It is most effective on newer paint with a deep, lustrous clear coat you don't want to damage.
Because it's gentle and restores wax protectant as you go, you won't see the difference you can see in other solutions after a quick spot-fix. That also means though that you might not repair the mark fully the first time, and they can reappear after a few weeks or even days. This is a great option though for drivers who want to quickly and easily remove unsightly marks from their body work in between annual paint care procedures.
Pros:
All-in-one solution
Repairs and protects
Cons:
Light duty only
Scratches may reappear
---
6. Best Value: Mothers California Gold Scratch Remover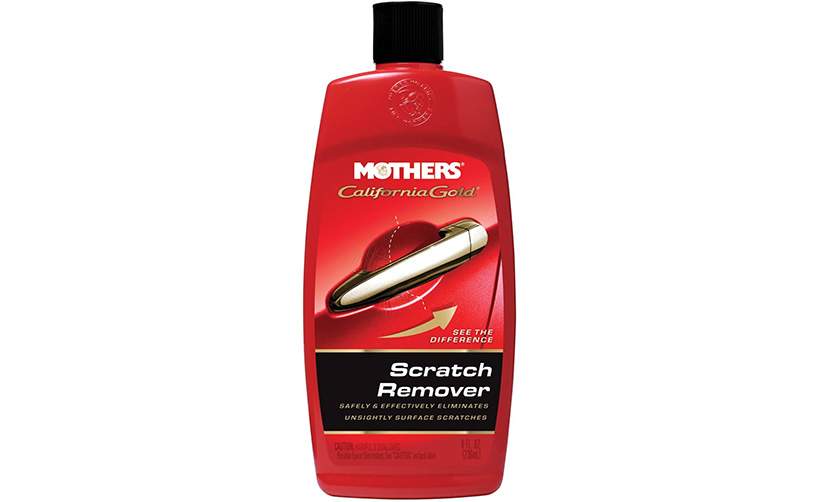 Mothers is another household name in car care products and the company's California Gold scratch remover is impressive value.
At almost half the price you'll find for other 8oz scratch removal products, Mothers California Gold is a compelling option on value alone. Not only that, but you can rely on Mothers for consistently good results on light paint defects with a compound that is easy to apply and buff dry.
This is a light-duty solution only, so it won't handle deeper scrapes, but it works well as a semi-frequent weapon against things like ring marks on door handles or brush marks from that pesky bush next to your driveway.
California Gold scratch remover contains no waxes or silicone and is a true polish. It offers low-cost, high-effect paint correction for high-traffic painted bodywork. One note of caution—always work in small sections as this product can try quickly and leave behind a residue.
Pros:
Cons:
Ineffective on deeper marks
Requires fast hands
---
7. Best for Restoring Shine: Formula 1 Scratch Out
Formula 1 Scratch Out features a blend of micropolishers to erase scratches and Carnauba wax to restore shine and protect your paint.
This two-hit blend of wax and polish from Formula 1 leaves your paint with less defects and a deep shine. The clever blend is great for curing light paint defects, swirls, and hazing, but it is ineffective on larger scratches. With most scratch removers you can make multiple passes to slowly ease out scratches, but the wax in this solution makes that harder. That's because you're building a layer of protection as you wipe.
That wax also fills in some scratches, making them seem cured before they are. Long story, short: This is a great temporary solution for minor paint defects, best used as a spot fix between larger detailing treatments.
Pros:
Cons:
Ineffective on deeper marks
Scratches can reappear
---
8. Honorable Mention: ShineForce Scratch Removal Cloth
This ShineForce cloth features patented nanotechnology that quickly and easily removes lighter marks without the need for creams or pastes.
ShineForce's clever solution uses a pre-treated cloth complete with micropolishers that cuts back hazes, swirls, or light scratches. The foolproof, one-step wipe can be used multiple times as long as you store it in its zip-lock bag between uses.
If you drop it on the ground though, throw it away, it's now useless. This is one of the least effective products on our list when it comes to larger marks, but it is ideal as a quick and easy one-step solution for things like bird residue or dust chips. Use this as a final step in your regular car wash and a touch up after spot-fixing unsightly deposits like bird droppings or paint transfer.
It comes in two variants, one for lighter colors and one for darker colored paints, but either one will solve most problems.
Pros:
Genuine one-step product
Easy to use
Cons:
For light marks only
Useless when dropped
---
Limitations of Scratch Removers
Glide your fingernail over the scratch. If your nail catches in it, you likely have a deeper mark that penetrates the clear coat. In this case, you might need touch-up paint or even a trip to the body shop. The scratch removers on this list are affordable enough that you might want to give it a go anyway, and you can always head to the body shop after making the attempt yourself.
If you see bare metal or a large patch of abrasions on your bodywork though, don't bother. Scratch removers can only do so much, and the only cure for bigger damage is a professional body shop technician.
There is one time you can do more than you think, and that's when there is a large patch of discoloration that is caused by paint transfer. For example when someone bumps your car at the grocery store and leaves paint from their plastic bumper on your door. In that case, your nail will catch, but not because it's dropped into a scratch—it's because that paint transfer is on top of your bodywork. Scratch removers can cut away this paint transfer, but again—always take the time to make multiple light passes.
---
Tips for Using a Scratch Remover
It is tempting to just grab a bottle and go, but a little prep and care will give you better paint repair results. These tips include:
Thoroughly clean and dry your ride before treating it
Only use clean buffers or cloths
Use your scratch remover indoors if possible, and never in dusty or windy weather
Finish the job with a wax or polymer coating to protect your paint for months to come
You should also always work in small sections, lightly cutting away at the defect with the compound. It is better to make multiple passes over the same spot than to try and hit it all in one go by overusing the compound. You risk damaging your color permanently that way. When it comes to paint repair, patience is a virtue.
Main photo credit: Variety beauty background / Shutterstock.com