Best Car Wax
Here are our picks of the best car waxes to protect and shine your paint, making it showroom fresh.
Waxing your ride is more than just an exercise in vanity. Car wax protects your paint from UV rays, environmental contaminants, and dirt. It makes it easier to wash your car thoroughly and helps prevent road grime and grit smearing your paint work after heavy rains.
It comes either as a liquid or a hard brick, and more recently, in spray forms. Many contain a naturally occurring wax like Carnauba, but not all do. Wax gives a wet-look finish for paint and lasts anywhere from 1-2 months for spray-on waxes to as long as 3-4 months if you use a conventional type.
The best car waxes are affordable, easy to apply, and offer lasting protection. They help restore luster and also protect from the sun's harsh rays. Read on for our favorite car wax products.
1. Editor's Pick: Chemical Guys Butter Wet Wax
U.S.-brand Chemical Guys has a reputation for high-quality car-care products at an affordable price.
Chemical Guys not only makes great quality car protection and cleaning products, but do it in a playful and fun way that makes caring for your paint work a joy. The brand's Butter Wet Wax is an affordable and effective solution for your paint.
It is blended from natural Carnauba and synthetic polymer resins, which is the main driver behind that three-dimensional glisten. The polymers bond to your paint and give the protective coat a thicker appearance than you'd otherwise get. They also add longevity to the wax.
The company touts its UV protective abilities as one of the key benefits of this product, and users rave about the long-lasting shine. On the negative side, it is a little trickier to apply than some products, and it isn't as safe on matte finishes or trim items as others. For paint and coated metals though, it's hard to look past the Butter Wet Wax from Chemical Guys.
Pros:
Quality shine
Powerful anti-fade protection
Cons:
Includes synthetic elements
Not safe on all surfaces
---
2. Runner Up: Meguiar's Gold Class Carnauba Plus Liquid Car Wax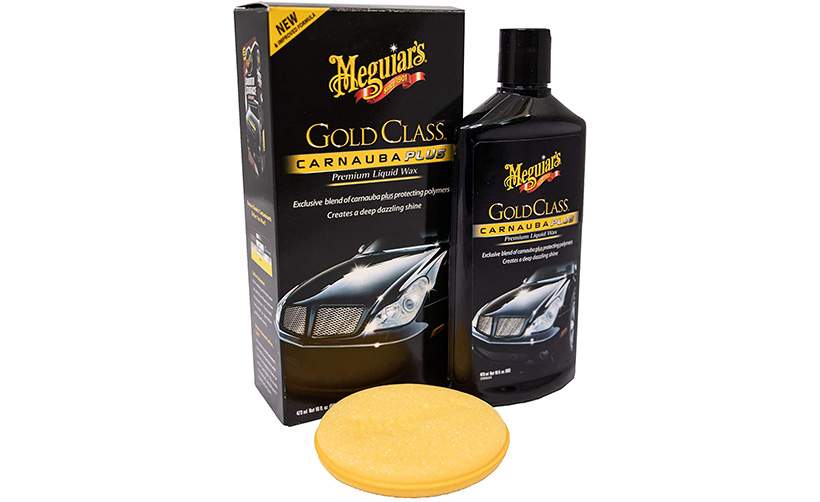 Meguiar's Gold Class is renowned for its value and effectiveness whether it's on a regular commuter car or show pony.
This premium Carnauba and polymer blend comes with the safe knowledge that Meguiar's has been producing waxes longer than most companies have been building cars. Users get reliable paint protection in an affordable and easy-to-use solution. This is a liquid wax, which isn't as robust as harder waxes usually, but the polymer resins help add some toughness to the protective layer.
Meguiar's supplies one of its soft foam applicators with this wax, which helps with easy and smooth application, and the formula is safe on a wide range of surfaces. If can also be applied both by hand and machine buffer.
Price wise, this is right in the mid range and offers better, more consistent results for the average user than many more expensive options. Choose Meguiar's if you want a reliable finish from a product that anyone can use.
Pros:
Reliable reputation
Consistent results
Cons:
Includes synthetic elements
Not as hard as other waxes
---
3. Best Spray Wax: Adam's Spray Wax
What Adam's lacks in fancy labels it makes up in honest reliability.
Adam's doesn't rely on marketing speak of consultation groups to name its products. You want a spray-on wax? Here's one, it's called, "Spray Wax". It is infused with Carnauba flakes and provides deep, rich shine and months of water repellant protection for your paint.
The 16oz bottle will cover even the larger SUVs and trucks on the road, because a little goes a long way. Since it is a spray wax, it's easy and quick to apply, but doesn't offer as thick a coating of protection or the longevity of traditional wax products.
Adam's is safe on rubber, plastic, and aluminum trim as well as well pre-coated or vinyl-coated bodywork. Some users rave about the raspberry scent, and we do too. You can apply it wet or dry, though we always recommend a dry, shady spot out of direct sunlight.
Pros:
Easy to apply
Quality shine
Cons:
Not as long-lasting as traditional wax
Strong scent
---
4. Best Cleansing Wax: Mothers California Gold Brazilian Carnauba Cleaner Wax Paste
The small amounts of polish blended into this pure Carnauba paste wax from Mothers help clean your paint and cure minor swirls and scratches.
Mothers took its highly rated pure Carnauba paste and added a little party trick to form this one-step paint restorer and protectant for your ride. Blended with a light cutting compound as well as the rich Carnauba wax, you get a cleaner looking paint surface free of micro abrasions as well as water-repellant shine that last for months on end.
This blend works well on fiberglass and gel coats too, making it effective for boats, RVs, and powersports equipment as well as your car. The solution is safe to use on most surfaces, but it is important to spot test on dark color plastic and rubber in particular.
The compound cures extremely hard, which is great for protection, but less good if you don't buff it dry quickly enough. The instructions on the can will help you here. This is an affordable protectant that offers good results with a little more elbow grease and commitment than more modern spray-on types.
Pros:
Lightly cleans and polishes paint
Long-lasting protection
Cons:
Harder to apply than others
Requires spot testing
---
5. Best Value: Turtle Wax Super Hard Shell Paste Wax
On value alone, it's hard to look past Turtle Wax Super Hard Shell paste wax, and it scores big points too for its durable finish.
Turtle Wax lives up to its reputation for robust paint protection with this hard-setting and surprisingly affordable paste wax. This style of wax is less and less popular these days, as drivers select faster and shinier spray-on types. However, if you want rugged and durable protection for your paint, you won't find it better than this.
The wax itself is easy to put on, but if you leave it too long before buffing it off, you're left with a thick residue that's difficult to get off. Unlike other options here, Turtle Wax has no real scent, and it's a goopy, unappealing solution in the tub. On the plus side it lasts for up to a decade on the shelf, and one tub is more than enough for most vehicles on the road.
At this price, you can't go wrong with Turtle Wax Super Hard Shell paste.
Pros:
Robust protection
Great value
Cons:
Dries hard if left too long
No scent
---
6. Best User-Friendly: Malco Cherry Flash Liquid Paste Wax
Malco's Cherry Flash liquid paste delivers on its promise to be the easiest wax you'll use.
This viscous Cherry Flash liquid paste from Malco goes on smooth and fast either by hand or with an orbital buffer, making it the ideal wax for car lovers on the go. With its highly fluid formula, this Carnauba and polymer mix is the easiest way to get a deep and glossy shine for your paint quickly.
We love it for the vivid results, as well as how quickly you can wax your car with the stuff. Other users love the price point for the generously sized 32oz bottle. You can expect about three months of protection from this thin solution, which is less than other waxes but on par with some spray-ons. Application is simple and quick, and the shine is better than most competitors.
Pros:
Super easy to apply
Great shine
Cons:
Thin solution
Not as long-lasting as some
---
7. Best Hard Paste: P21S Carnauba Wax
P21S isn't a household name among car lovers, but it is among professional automotive detailers.
This premium Carnauba wax made by little-known company P21S offers a deep, gleaming shine from a high-quality traditional wax paste. It goes on easily and buffs off without white residue, and it is safe to apply over rubber and plastic trim.
Where it really shines is in the finish. Drivers swear by its lustrous properties and love the way it helps repel water and marks for months on end. This wax is a long-lasting protectant that will help you keep your whip looking wicked even after months of daily commuting.
Downsides are few, but include the hefty price tag and the lack of product reputation in the eyes of most consumers. If you want a wax that you know will deliver results though, look no further.
Pros:
Deep shine
Lasting protection
Cons:
Cost
Harder to apply than non-paste waxes
---
8. Best Wax Alternative: The Last Coat
Anyone who's watched daytime television has probably heard of The Last Coat and its "do it all" paint protection product.
The Last Coat is a fully synthetic coating that promises six months of armor against sun, water, and road grim. It gives a sensational deep shine and is as easy to apply as any other spray-on type offering, with a 16oz bottle good for at least a mid-size SUV and a full-size SUV when used appropriately.
Speaking of, it takes a little caution to use this product and we highly recommend spot-testing it on non-painted surfaces and trim before using. It also works best applied onto a cloth and wiped on, rather than sprayed directly onto the paint. Another note of caution – this is expensive.
On the plus side this is an oil- and petroleum-free synthetic protectant that offers one of the cleanest and smoothest paint shines in the business, giving you a durable wet-look effect that highlights the pride you have in your ride. It is also one of the few options that works as well for matte finishes as it does for regular paints.
Pros:
Vivid, rich shine
Can be used on matte paint
Cons:
Price
Requires careful application
---
Wax vs. Polish
A wax is a protectant for your paint first and foremost. Its job is to provide a physical barrier between your precious paintwork and the rigors of daily driving, including sun, rain, and grit.
Meanwhile, polishes cut away the topcoat of your paint to help repair minor scratches and defects in your bodywork.
You should use a wax after a polish to restore the protective barrier to your car, truck, or SUV.
Types of Waxes: Paste vs. Liquid Paste vs. Spray-On
These days waxes come in all sorts of forms. Traditionally, hard paste waxes give the best protection from the sun and the longest-lasting layer of hydrophobic and UV-blocking, but are harder to apply. Liquid paste is easier to use, but not as durable and often not as rich in the final finish.
Spray-on waxes mix the best of both worlds by introducing resins and polymers to the mix. These synthetic additives help add depth to the shine, and durability to the final layer.
How to use Wax
Always wash your car and dry it properly before applying wax, otherwise you're just trapping dirt between it and your paint. You should also read the label carefully. Some waxes require a curing period before buffing dry, and those periods vary from product to product.
Once you're comfortable that your paint is clean and you have read the instructions, apply a thin layer of wax in small sections. Wait the appropriate time, and then buff clean. Working in sections prevents the wax from drying out before you get back to it, and prevents residue forming.
Always use a high-quality microfiber cloth, and for best results, use multiple cloths. This is because cloths lose their ability to buff and lift wax off your bodywork quickly, and you'll end up with an uneven finish if you don't use fresh material regularly.
Main photo credit: Nor Gal / Shutterstock.com